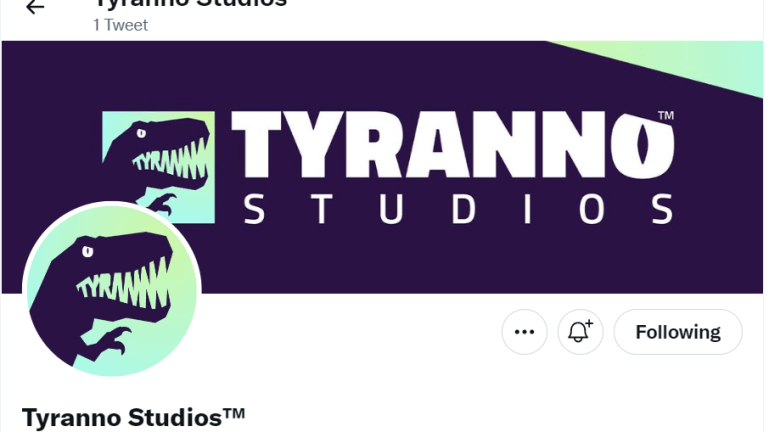 WAX Studios rebrands to Tyranno Studios
Reflects multi-chain focus
WAX Studios, the Web3 game developer behind numerous high profile Web3 projects such as Blockchain Brawlers and Music Moguls has rebranded to Tyranno Studios to reflect its new multi-chain focus.
WAX Studios was incubated on the WAX (Worldwide Asset Exchange) Blockchain which initially concentrated on collections and collaborations with third-party brands such as Sony Pictures, Mattel, AMC Theatres, Funko and Hasbro.
WAX itself was born out of a gaming marketplace called OPSkins. By introducing blockchain, OPSkins, and later WAX, could confer ownership of ingame assets to players and subsequently an open secondary marketplace to buy and sell these digital assets. This ownership was and is revolutionary in a sector where ingame assets are controlled by the publishing studios. In fact, should a player sell their ingame asset to another person and the publishing studio find out (perhaps through help desk requests for example) both the players and the assets can be removed from the game altogether.
Now that ownership is transparent on the WAX blockchain – and legally transferable – Tyranno Studios is looking to increase access to ingame assets across chains in a simple and non-confusing manner.
Mike Rubinelli, director of WAX Studios says: "We believe in the multi-chain future and making blockchain more user-friendly, so people won't have to be constantly figuring out "what blockchain is this on? And what wallet do I need?" Instead, we want to empower people to just find the games, collections, and services they are interested in, and freely use it on a chain with which they are familiar."
Multi-Chain Future
Tyranno Studios will first look to enhance its multichain capabilities on Ethereum by launching a new round of Ethereum-based NFT land sales in its flagship game, Blockchain Brawlers (BCB). This will also serve to increase the popularity and size of the BCB game, bringing in gamers from Ethereum.
Initially, the new NFTs will be able to be bought and sold on both Ethereum and WAX while BCB's core game operations will remain solely on WAX. However, Ethereum-based land plots will be functionally identical to their WAX-native counterparts, offering exactly the same utility and benefits that early purchasers received on WAX. At the same time, NFT holders will be able to seamlessly move their assets between Ethereum and WAX.
Sustainable future
WAX is one of the most carbon friendly blockchains but with the recent successful Merge, Ethereum has moved from Proof-of-Work to Proof-of-Stake consensus mechanism thereby reducing the network's energy consumption by approximately 99.95%, according to the Ethereum Foundation.
Ultimately, Tyranno Studios' and Blockchain Brawlers' multi-chain mission will increase the connectivity between the WAX ecosystem and other blockchain ecosystems.
This move ensures Tyranno Studios can continue to maintain its commitment to the core principles of Web3, including privacy, transparency, inclusivity, and true digital ownership.