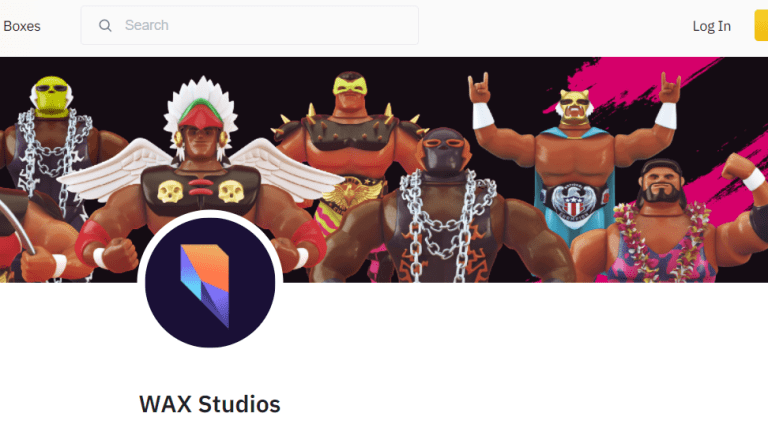 WAX news: Blockchain Brawlers – coming to a ring near you
This is a big boast – The Blockchain Brawlers is the rowdiest Play2Earn game in the metaverse. This is what happens when two chains decide to work together. WAX – the king of NFTs – is launching its Blockchain Brawlers NFT collection on Binance NFT.
It began back at the end of last month when the first grouping of 'Founder's Edition' legendary 1-of-1 Blockchain Brawlers NFTs went on auction on Binance NFT.
The first 100 Brawlers is a rare mix of four editions giving collectors a rare chance to buy one or more of the more valuable NFTs. The Brawlers will then be integrated into an upcoming Play2Earn game of bonkers wrestlers with equally weird and wonderful personalities. People playing the game act as managers as they send their Brawler NFTs to fight in the colourful world of wrestling.
Following the Binance NFT auctions, 300 more "Founders Edition" Brawlers will be auctioned via WAX Digital Auctions, bringing the total number to 400.
To date, 96 NFT auctions on Binance NFT have resulted in total sales of more than $530k. The top price is currently reserved for The Slashed Eagle at more than $21,000. His character reflects the wackiness of wrestling with notes explaining that this Brawler has been put on probation for bloodying opponents with his beak. His profile reads that he dive bombs wherever possible.
Another popular character is Battle-AX whose personal history is that he was born and raised in Mombasa, Kenya. The Brawler has six power moves (including the power of squinting) while his electrifying personality has been known to stun his foes into submission. He reached another epic price just shy of $18,000.
[Editor update - more ceilings smashed with the Metaverse Champion, The Red Giant, going for $46,800 and The Red Giant World Champion going for $20,072 in the final round on Binance NFT.]
Spokespersons for WAX say they are delighted with the interest in the WAX community and that the excitement of wrestling has easily translated into Blockchain.
Once the launch is concluded a bridge will be forged between Binance NFT and the WAX Cloud Wallet so that people can move their Brawlers over to WAX and into Blockchain Brawlers Play2Earn game as a legendary tag team.
Once the Brawlers are all minted you can head over to BCBrawlers.com to find out how to play the game.