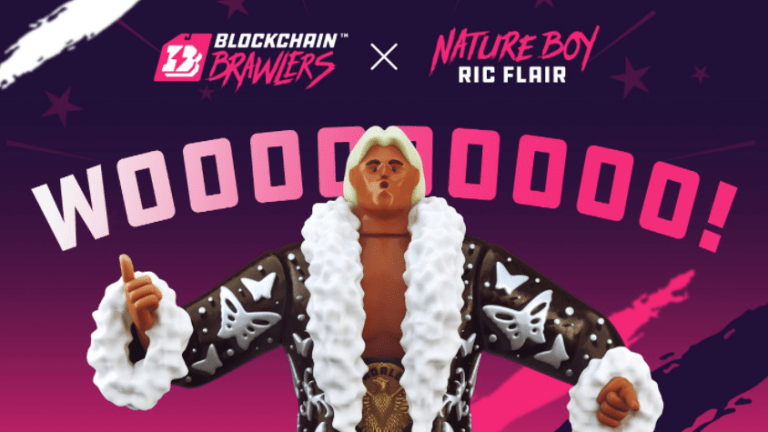 Nature Boy comes to NFTs – Gets Ready to Take on the Blockchain Brawlers
Ric Flair is making his debut on the WAX Blockchain as a Legendary NFT game item next month
Nature Boy is the nickname for one of Wrestling's biggest names. Born Richard Morgan Liehr in 1949, he is better known by his nickname or alternatively by his assumed name Ric Flair. Flamboyant, colourful and charismatic, he is regarded by fellow wrestlers and journalists as the greatest professional wrestler of all time.
Ric just knows how good he is.
His career spanned a mighty forty years, a major document on ESPN in 2018 and now he is appearing in the one of the most exciting NFT collections on WAX where he joins the rowdiest play-to-earn game in the metaverse.
Ric is the ultimate showman and was recently called a national treasure in St Louis, thirty years after he won the #RoyalRumble. And he said: 'I Couldn't Agree More! WOOOOO!'
The Hall of Fame and 16 time wrestling world champion, "Nature Boy", will be jet flying and limousine riding right into the world of Blockchain Brawlers.
Already the WAX auctions for "Founder's Edition" 1-of-1 Legendary NFTs have become something of a feeding frenzy. Players can't seem to get enough, with the top-selling Brawler garnering 55,555 WAXP!
Come early March (date is TBD), a special pack drop will go live — each containing one (1) "Nature Boy" Ric Flair Legendary NFT and one (1) free Ring NFT, so players can dive head-first into the fight without missing a beat.
Just like the "Founder's Edition" Legendary 1-of-1's, all "Nature Boy" Ric Flair NFTs come in a variety of styles to match his flashy personality.
These will be unique NFTs, including four (4) editions (Standard, Hard Core, Cage Match and Death Match) and three (3) belts (National Champion, World Champion and Metaverse Champion).
Experience the flowing locks, diamond-studded robes and designer sunglasses like never before.
There will only be 100 "Nature Boy" Ric Flair packs available for sale so get whitelisted for a shot at having a Ric Flair Brawler.
From Ric's mouth to your ears, "Whether you like it, or you don't like it, learn to love it! It's the best thing going today! Woooo!"
Want to stay on top of what's going on? Join the WAX Discord and be a part of the conversation.