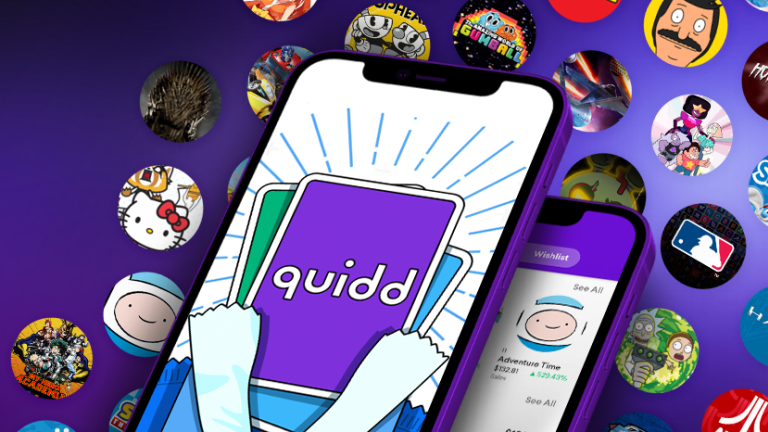 Quidd moves into NFTs
Quidd is one of the largest online collectable platforms with more than 8 million users buying digital collectables from more then 325 brands. Founded in 2016, it was a precursor to NFTs in that it offered curated digital collections to its users, although until now these digital items were only available as in game items within the platform.
"The platform was creating digital collectables for brands such as Disney, HBO and Funko," explains Sam Barberie, VP of content, "We ensured that each item was unique through serial numbering maintained on the platform so there could never be duplicates."
In addition, Quidd also functioned as a digital games platform where users could collect digital cards to create a full set, earn rewards, and appear on leader boards. This gamification
To put the size of the userbase in perspective, there are one million accounts on OpenSea on the largest marketplace on Ethereum.
"Our demographic is varied," continues Barberie. "They are not your average crypto bros but a wide range of ages and even distribution of women and men. This wide demographic is what has attracted brands in the past – they can find their tribe on our platform."
Once NFTs went mainstream, the founders at Quidd could see that they could extend this functionality to their collections – allowing users to share their digital collectables outside of Quidd safely.
As a result, Quidd is building Mintables, an add-on function for Quidd users. When it goes live next month, users in Quidd will be able to take their unique digital item and mint into the blockchain as an NFT. The first blockchain will be Ethereum with WAX coming in next.
"We are excited about this as our customers can use fiat to on ramp their first NFTs. They won't have to know much about crypto at all. They can enjoy their card on Quidd, or they can connect a wallet, press a button and bang they have an NFT on their chosen blockchain."
Barberie believes the users will enjoy this extra dimension. He also thinks that there should be a strong uptake as the community is already au fait with digital collections – now it's just time to make them into NFTs.
For more, read the WAX medium post
.