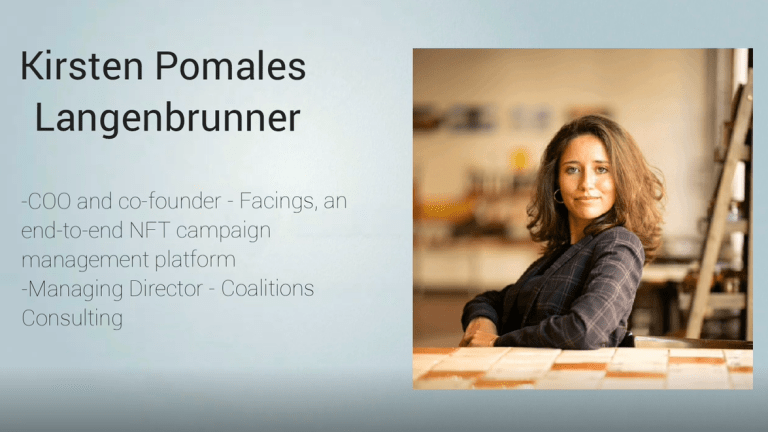 FACINGS COO talks NFTs, Gas and WAX
Kirsten Pomales Langenbrunner is the COO of Facings, a platform that empowers creators and publishers by building tools they can use to manage NFT collections with ease, streamlining the path to rich digital experience for everyone. Today she talks to Blockleaders about her role in Facings and what she thinks of the WAX platform.
Kirsten got into Blockchain in late 2019, following a five year career in public policy. She found herself moving over to tech where she felt she would be able to make more of an impact. Once she discovered Ethereum and smart contracts the world of crypto made sense to her, she started consulting on different crypto projects until 2020 when she pivoted into the NFT space.
"That's where all the fun is," she says.
What drew her attention was less that of the actual collectables or even high profile projects such as crypto kitties, but the fact she saw NFTs in general as an easier way to promote mass adoption.
"I had been working with Enterprise Blockchain but the big projects were very distrustful in general. It was such a surprise to find brands just aping in. So I started doing a deep dive on why brands were adopting NFTs much faster than other blockchain technologies."
Kirsten talks about recent successful projects such as Dark Pinup, NFTrippy, Skullz, details of which can be found here - https://facings.io/#/collections.
She is very happy with the WAX platform with its no fees and carbon neutral position. "Also, we just think the gas fees on Ethereum are crazy – who wants to pay $500 in gas fees for a NFT that costs a third of the fee.
"We like WAX too for its ability to launch collections, integrate gamification and provide utility for the NFTs. We will of course look to provide services cross chain down the line, but our experience on WAX has proven very positive."
For details on the projects and Kirsten's digital nomadic lifestyle, tune into the video.