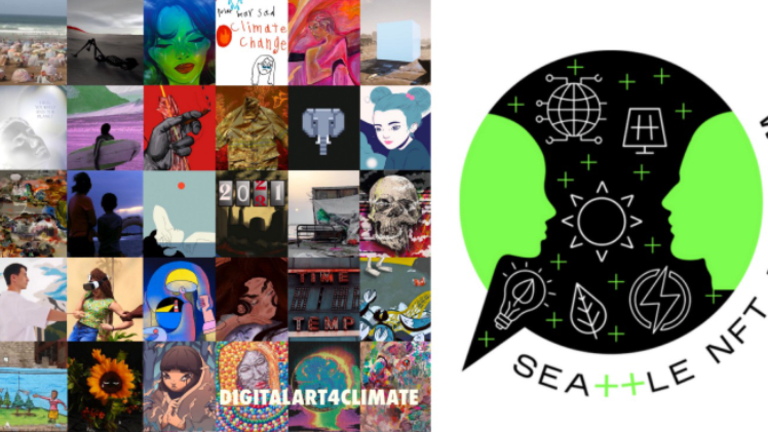 Exquisite Workers exhibits the United Nations' DigitalArt4Climate Collection at the world's first NFT museum
Climate Nonprofits and Blockchains Collaborate with Seattle NFT Museum to Exhibit - WAX Collection features international artists including Robert Bohn, The Cheesman, SEÑORLUPE, and Krel
Humanity Challenged by  Climate Change
The unprecedented COP26 collection "Humanity Challenged by Climate Change," curated by Exquisite Workers co-founder Anna Dart, is now on display at the Seattle NFT Museum, the first NFT Museum in the world, until June 3, 2022.
COP26 DigitalArt4Climate Collection
On Nov. 13, 2021, thousands of delegates from over 200 countries and nongovernmental organizations convened in Glasgow, Scotland for the biggest climate conference in history, COP26. For this special occasion, DigitalArt4Climate, the first NFT art competition for Earth's climate — founded by GloCha in partnership with UN-Habitat, Unique Network, Exquisite Workers and Social Alpha Foundation — brought together over 200 artists from 58 countries, all working at the intersection of art and technology in hopes of inspiring a cleaner future.
The Climate Conversation
Seattle NFT Museum opens its third exhibition, titled, "The Climate Conversation," which brings the climate conversation to center stage, displaying works that challenge trends and explore emerging technologies to solve mass energy consumption.
Commenting on the event, Jennifer Wong, co-creator of the Seattle NFT Museum, said: "The environmental impact of blockchain transactions is an ongoing concern for the creation and collection of NFTs. We want to make it clear that the museum is a place to engage in that conversation. This exhibit will explore alternative blockchains, climate impact utilities and notable artist collections created to drive climate impact awareness."
The COP26 DigitalArt4Climate Collection will be exhibited at the Seattle NFT Museum next to the Open Earth CarbonDrop Collection, which features work by renowned artists such as Refik Anadol, GMUNK, Sara Ludy and Kyle Gordon to support the Open Earth Foundation. The exhibit also showcases a blockchain curation by WAX and Solana, Anna McNaught X PANDAA, Al Goanna, Maksim Surguy, Seattle Collection: Neon Space and the Seattle NFT Museum Permanent Collection.
Blockchain Curation: WAX
Featuring works by Robert Bohn, The Cheesman, SEÑORLUPE, and Krel, the WAX blockchain (Worldwide Asset eXchange™) is the #1 metaverse blockchain for video games and NFTs, and the most utilized blockchain in the world with over 12 million accounts and 20 million daily transactions. 
Best known as "The King of NFTs," WAX is the leading NFT blockchain. It has successfully facilitated the trade of millions of NFTs from partners including Mattel, Hasbro, Funko, Sony, Capcom, MLB, Atari and more.
WAX's Delegated Proof of Stake mechanism is 125,000x more energy efficient and uses less than 0.00001% energy of Proof of Work chains, such as Bitcoin and Ethereum. As a result, Climate Care awarded WAX with a Carbon Neutral Certification in early 2021.
"WAX was designed from the beginning to be incredibly energy efficient. That is why WAX NFTs use a tiny fraction of the energy of Ethereum and Bitcoin. In fact, WAX is 125,000 times more energy-efficient than Ethereum and WAX is already carbon neutral." - William Quigley, Co-Founder of WAX.
Exquisite Workers
Exquisite Workers, the major creative partner at DigitalArt4Climate, has installed nine screens to showcase the COP26 collection with Bricx Martillo Dumas, Eka, Amir Karimi, Chloé Hajjar, Kat Hassell, Elena Gris, Gemma Quevedo, Davi Russo, Amazing Devya, Nico Lob, Judit Canela, Nicolle Rockstroh, Roger Haus, Exquisite Workers and more, as well as selected pieces dedicated to climate action.