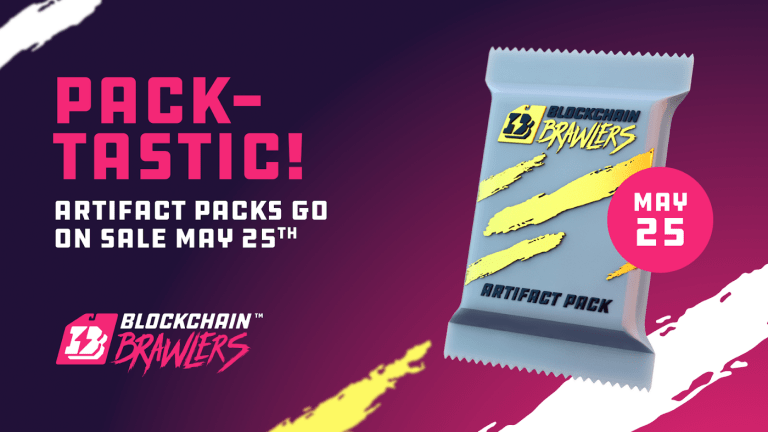 Great News – WAX is introducing an entry level pack for its popular Blockchain Brawlers
MAY 25 SALE DAY
The newly launched Artifact Class of Brawlers is exciting news for new players offering a low cost entry price of $50 worth of WAXP and immortality for these brawlers.
Today a brand-new class of Brawlers joins the Brawlerverse called Mike Yellerbelly. He can be purchased for the equivalent of $50 WAXP (check prices at time of purchase) and each pack also includes an Artifact Ring and impressive swag.
In terms of standing, Mike Yellerbelly is on the tier below Common Brawler Scotty Wideye. When you open your pack both he and the new Artifact Ring are ready to be activated meaning you can begin playing immediately.
The only way to find this new Brawler hero is in the pack sake as he is not craftable in-game.
Number of Matches
Each Ring comes with a set number of matches, once these are used up, you can craft or buy a new Ring. A new Artifact Ring can be crafted at a cost of 375 BRWL plus one Gold NFT and has the same 75 uses as the other Rings
In addition, each Ring is limited to 16 Brawls per slot within a 24-hour period.
BRWL
Mike Yellerbelly generates 3 net BRWL per march (which takes the ring depreciation into consideration). This is more than the 2x BRWL generated by Scotty Wideye and produces Gold NFTs on par with Colt Tenderfoot (2%) which is approximately 67% less than Scotty Wideye.
Yellybelly has a superpower in that he takes no damage making him the easiest choice for new users.
Swaggables
In addition, there is a 1/1000 chance of landing an all-new Swaggable Legendary Brawler called Rusty Klutz. This new Brawler will generate 206 BRWL per match, again at a limit of 16 Brawls per day, and will produce Gold NFTs at a rate of 0.3%.
Out of the 6,000 packs minted, 0.1% will include this all-new Legendary.
In addition, every pack will contain one of two Swag Kits to upgrade your brawler. The two Swag Kits available are Living Dead where you can haunt the Ring (15% chance of getting this swag) or Combat Fatigue to battle your opponent (85% chance.)
At the same time Kits are being reduced to 1000 BRWL and Gold NFT per kit, per rarity.
Sale Details
The Artifact Pack Sale kicks off on Wednesday, May 25 at 10 am PT/1 pm ET and unboxing will follow at 1 pm PT/4 pm ET.
There will be 5,000 packs available for purchase, and WAX will hold the remaining 1,000 packs for marketing purposes, with a focus on driving new players into the Brawlerverse.
It's important to note there is a limit of one (1) pack per account holder — and each pack will retail for the equivalent of $50 WAXP.
Inside each pack will be one (1) NFT of either Mike Yellerbelly or Rusty Klutz, one (1) Artifact Ring and one (1) Swag Kit of either "Living Dead" or "Combat Fatigue".
Players lucky enough to score a Rusty Klutz (0.1% chance), will be airdroped you a Common Ring.
There will be no whitelist for this sale. Click here for more info!
P.S. Want to learn more about Mike Yellerbelly and Rusty Klutz? Check out the #BRAWLERVERSE channel on Discord where all the fans and athletes in Bodyslam Bay await their arrival.
And, here's a sneak peek of the Living Dead Swag Kit on your newest friend Mike Yellerbelly.