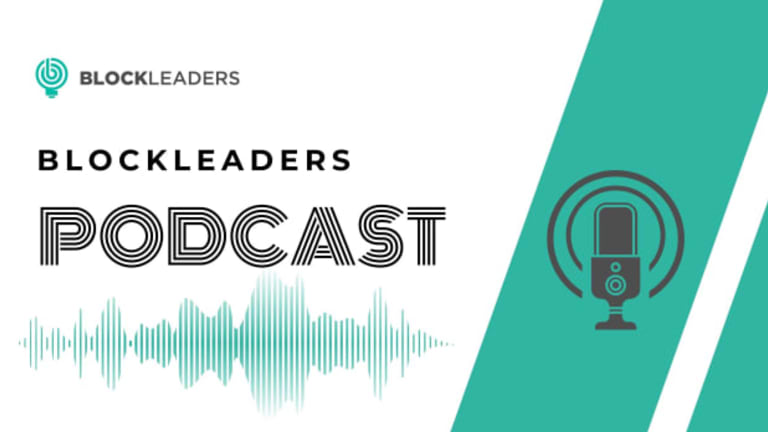 Top 10 Blockleaders Podcasts
To celebrate Blockleaders Podcast being relaunched we decided to take a look back on our 10 most popular podcasts.
After 71 episodes on our YouTube channel we have re-launched the Blockleaders Podcast on Anchor, which distributes the podcast to 9 different podcast platforms including Spotify, Apple Podcasts and Amazon Music. This relaunch will allow us to reach more listeners and grow the podcast to its full potential. We will continue to post the podcast on YouTube too for our loyal listeners there.
As part of our newly re-launched Blockleaders Podcast we will be sharing new interviews as well as re-sharing some of our most popular previous episodes.
But before we move on let's look at some of our most popular episodes to date.
10 most popular Blockleaders Podcasts
Starting in 2019 we have been lucky to interview almost 70 guests, talking about everything from events, projects and cryptos to childhood stories and wise words from parents. 
You as our listeners have made this all possible and these were your favorite podcasts to date. 
1. Podcast 15- Arielle Brechisci, Content Manager - WAX.io
With over 6,000 views our interview with Arielle Brechisci is our most watched podcast video. Arielle was the Content Manager for the WAX.io blockchain. She has an education and strong professional background in marketing and journalism.
She spoke to us in June 2020 when Wax first introduced a mainstream audience to the blockchain. This was a massive success and a step towards the future of integrating mainstream collectors and gamers to blockchain.
Wax launched Garbage Pail Kid (GPK) card pack NFTs at the same time and all 12,000 packs containing 110,000 cards sold out in 28 hours.
Arielle is now senior content and communications manager at Odaseva.
2. Podcast 47- Lafayette Tabor, DEUS.Finance
DEUS is a DeFi protocol that allows bringing any verifiable digital and non-digital assets onto the blockchain. It boosts the transfer of value across many different markets and exchanges with unprecedented ease, transparency, and security.
Jillian Godsil, co-founder and editor at Blockleaders, interviewed Lafayette Tabor in September 2020. See the interview with Lafayette on Blockleaders here.
3. Podcast 34- Richard Ells - Founder of Electroneum
Jillian's interview with Richard Ells in September 2020 was another crowd favourite. Richard is founder of Electroneum, a cryptocurrency which raised $40m US in its ICO and is based around mobile ubiquity.
The main goal of Electroneum is to bring simplicity and ease of access to cryptocurrency, allowing mass adoption and the empowerment of a huge new audience of mobile users in the developing world, who, until now, have mostly been unable to use a digital payment method.
Read more about Richard Ells and Electroneum on Blockleaders.
4. Podcast 22- Bilal Hammoud, President and CEO - NDAX.IO
Bilal is a visionary, successful startup entrepreneur and founder of the National Digital Asset Exchange (NDAX) with a background in traditional finance, crypto investing, and Engineering.
Jillian interviewed Bilal in July 2020 to discuss growing revenues, building teams and taking NDAX to a growth position within 3 months of operations.
5. Blockleaders Podcast 3- Dr. Amber Ghaddar, co-founder of AllianceBlock
One of our very first podcasts all the way back in November 2019 was also one of our most popular. Jillian interviewed Dr. Amber Ghaddar, co-founder of AllianceBlock.
AllianceBlock is an ecosystem bridging the gap between DeFi, Crypto & TradFi.
Watch the interview with Dr. Ghadder on YoutTube here.
6. Podcast 21- Jason Jang, Co-Founder and Exec Director at TNC Group
Jason Jang is a co-founder and executive director of TNC Group. TNC Group is a blockchain project propelling the potential of blockchain and cryptocurrency by collaborating
with industry leaders to withstand the industry's current challenges and pave the way for the future of crypto.
See the interview from June 2020 with Jason on Blockleaders.
7. Podcast 17- William Quigley, Co-Founder - WAX.IO
This 4 part interview with William Quigley, co-founder of WAX.IO went live in June 2020.
In part 1 William talks about the art of the hustle. He learned entrepreneurship from a young age seeing his mother start her own non-medical transport service. William talks to Jillian about what this taught him.
In part 2 he talks about the impact of libertarianism on his business and why he thinks it is a misjudged system.
In part 3 William talks about why Non Fungible Tokens (NFTs) are finally a thing.
"No matter what the news, good or bad, I don't believe you are in a position, when that news hits, to judge if it's good or bad for you." In part 4 William talks about The Quigley Rules.
8. Podcast 54- Tanya Hardie - Corporate Marketing Manager, Electroneum
Podcasts about Electroneum are popular with Jillian's interview with Tanya Hardie from December 2021 also making our top 10.
At the time Tanya was the corporate marketing manager for Electroneum. The crypto that uses the power of blockchain to help those living in poverty and open up the freelance gig economy.
Tanya now works as senior digital marketing manager at Tiga Creative Marketing.
Learn more about Tanya on Blockleaders.
9. Podcast 12- Salah Zalatimo, CEO of Voice.com
Salah Zalatimo is an American business executive based in New York City. Prior to joining Voice, he acted as Forbes' global Chief digital officer. Jillian spoke to Salah in April 2020 about his interesting background in restaurants, food, digital content and digital marketing as well as why he wanted to join Voice.
Read more about Salah on Blockleaders.
10. Podcast 56 - Saro McKenna Co founder of Alien Worlds
Alien Worlds content always goes down well at Blockleaders so it is no surprise that this interview with Sarojini McKenna, co-founder of Alien Worlds from December 2021 is finishing out our top 10 podcast episodes list.
Sarojini speaks to Jillian about Alien Worlds, micro nation Liberland and the importance of DAOs.
Blockleaders Podcast
The newly relaunched Blockleaders podcast, complete with new music, is now available on Spotify, Apple Podcasts, Amazon Music, Google Podcasts, YouTube or wherever else you get your podcasts. See our Anchor page for more information.
Thank you for taking this trip down memory lane with us. We hope you will continue to enjoy our podcast as we bring you interviews from those causing ripples in the web3 world.
If you would like to be featured, or have any guest suggestions, reach out and let us know.
Check out our latest podcast episode where co-founder and journalist Lisa Gibbons speaks with the Crypto Crier about his passion for the community drive Doodle NFT collection, the NRN Network and laying the foundation of Web3 for the future.