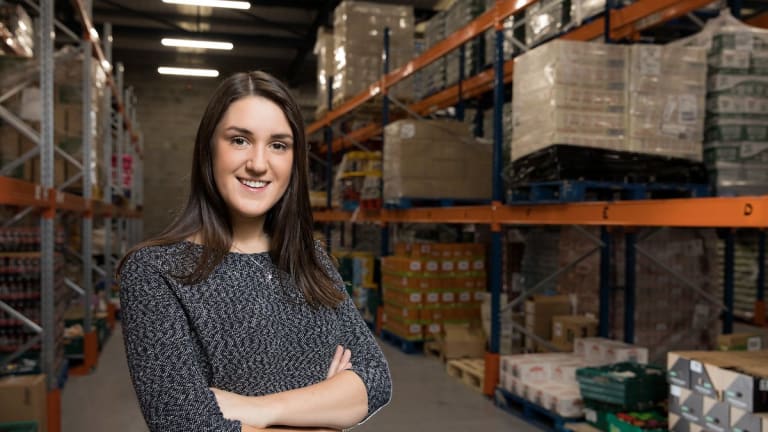 Foodcloud - Tech for Good
Iseult Ward is co-founder and CEO of FoodCloud, a non-profit social enterprise with a vision of a world where no good food goes to waste. Launched in 2013 with co-founder Aoibheann O'Brien, FoodCloud has created two food redistribution solutions that tackle the enormous issue of food waste by connecting food businesses with local charities and community groups.
Their technology solution connects supermarkets with surplus food directly to local Community Groups in Ireland and internationally.
Their warehouse solution has three Irish Hubs in Dublin, Cork and Galway, that redistribute large quantities of surplus food from the supply chain to Community Groups all across the country. Both solutions provide an environmentally sensitive, socially-responsible, and economically-viable alternative to throwing away perfectly good food.
FoodCloud works with more than 800 Charities and Community Groups in Ireland and more than 6,400 internationally. Combined, they have redistributed more than 32,000 tonnes of surplus food to date, which is equal to approximately 76.8 million meals and approximately 103,206 tonnes of CO2 -eq avoided.
FoodCloud is also the partner organisation for the nationwide availability of the food element of the FEAD (The Fund for European Aid to the most Deprived) Programme in Ireland. FoodCloud is responsible for the procurement, storage and charity collection of FEAD products for this programme, which supports individuals to take their first steps out of poverty and social exclusion. Through the FEAD Programme, FoodCloud has distributed more than 4,700 tonnes of food, which is equal to approximately 11.2 million meals.
About Iseult Ward
Iseult is co-founder and CEO of the award winning social enterprise FoodCloud.
Iseult was awarded Trinity Business Student of the Year in 2013, Social Entrepreneurs Ireland Impact Award and Green Entrepreneur of the Year in 2014. She is a One Young World Ambassador and one of Time Magazine's Next Generation Leaders.
In 2016, Iseult secured the Marie Claire's Future Shapers Award and Women Mean Business Social Entrepreneurs of the Year.
In 2017 Iseult was included on Forbes 30 under 30 Social Entrepreneurs European list, received a Humanitarian Award from the Muhammad Ali Centre in Louisville, Kentucky, received the EY Entrepreneur of the Year Special Achievement Award and was named the overall winner of the IMAGE Businesswoman of the Year Award. In 2018 she also received a Humanitarian Award from the Irish Red Cross.
Iseult holds a Bachelor of Arts, Business and Economics from Trinity College Dublin and is also a board member of Tangent - Trinity's Idea Workspace, Trinity Business School Advisory Board and Social Entrepreneurs Ireland Board of Directors.