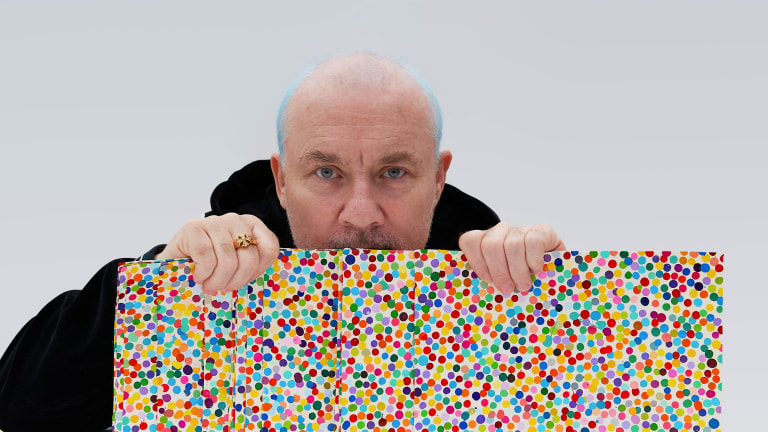 Will Damien Hirst destroy his physical art in support NFTs?
Artist Damien Hirst is set to destroy physical works from his latest collection, The Currency.
In a passionate account, world-renowned artist, Damian Hirst, expressed his struggle in choosing between physical and digital representations of his art.
In 2021, Hirst announced that he would sell 10,000 of his paintings as NFTs. The buyers would decide if they wished to keep the NFT or trade them for physical versions.
"I have no idea what the future holds, whether the NFTs or physicals are going to be more valuable or less. But that is art! the fun, part of the journey and maybe the point of the whole project," says Hirst. 
He also expressed his gratitude for technology company Heni in helping with his latest collection, titled The Currency. The Currency collection of original Hirst works closed yesterday with holders choosing 5,149 physical artworks and 4,851 NFTs. The collection using machine learning with a range of different features within each work that are scored and ranked. The higher the ranking, the higher the number of corresponding features in the work. Colour, overlaps, density, texture, drips, subjects, weight and words & characters vary from each piece of art.
"I decided I need to show my 100 percent support and confidence in the NFT world (even though it means I will have to destroy the corresponding 1000 physical artworks)," continued Hirst. 
Collectors and members of the NFT community responded to his commitment to NFTs in support and encouraged Hirst to record the burning of the physical artwork as a demonstration of his bold statement.
https://twitter.com/_Beastnode/status/1552324753771282433?s=20&t=UEe77h2wBr5n-gH1B0MagA
 
It has been reported that Hirst will be burning his physical works of The Currency collection at Newport Street Gallery in London this Autumn.