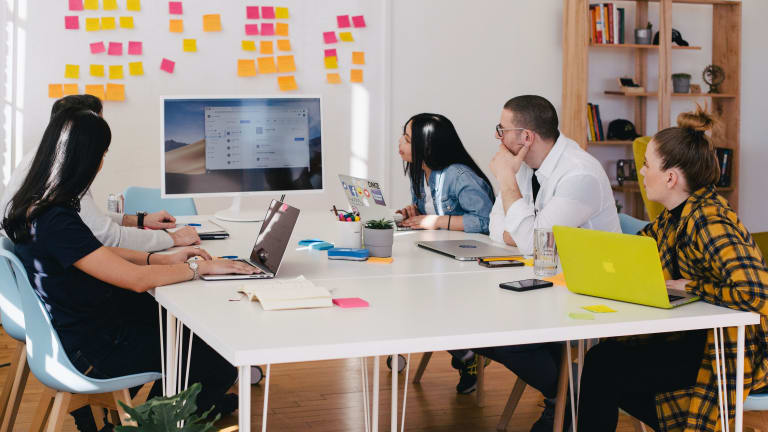 9 Web3 Companies to Watch
With so many new web3 companies starting up it might be hard to keep track. We believe these 5 will prove to be key players in the web3 space.
Web3 is growing fast with web3 companies creating solutions to decade old problems, disrupting current norms and creating interactive experiences for users. It seems there are new web3 and metaverse projects being launched every day. Here at Blockleaders there are some companies that stand out to us. These are our 5 web3 companies to watch.
Firstly, what is web3?
Web3 is the newest version of the world wide web. Web1 was read-only static text. Web2 introduced interaction and user contributions, like social media. Web3 is introducing decentralized ownership and control. The idea is that it is by the people, for the people.
What makes a company a web3 company?
There are three main facets to being a company in web3: decentralization, ownership model and technology.
Decentralization
Decentralized networks can protect users rights and privacy in exchanges with companies if implemented in a consumer-first design. Decentralized autonomous organizations (DAOs) are also run differently. The goal is to serve the needs of the many, rather than the powerful few.
Read about how decentralized social networks offer an opportunity to put creators first.
Ownership
Ownership of different elements such as digital rights, personal data, and decision-making processes has shifted in web3. Web3 companies avoid the use of intermediaries to ensure your data and identity remains yours in your interactions with the web3 company.
Technology
Web3 companies are embracing new and modern technology. Popular technologies used in the web3 space include:
blockchain technologies
artificial intelligence
machine learning
IoT
Web3 companies to watch
WAX
Wax is a platform and a token where anyone can create a marketplace for digital assets. WAX is designed to buy and sell video game virtual items. However, any digital asset that can be tokenized can be traded on WAX.
Immersys is a metaverse ecosystem on WAX. Daniel Knott is founder and CEO. He believes that "No other relevant Blockchain can provide this immersive NFT gaming experience."
He thinks the WAX community is also an asset. "There is massive friendly competition between major players on the WAX Blockchain that drives innovation and with the cost of developing on WAX being so low the innovation happens so rapidly."
Like this? Read more about WAX at NYT.NYC. 
2. EXIT festival
Exit festival is one of Europe's biggest festivals with over 1000s acts and 40 stages. It is also one of the first to integrate NFTs to create an integrative metaverse experience.
In June 2022 EXIT released two NFT collections ahead of the festival in July. These NFTs offered holders opportunities to enhance the real life festival experience.
Dusan Kovacevic, the founder and CEO of Exit Festival says: "We will always strive to provide the best possible real-life experience as we strongly believe the human connection and energy can never be replaced. We see the Metaverse as an addition but by no means a substitute for the human experience. That's why we use digital technology to amplify the real-life experience while blending the best of both worlds."
Unity and community are core in the growth of EXIT festival and Kovacevic wants to keep these values central and "go to the Metaverse together".
3. World Of Women NFT
The goal of World of Women NFT is to create a community celebrating representation, inclusivity and equal opportunities for all. They try to create a supportive environment for everyone from community members and collectors to emerging artists and NFT enthusiasts.
World of Women made headlines around the globe when Madonna performed at their NFT event at NFT.NYC in June 2022 in celebration of Pride.
4. NFT Classics Society
As more and more of our daily lives move online, the classical music industry will not be left behind. The NFT Classics Society is making sure of that. In June 2022 they released the Cobbett Stradivarius Violin NFT collection. The collection includes different tiers and each tier includes different elements including artwork, 3D visuals or audio.
They have also created an online community, host offline parties and events and have a unique AI Sound Puzzle and Experience.
5. Thumbay Group
Would you go to a metaverse hospital? In late 2022 Thumbay Group, a healthcare provider in the United Arab Emirates, is opening the first metaverse hospital.
Patients will come as their avatar and consult with doctors in the completely virtual hospital. The project aims to capitalise on the fast growing medical tourism industry. The global medical tourism market is currently worth $167.4 billion and is expected to increase to $441 billion by 2031.
Advancing technology as well as shift to telehealth services during the pandemic have enabled such a project to go ahead. 
6. Unique Network
Re-fungible NFTs offer whole host of new opportunities. Ownership can be split safely and securely between multiple people allowing shared ownership of property through NFTs, co-ownership of art or fractional car ownership.
NFT infrastructure company Unique is building and deploying next-generation NFT technology. This will enable a previously non-fungible tokens to be made re-fungible once transferred to Unique Chain.
7. Alien Worlds
Alien Worlds is an NFT Metaverse where users can play with NFTs. It is one of the largest Web3 gaming companies that is always growing and adding new features.
Earlier this year they partnered with the best-selling video game in history, Minecraft. Minecraft players can now earn Trilium when they play. Trillium is the native cryptocurrency in the Alien Worlds metaverse.
In the Alien Worlds metaverse players can play with unique digital items (NFTs), stake Trilium tokens, travel on Alien Worlds Missions to other planets, vote in elections, and run for planetary council.
Listen to our podcast with Alien Worlds founder Saro McKenna.
8. The Sandbox (TSB)
The Sandbox is a virtual world where players can build, own, and monetize their gaming experiences in the Ethereum blockchain. There are currently more than 2 million wallets registered to TSB. With a growth of 1000% year on year this is definitely one to watch.
In a recent interview with Blockleaders with co-founder Sebastien Borget spoke about the journey of TSB. He told us about the original iteration of The Sandbox; a smartphone app allowing game creators to develop their 2D pixelated characters and games he founded with his colleague and fellow games producer, Arthur Madrid. From here TSB grew into a $1.5 billion metaverse.
9. Upland
Upland is a web3 company bringing real world assets into the virtual world. Originally founded in 2018 Upland is a metaverse game that allows users to trade NFTs with its UPX tokens. In the game players can purchase virtual property with their UPX tokens.
This virtual real estate reflects real world addresses. This means Upland NFTs are a scarce resource as they have to be based on real world assets. The value of NFTs (or the properties) is determined by the liquidation of the UPX market.