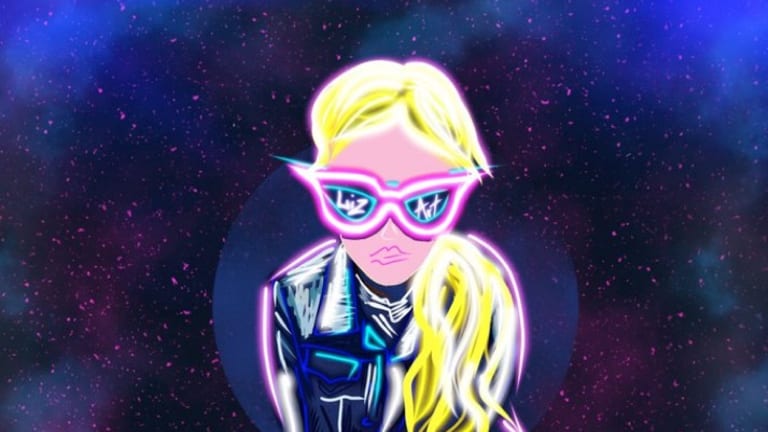 Sparkles – Making the world into artists, even the very young
Sparkles, the NFT marketplace, is currently the only Dapp on the Songbird blockchain providing users with access to view, buy or sell any NFT created on the Songbird blockchain. Sparkles launched a public version of the platform back in January 2022. This version was created to help users of the songbird chain have a safe place to buy and sell NFTs. While there is a rich set of features planned in the roadmap, including in-app minting, make offers and auctions, the core team decided to thoroughly test each feature before moving onto the next stage and expects to have a major update to the app prior to the Flare Launch in July.
Ease of use is a key tenet underpinning the marketplace, making it accessible to all, as is being carbon neutral. Sparkles first signed up to the Crypto Carbon Accord last year pledging to become carbon neutral by 2030. However, within one year Sparkles had not only achieved carbon neutrality, but is now climate positive, making it the first climate positive entity on the Songbird Network and the first climate positive NFT marketplace in the world
Shane Snary, CMO of Sparkles, is excited about the reach of the project. "Sparkles is a unique business in the world of web3. We aim to go beyond just being a place for users to buy and sell NFTs, educating and empowering artists around the world is crucial to the step of making NFTs the go to standard for artists to adopt. With utilizing the Flare blockchain Sparkles is positioned to make this a reality by setting up modules where we can teach artists how to use our marketplace and hope to extend it further into universities/schools around the world."
There are a number of artists in the internal team which is very helpful in driving features necessary and desirable for artists.
"We built this marketplace for the community. We are here to help," says Snary.
Testament to the ease of use is the success of teenage artist LizArt, now aged 13, who in conjunction with her father, has been listing and selling her digital art in support of charities and good causes on Sparkles.
We caught up with LizArt over Twitter to find out more about the entrepreneurial, artistic and philanthropic teenager.
Tell us about yourself LizArt
I am from Berezniki, Perm krai, Russia. We have a big family. I have two younger sisters. I study at the gymnasium. My favorite subjects are English and history. I have been drawing since childhood. I don't even remember how many years. I have been drawing with pencils, paints, sculpted from plasticine. A year ago I downloaded a drawing program on my phone and could not stop. All my life I adored dragons. I read a lot of books about them. and so of course I drew dragons.
Why did you choose Flare? Sparkles?
We chose FlareNetworks because after a lot of research Dad came to the conclusion that this blockchain is a really serious project aimed at long-term development. We like the team in sparkles. they helped us at the very beginning of the journey. largely thanks to them we have what we have. At the moment Sparkles has a beta version and therefore some inconveniences, but a big update of the entire marketplace will be released soon.
How important is your father in your art? Does he inspire you?
Dad has always inspired me. By the way, he also loved dragons and dinosaurs when he was a child. We have many common hobbies: skateboarding, taekwondo (I have a green belt), and of course creativity and music.
Why do you give away part of your earnings to charity?
There are many problems in our not very kind world. We just try to use what we can for something good. Initially, we planned our project for charity, and I am very happy that we can help someone now. And we want to have a transparent community. If someone is in need of help, we are always there.
Tell me about your first collection that sold out – inspiration, artwork, quantity and revenue
My first dragon nation collection was drawn by me on my phone. Later we bought an iPad. I was so inspired by the idea that I drew all day and even nights.
I drew 77 pieces. 77 nationalities. We sold the first collection in four days. One dragon cost 1500sgb. I was very happy. I finally realized that I can do everything. It turns out nothing is impossible
Do you have other hobbies?
Of course, I also have other hobbies in life. I love studying and sports. Well, I hope dad will give me a puppy and I will have another hobby.
What are your future plans?
We have a lot of plans for the future and now we have two collaborations with other Flare/Songbird projects. I hope that after 5 years this project will be huge and we will create volunteer groups around the world. I will end my school and I will know exactly which university I should enter. We are also working on phygital art to match with our digital NFTs.
To find more about LizArt check out her socials below
Website https://t.co/RNNfrGCBU3
Twitter https://twitter.com/LizArtNFT_
Discord https://t.co/BUUHR4yP57
To find out more about Sparkles check our the socials below:
Website: https://sparklesnft.com
Twitter: https://twitter.com/SparklesNFT
Discord: discord.gg/sparklesnft