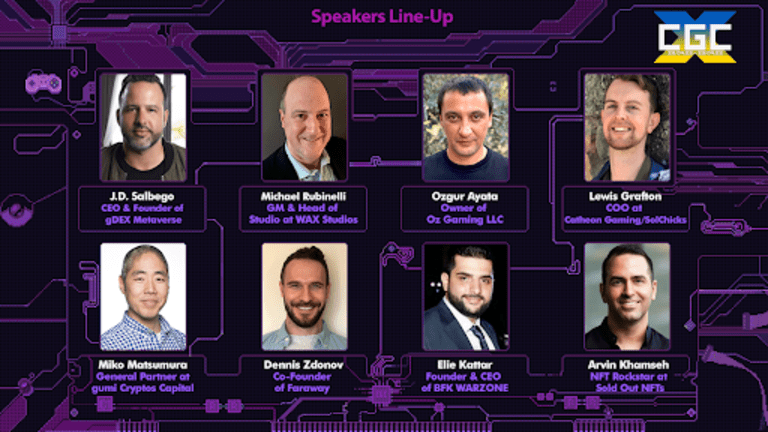 What's happening at CGC X Gaming Conference 2022
A fireside chat with Robby Yong of Animoca Brands, The Future of GameFi with David Chin, and Unlocking the Metaverse with Genesis Worlds are just a taste of the gaming focused content at this year's CGC X conference. 
The anniversary edition CGC X is gonna welcome more than 3.5K attendees from all over the world in a week. Are you ready to enjoy the inspiring and instructive presentations of some of the most engaging speakers in Blockchain gaming? 
Check out CGC X agenda and don't miss a chance to get acquainted with the sixth stellar line-up!
J.D. Salbego, CEO & Founder of gDEX Metaverse
J.D. Salbego, Founder and CEO of gDEX Metaverse, an all-in-one Play to Earn platform powering gamers and creators in the Metaverse and AnRKey X, a multi-release GameFi studio, is a global leader in blockchain gaming, NFTs, DeFi, and the Metaverse, market influencer, speaker, published author, and internationally-recognized subject matter expert.
Michael Rubinelli, GM & Head of WAX Studios
Michael is a 25-year gaming industry veteran having started his career in the early 90s with Electronic Arts. Currently, Mr. Rubinelli is the GM & Head of Studio, at Worldwide Asset Exchange (aka – WAX) Studios. WAX is the number one blockchain in the world based on daily transactions. He oversees development of all internal and external games in their play-to-earn gaming portfolio
Ozgur Ayata, Owner of Oz Gaming LLC
Ozguy Ayata is Olivelands' owner. Oliveland is a play-to-earn NFT game connected to a real-world farm, where 1 NFT represents 1 sq ft of real farmland. It has successfully built a farm in Cyprus in 2021. As of this past month, all olive trees have now been planted and the construction of an on-site building is almost complete.
Miko Matsumura, General Partner at gumi Cryptos Capital
Miko Matsumura is a General Partner at gCC (Gumi Cryptos Capital), a Silicon Valley investment fund with over $500M in assets including early-stage investments in unicorns like OpenSea, Yield Guild Games, Celsius Network, VEGA Protocol, Qredo, Agoric, Astar and 1Inch Network.
Lewis Grafton, COO at Catheon Gaming/ SolChicks
Catheon Gaming is the fastest-growing integrated blockchain gaming and entertainment company globally. They bring technical, gaming and marketing expertise together with deep roots in the blockchain industry.
Dennis Zdonov, Co-Founder of Faraway
Dennis Zdonov & Alex Paley co-founded Faraway in July 2021, and since then have raised $30 Million in funding as they expand their vision to not only enable players to be creators in their game worlds, but also to monetize their creations. Faraway's debut game, browser-based Mini Royale: Nations, is the first live game to launch on the Solana blockchain platform, the fastest blockchain in the world and the fastest-growing ecosystem in crypto.
Elie Kattar, Founder & CEO of BFK WARZONE
Elie has been working in the gaming industry for over ten years as a Community Manager and Gaming Specialist with multiple e-sports lounges in the middle-east, tournaments & platforms like Facebook Gaming. He has extensive experience in game design and development and currently is managing the creation of BFK Warzone and the NFT's Marketplace Ecosystem, building the game into the blockchain from the ground up.
Sarojini McKenna, Co-founder of Alien Worlds
Sarojini McKenna is a co-Founder of the breakthrough NFT Metaverse, Alien Worlds, one of the world's most popular blockchain games. She has bridged traditional business practices with decentralized communities and concepts since the early days of cryptocurrency. Saro holds an MA Hons from Oxford University where she was a Mrs. JH McKeown scholar. With more than 5.9 million lifetime players, and more than 250,000 active daily, Alien Worlds is consistently one of the top blockchain games on DappRadar charts. 
Arvin Khamseh, NFT Rockstar at Sold Out NFTs
Arvin Khamseh has always been on the forefront of new tech trends. From biohacking to internet marketing, Arvin knows where to invest his time. So when the NFT wave came along, it was a natural fit for him to jump in early on. His two largest NFT projects, Sands Vegas Casino Club and Meta Legends, both sold out. The Sands project made +$2.2m in 20 hours and the Meta project made an astonishing +7m in 20 hours and even received celebrity attention.
Save the date 28.04.22 
There are still some tickets available for this years conference. Register here