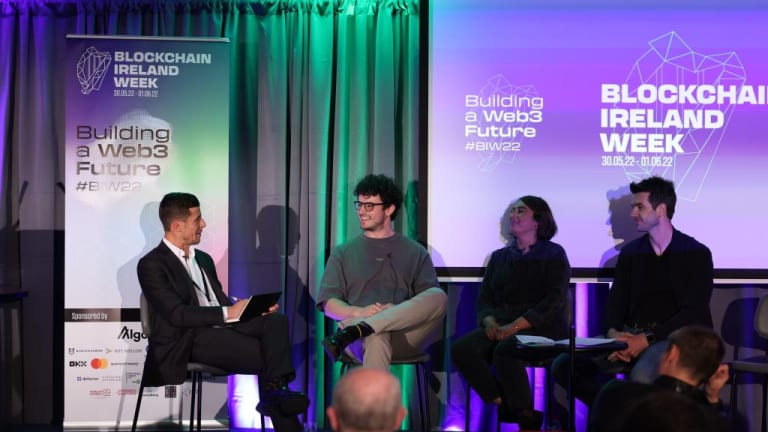 What the leaders said at Blockchain Ireland Week 2022
Before BIW22 "One more sleep! See you all tomorrow." Dave Feenan, Chair of BIWW22
"On a spiritual level I see crypto as a store of energy" Oded Levanon from @coinmama #biw22 #crypto
"We feel that consumers are exposed to risks that they don't understand...it makes us uncomfortable" Gerry Cross, The Central Bank of Ireland's views on #Blockchain, #crypto and #Web3
"It's fair to say I've learnt a lot from highschool dropouts." Amit Chaudhary, PhD of Polygon.
"Multiple potential uses is an exciting part of Blockchain technology" Gerry Cross Director of Financial Regulation with the Central Bank of Ireland #biw22
"I'm just delighted to be on the same lineup as Mick Flannery." Paschal Donohoe, TD and Minister of Finance.
"We are building now, that's the important part." Mark Sugden, Near Foundation
"Don't underestimate how much education is needed in traditional finance." John Cronin, Zodia #blockchain #education #defi
"Increasingly we see more opportunities for women in Web 3 and more women applying. This is a good sign." Ciaran Bergin Parker Stewart
"Jillian Godsil is big in Japan." CryptoNorma
"Throwing a real cow at a colleague might be an issue for HR, whereas the digital equivalent might pass unnoticed." Sabrina Anjara, Accenture.
"He ain't heavy, he's my cousin." Lory Kehoe on Shane Kehoe
Tokenization offers "the ability to use the technology that started with traditional assets to reshape how an industry works." Ben Duve, BNY Mellon #blockchainirelandweek #blockchain
"Mainstream Irish banks can be tricky with crypto - that's why we bank with a Lithuanian bank." James Nagel, Bitcove
"Startups are the most important part of the BIW22 ecosystem and we are going to support them." Fiona Delaney, Origin Chain
"The metaverse is definitely coming to Skibbereen." Brian Elders, Sors Digital Assets
"There are some great stable coins out there. If you want to start with stablecoins, look at their backing." Sean Mullaney from http://Stripe.com #blockchain #crypto #stablecoins
"I'm a bitcoin banker," John Whelan-Santander
"We are delivering real aid through our project - we've been here since 2016." Niall Dennehy Aid:Tech
"Once you've seen decentralized finance, you can't go back." Shane Kehoe, Swissborg Ventures
"Don't show me your tokenomics up front, please - rockie error." Kavita Gupta Delta Fund.

After BIW22 "Need sleep!" Dave Feenan, Chair of BIW22