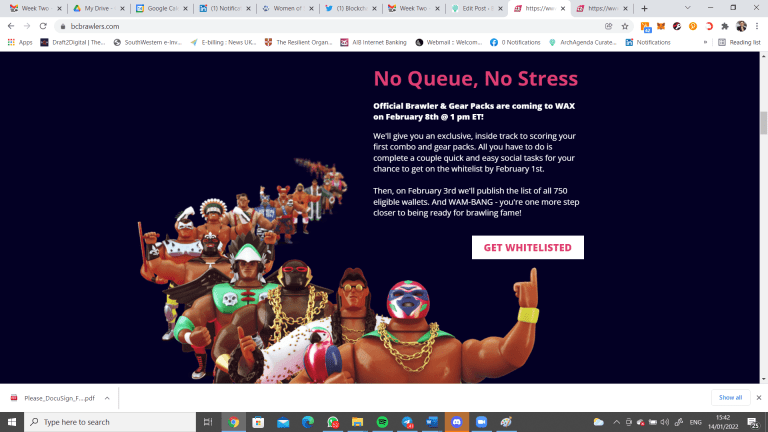 WAX leans into community
The WAX community is crucial to the success of the WAX platform. Many aspects in the digital world can be copied and cloned. What is harder to copy and can greatly impact the success of any platform is the community, so says Michael Rubinelli, GM and Head of Studio for WAX and charged with successfully launching their first game in the Play2Earn space, "Blockchain Brawlers". 
The early signalling around commercial efforts for Blockchain Brawlers have been beyond positive and Rubinelli is really pleased with the enthusiasm of the would-be gamers.
"The actual game is about a month off, but our Blockchain Brawlers Discord channel is teeming with activity. We mostly find people curious to know more about the game's design and talk about which is their favourite brawler of the ones that have been announced. To answer these questions and join in on the debate there has been a concerted effort to be responsive and show a level of care beyond most gaming forums. There are more than 80,000 players in the Wax Discord and we are keen to give them all a good experience and let them know they are being heard," says Rubinelli.
Launched just before the holidays, the quirky Blockchain Brawlers are going to be the rowdiest Play2Earn game in the metaverse. The first 100 Brawlers is a rare mix of four editions giving collectors a rare chance to buy one or more of the most coveted NFTs in the game, the "Founders Edition'' which are composed of one of a kind NFTs. The Brawlers will then be integrated into an upcoming Play2Earn game of bonkers wrestlers with equally weird and wonderful personalities. People playing the game act as managers as they send their Brawler NFTs to fight in the colourful world of wrestling.
Already NFT auctions on Binance NFT have resulted in total sales of more than $530k and this week another rare Brawler went for in excess of $13k. Their scarcity has driven up the price, but WAX took a popular and brave decision to reduce the price of the starter packs of brawlers so more people could potentially be able to purchase their own brawler and ring and engage with the game on Day 1. Since the availability of brawlers is limited it will be up to other players in the community to craft and create more brawlers for their fellow players to join in on the excitement. This is the biggest differentiating factor in P2E gaming, it is building a player to player driven economy. Without a fully engaged and emotionally invested community this becomes increasingly harder to do.
Another big issue facing the community is the presence of bots that can easily purchase packs in nanoseconds, far faster than a human being can key in their credit card. For this reason, WAX has introduced a whitelist programme for their initial brawler pack sales where real people can undertake a number of tasks such as following on Twitter, joining Discord and adding their WAX Cloud Wallet to join a master list and get a chance to buy the pack on their time when it best suits them.
"Giving the community an opportunity to purchase over bots is very important to us. Not only do we want our content in the hands of our players, but it was clearly important to our community that we make the effort to stop this less than ideal situation where they were at the mercy of technology," says Rubinelli.
As excitement grows for the upcoming game, details are being shared on the website https://www.bcbrawlers.com. It is themed as a Brawl. Earn. Craft. Repeat. experience.
Players will need at least one Brawler and one Ring to start wrestling. In the Rare and Legendary Rings, players can enter more than one Brawler to wrestle simultaneously.. Other advantages include the addition of brass knuckles and steel chairs – or just the normal accoutrements for real life wrestlers.
Post battle, players can check how they Brawler did in terms of BRWL earned or Gold NFTs dropped as the exhausted Brawlers time out for 60 minutes between bouts. The extra BRWL or Gold can be used to heal Brawlers, craft enhanced rings or stronger Brawlers or even more outrageous gear.
Rumours have also reached this page that there is an ambassador programme in development. No amount of BRWL could loosen the tongues of those in charge but watch this space for more community centric programmes and even more exciting guest wrestler appearances...