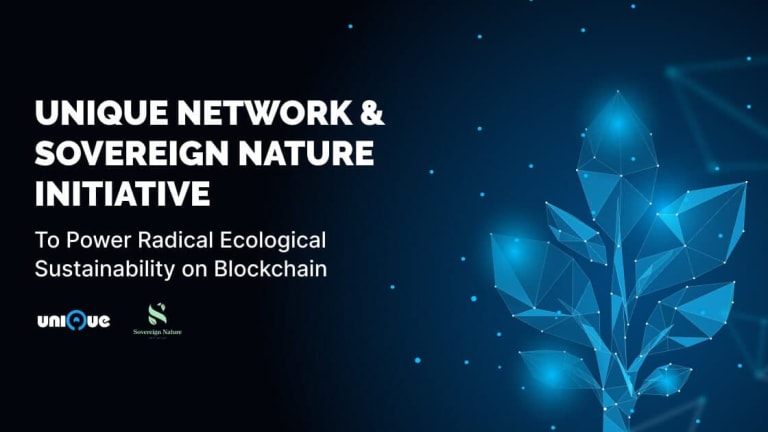 Unique Network & Sovereign Nature Initiative to Power Radical Ecological Sustainability on Blockchain
The Sovereign Nature Initiative (SNI) will use Unique Network's NFT marketplace infrastructure for ecological conservation and regeneration projects as part of their upcoming Hackathon. The deadline to participate is December 20, 2021. Apply here. This is inline with Unique's mission to utilize its blockchain technology to power partners building platforms and communities devoted to environmental sustainability.
SNI is a non-profit foundation working to rebalance the relationship between humans and nature by reconfiguring the intersections between ecology, economy, and emerging web3 technologies in ways that open minds to radical sustainability approaches. The organization's work focuses on developing ideas that break the cycles (and confines) of what humans have grown to accept as the level of dominance over nature and non-human life that has contributed to today's climate change and ecological disasters.
SNI's has a vision of a future where where next-generation blockchain technology, DAOs, and AI combine to change the paradigm of our natural world, to put the power back where it belongs: with nature. While self-governing trees might sound like a scene of science fiction, more akin to Lord of the Rings than to blockchain, SNI is building a future where examples of nature sovereignty might just be possible.
SNI plans to utilize Web3 technology through a variety of conservation and regeneration projects. As an example, projects may create NFTs and research to allow nature-based DAOs to capture and store the value of ecosystem resources and benefits and provide a decentralized framework to stewards of land and natural resources , which will have life conducive governance rules coded into the DAOs function. 
To help fuel their mission, SNI is holding a Hackathon supported by Unique Network's robust NFT infrastructure. SNI will utilize our advanced, flexible set of tools when asking development teams to experiment with some of the use cases they envision as applications for the intersection of NFTs and their ambition for sustainable technology. SNI's Hackathon will assist their platform in building out an NFT suite that will have its value created, captured, and stored by nature. Moreover, the fact that our platform's technology runs on the Kusama network, made the choice to partner with us very attractive to SNI as it allows them to offer their partners a low-carbon footprint solution to mint and store NFTs.
Specific topics of focus will include: 
Land ownership and management
Governance models of public/private/nature partnerships
Soil repair through phytoremediation 
Data collection and sensoring (air quality monitoring, toxicity testing, etc.) 
Rewilding and restoration of native species
Regenerative finance
Winners will also be given the opportunity to develop their solutions further and integrate them into SNI's growing tech stack, as well as showcase their ideas at SNI's De Ceuvel event planned for May 2022 in Amsterdam. The deadline to apply for the hackathon is December 20, 2021 and the application can be found here. 
SNI's's entire ethos revolves around environmental conservation through alternative technologies and strategies; they will take advantage of the diverse use cases possible with NFTs on Unique to identify ecosystems and create value. 
"Sovereign Nature Initiative is extremely happy to partner with the Unique Network to provide NFT and marketplace development support to our technology teams working on environmental conservation and regeneration projects," said Catherine Bischoff, CEO of Sovereign Nature Initiative.