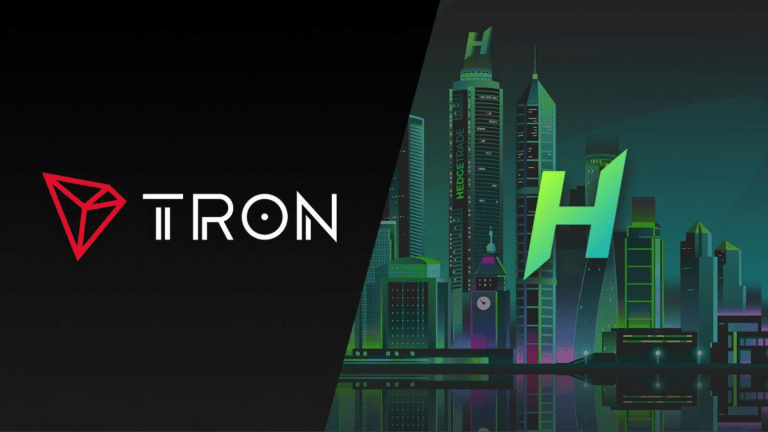 TRON Joins Forces with HedgeTrade for TRX Integration
Decentralized Finance maven, TRON, and blockchain-verified prediction market, HedgeTrade, collaborate to offer trading analytics and insights to TRON and HedgeTrade users.
CEO and Co-Founder David Waslen announced the HedgeTrade-TRON collaboration last week.
HedgeTrade's proprietary social trading platform is collaborating with TRON, by integrating TRON's native token TRX into the HedgeTrade platform. Users will now be able to monetize their market predictions using $TRX trading pairs on the platform.
HedgeTrade is a blockchain-run predictive market, and TRON aims to increase the accessibility and scalability of decentralized finance projects (DeFi).
HedgeTrade is a social trading platform that uses blockchain technology and automated smart-contracts to securely monetize prediction markets. HedgeTrade was created for both seasoned and novice traders to share trading insights.
Using the blockchain run platform, expert traders can monetize their market insights by building trading blueprints. Other users are able to access these trading predictions by purchasing them on the HedgeTrade platform.
TRON is a leading DeFi application developer, as well as one of the largest blockchain performers in the world. TRON's blockchain-run platform is able to handle 2000 transactions per second. Their capacity and outreach make its blockchain potentially more scalable than others, including Bitcoin and Ethereum.
With this HedgeTrade collaboration, TRON continues its expansion, which includes multiple other recent collaborations including: JustSwap Program, Waves, and Gravity Protocol.
HedgeTrade and TRON see this as a mutually beneficial partnership, as it will increase awareness of the HedgeTrade's blockchain-secured prediction market, as well as offer TRX market analysis and liquidity.
TRX is TRON's native token and the basic unit of accounts on the TRON blockchain. The value of all other tokens used on TRON's blockchain is derived from the TRX token. The token also connects the TRON ecosystem.
Moreover, as TRX is now an accepted trading pair on the HedgeTrade platform, TRX now has access to a method of measurement and analysis of its token value. With the addition of TRX, blueprints published using the HedgeTrade platform, TRX trading pairs will help collect a gauge of market forecasts and traders' sentiments about TRON and its expansive blockchain network.
Based on analytics from the DeFi tracking platform DeFi Pulse, the total USD value of assets invested in DeFi apps has increased from $100 million in January 2018, to more than $770 million as of April 2020.
David Waslen explained the benefits to both TRON and HedgeTrade communities stemming from this collaboration:
"By including TRON's native cryptocurrency TRX into our predictions market, TRON will gain a unique way to measure sentiment for their coin and yet another avenue for liquidity. With this important trading pair addition, HedgeTrade provides additional opportunities for its base of traders to profit by making predictions on $TRX trading pairs. It's another win-win partnership benefiting both companies as well as both communities."
You can visit their websites to learn more: