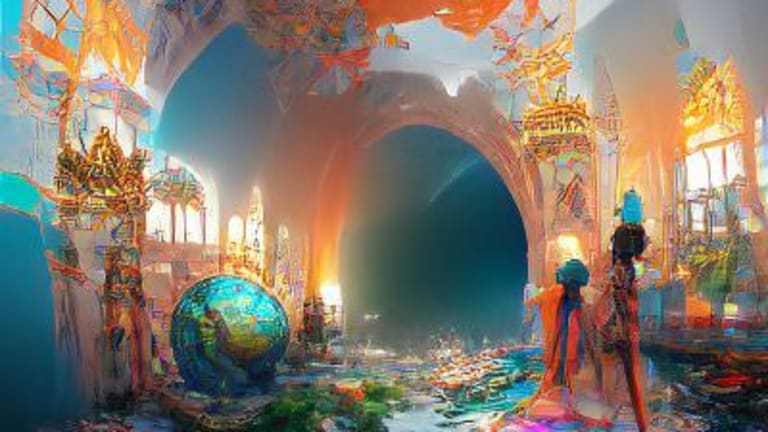 The Metaverse in 2022: What happened and where are the roads leading
It was full steam ahead for metaverse creators and users in 2022 with many leading projects paving the way for interaction with mind blowing virtual environments. 2022 will be remembered as the year the metaverses were building their communities. Leaders from leading metaverse projects were seen gracing some of the biggest tech conference stages and reaching out to the world to create a better understanding of the opportunities in virtual worlds.
At the end of 2021 Facebook rebranded to Meta and this was a tipping point for metaverse projects everywhere as the wider public began a cautious curiosity with the potential of digital assets in the future. It became clear that the metaverse would give rise to new cultural norms and pose interesting questions about our future online behavior. The stage was set and main players began to express their visions for our virtual environments. 
Many of the leading projects accentuated gamification and immersive experiences that differentiated themselves from the passive online entertainment found across most social media platforms and the attention economy that has long proliferated our digital lives.
Sandbox continued its partnership spree with celebrities and leading brands, partnering up with Tony Hawke to open a virtual skatepark and leading magazine and Forbes to run member only events in the metaverse.
Upland dominated the metaverse real estate news throughout the year. In May, Upland launched two new cities, Las Vegas and Rio de Janeiro, where players can buy virtual land and unique assets. It also released its highly anticipated digital cars. The community focused platform saw players increase to 2.5 million registered users. They also announced a multi-year partnership with FIFA just before the World Cup tournament got going and managed to sell an impressive 400,000 World Cup NFTs to eager fans in the metaverse.
Decentraland hosted the second Metaverse Music Festival bringing huge acts such as Björk. With 15 stages and 150 artists and the most colourful wearable merch you can imagine, this was certainly a festival to remember in 2022. The set designs were outstanding and wearables became a popular topic with mushroom headpieces and diamond dresses available for all to buy.
Alien Worlds launched their planet DAO's giving their 3 million active users the chance to govern one of their six planets and providing access to huge treasuries of tokens. This is certainly one to watch for gaming lovers next year.
Otherside, a metaverse created by the creators of Bored Ape Yacht Club, was revealed as the newest Yuga Labs project and will allow all 10,000 Bored Ape holders to interact with eachother simultaneously in this new online environment.
Metropolis World launched with a unique artistic style in July, partnering with Flare Network to factor interoperability into the development. The platform was an instant hit with artists, designers and musicians that saw the beautiful aesthetic value of the building design. Unlike many NFT collections, its cities are created digitally by hand and every property is a unique standalone piece of art.
In July, leading blockchain based platforms focused on improving collaboration within the metaverse joined forces to create the Open Metaverse Alliance for Web3 (OMA3). Proposition standards, addressing interoperability and facilitating collaboration between all stakeholders is part of its inclusive design. Starting with leaders like The Sandbox, Upland, Alien Worlds, Decentraland and Animoca Brands, this dynamic organization is steadily growing. To date, over 1,000 organisations have signed up.
The metaverse offered a new vision for how we engage with our online peers and new business opportunities for brands that have already built up a loyal following. Brands such as Nike, Gucci, Adidas and Disney began to carve out their own dedicated interactive virtual spaces. Gucci began by letting avatars explore the Gucci Garden as a virtual environment and are building a permanent location in Roblox called Gucci Town.
Nike took their entry to the metaverse a step further in 2022 with the purchase of a dedicated brand called RTKFT Studios that represents their NFT collections and metaverse campaigns. Adidas did an NFT drop at the right time and in the right place with over 30,000 NFTs selling out within minutes and netting 22 million dollars. Watching how brands engage with the metaverse in 2023 will be fascinating as more products and services are designed around the new virtual shopping experience.
It's safe to say that our virtual worlds are flourishing and making inroads across many traditional industries like fashion, music and real estate that see the metaverse as the next big online adventure worth exploring. The global pandemic gave rise to a hybrid model of work and now with the various metaverse environments this hybrid living is now creeping into other areas of our lives. 
From always-on environments to creative digital asset design, there are endless ways for individuals and brands to experience virtual worlds and enjoy discovering the potential of blockchain technology with fellow avatars.