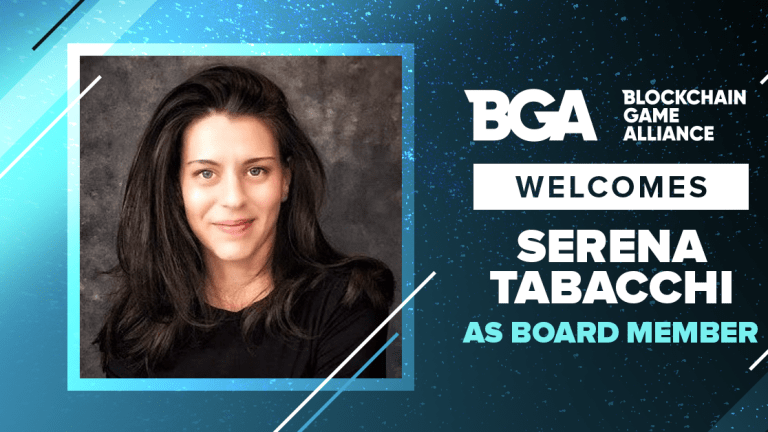 The Blockchain Game Alliance Welcomes Serena Tabacchi as Board Member
The Blockchain Game Alliance (BGA), an industry organization committed to spreading awareness and encouraging adoption of blockchain technologies in games, announces the appointment of its newest board member, Serena Tabacchi.
Tabacchi brings extensive experience in blockchain and non fungible tokens (NFTs) to the BGA. She is director and co-founder of the Museum of Contemporary Digital Art (MoCDA), a virtual museum based in the Decentraland metaverse, and leads partnerships for The Sandbox. Tabacchi has also been an active BGA supporter and community member for the past two years, volunteering as BGA's communications and events coordinator to organize its Demo Days, New Members Presentations, and other events on art, gaming and blockchain.
"Serena has already made great contributions to the BGA and has a proven track-record as entrepreneur and community builder. We are proud to logically bring her to the board so her decisions can be even more impactful. Our industry has seen huge growth over the past year and we want to make sure the opportunities are accessible by more diverse and talented people from all backgrounds, keeping this space to be inclusive and inviting to all. Serena can act as a great role model for other women who may be thinking about a career in blockchain gaming," said Sebastien Borget, President, BGA.
In December last year, to mark the launch of the Blockchain Game Alliance 2021 Member Survey and Report, Tabacchi co-hosted a virtual event where she called for adequate gender representation in the blockchain gaming industry. Only one in five respondents to the BGA survey were women, and for those women who answered the survey, they were generally younger than the male respondents and more likely to have held their current position for less than five years. There were also less women in founding positions, with 16% of women respondents identifying as founders, compared to 37% of men.
Tabacchi, however, sees this as a positive sign that fresh female talent is finally entering the blockchain gaming space. She recalls how difficult it was for BGA to achieve balanced gender representation at its earliest events, as it was rare to find anyone at the highly-niche intersection of blockchain gaming. In her role as events coordinator, Tabacchi went outside the BGA circle to find women who were involved in blockchain more broadly, who could also speak for gaming.
Tabacchi, who holds a master's degree in text and performance from RADA (Royal Academy of Dramatic Art) and Birkbeck (University of London), says that people with non-technical backgrounds should not be discouraged from joining the blockchain gaming industry.
"This is the beginning, it is happening, and we can expect the BGA to create opportunities and initiatives to include more and more women in future," says Tabacchi, who replaces Caty Tedman of Dapper Labs, who voluntarily stepped down from the BGA board in 2021. "Caty was the first woman to join the BGA board and we aim to continue on her path," added Serena.
While she is eager to see more women in blockchain gaming, Tabacchi also says that she would like to shine a brighter light on the idea of plurality over diversity and inclusion.
"We pushed for diversity and inclusion because that was what everyone needed at the time," she says. "But now, I think plurality is more in line with what we actually want to do. We have so many people coming into the space who are from different backgrounds and who used to do something completely different," adds Tabacchi, who intends to continue her focus on bringing the BGA community together both online and in real life to facilitate connections and foster relationships while providing education and support to BGA members.
Founded in 2018, the Blockchain Game Alliance represents over 473 members across 74 countries. The organization saw a membership growth of 186% from 2020 to 2021, with a roster of members that includes leading and upcoming gaming studios, major blockchain protocols, and individuals within the blockchain gaming community.
Tabacchi joins current BGA board members, Sebastien Borget of Animoca Brands and The Sandbox, Gabby Dizon of Yield Guild Games, Aleksander Larsen of Sky Mavis, Shaban Shaame of EverdreamSoft, Nicolas Pouard of Ubisoft, Ludovic Courcelas of ConsenSys, Nicolas Gilot of Ultra, Marc Coupal of Enjin and Piers Kicks of BITKRAFT.
--