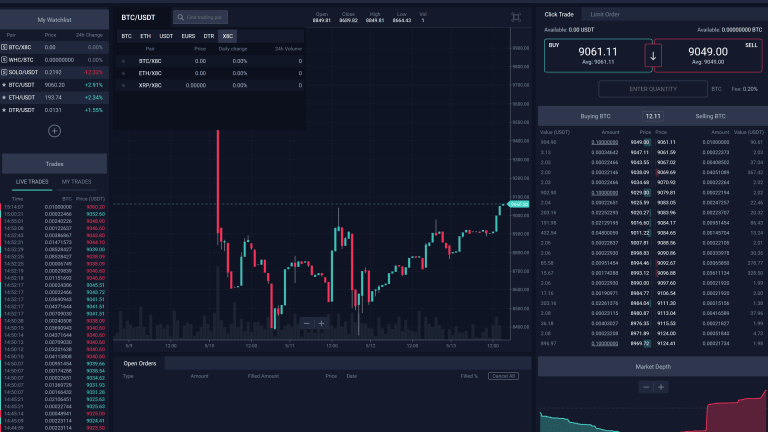 Swiss based X8 AG announces to its ICO investors the official closing of the ICO process with the pilot listing of the first "value preservation" stable coin X8currency on European exchange Tokens.net
X8 AG today announces to its ICO's investors the official closing of the ICO process with the test listing of its digital token X8currency (X8C) on Tokens.net exchange. This test listing is essential to determine without any doubts that X8 unique ARM (Automatic Reserve Management) AI based system, is fully working without any technical issues.
About X8 AG To learn more about X8Currency, please visit www.x8currency.com and www.x8ag.ch
X8C is a unique stable coin backed by a basket of the 8 most liquid and convertible FIAT currencies. It is also the benchmark for stability, safety and value preservation in blockchain.
X8C is a key component for leveraging the advantages of DLT-based financial infrastructure, including transferring value more efficiently and protecting investors' assets from the current market volatility and inflation. In fact its proprietary AI based ARM (Automatic Reserve Management) system allows the strict management of the exchange risk between the FIAT currencies and makes X8Currency the ultimate crypto safe haven.
X8currency is the perfect settlement currency for transactions that require predictable conversion rates and low volatility while providing highest levels of liquidity. This is exactly what merchants are seeking.
Swiss based X8 AG, announces to its ICO investors the official closing of the ICO process with the pilot test listing on European exchange Tokens.net of the first value preservation stable coin X8currency (X8C), a settlement token 100% backed by a basket of 8 FIAT currencies.
This test is essential in view of confirming in a real exchange environment that X8 AG unique proprietary AI based FinTech platform is fully working without any technical twitches. X8 technical team will be able to work in real time on further improving its FinTech system.
ICO investors will applaud the fact that the testing is allowed by putting on Tokens.net an amount of X8C minted with X8 AG FIAT funds. This is important to study the stable coin's processes in interaction with the environment.
Meanwhile X8 AG Team of Legal Advisors is working on the notification to FINMA as per its Guidelines on stable coins https://finma.ch/en/news/2019/09/20190911-mm-stable-coins/
As per our ICO White Paper, for every X8C minted, X8 AG will hold in Swiss custodian bank accounts the equivalent amount of FIAT divided into the 8 most liquid and convertible FIAT currencies. Furthermore the 8 FIAT currencies custodian accounts will be fully segregated. The custodian accounts will be regularly audited to ensure full transparency and exact equivalence between the tokens in circulation and the FIAT currencies backing them.
Stable coins are digital assets that can be pegged against any national currency. X8C acts as bridge between other digital assets and all top global fiat currencies, increasing transaction ease and efficiency. X8C can be transferred in real-time, resulting in almost immediate settlement of transactions.
X8currency is PROVEN:
X8C uses Risk Management AI developed over 10 years for traditional FinTech.
X8currency is SAFE:
X8C's non-leveraged reserves in top 8 FIAT currencies provide unparalleled safety.
X8currency is LIQUID:
X8C's FIAT currency foundation enables any daily volume without affecting the price.
X8currency is SECURE:
X8C's Swiss architecture fully utilizes the advantages of the Swiss financial ecosystem.
X8C is also the best stable coin in the market, which can help holders of highly volatile crypto currencies to freeze the value of their crypto assets during periods of high volatility. 
"Our main motivation during the development of X8currency has been our belief that stable coins are essential for bringing the digital asset economy to life. Our unique FinTech background makes our stable coins also a very suitable investment for institutional investors and savers. Furthermore, we hope to help solving the problem of the unbanked people in order to ensure the inclusion of as many people as possible in the digital economy."
Francesca Greco, X8 AG Co-Founder and Co-CEO Zug.
"The characteristics of the X8currency product beyond its main value preservation and stability capabilities are the originality of the X8 design and innovation built into it. As the architects at X8 AG we were driven by the goal to create something that has never been done before and to satisfy as many different users as possible. We are proud to have achieved this. The market will have a product available that works just as well for a regular consumer in the new digital economy as it does for a banking institution that also wants to become a part of the digital future. Traders should also find X8currency as one of the most suitable products to use when they want to exit volatile market situations quickly", he added.
Gregor Kozelj, X8 AG Founder and Co-CEO Zug
About X8 AG
To learn more about X8Currency, please visit www.x8currency.com and www.x8ag.ch