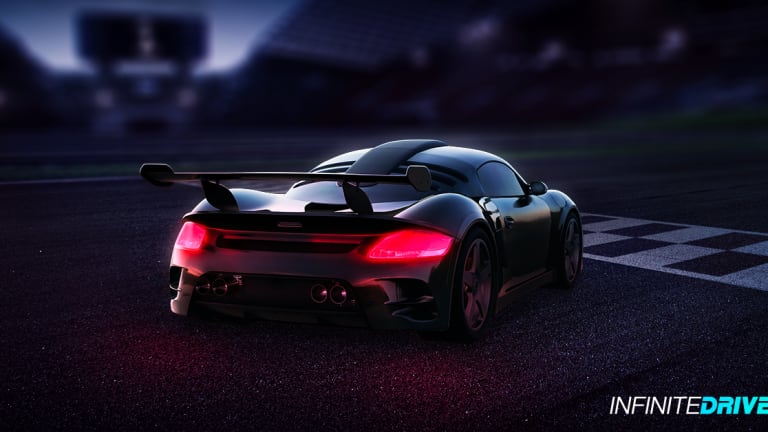 Racing into the Metaverse with Infinite Drive
Mobile gaming master Stephane Baudet describes himself as the oldest guy in the mobile gaming industry. With experience dating back to the 80's when he first began working on console games (not even AAA games at the time), he may just be the most experienced mobile gamer today and now he is catapulting into the Metaverse with new project Infinite Drive. 
He founded his first studio at the end of the 90's in France and named it Eden Games which was later sold to gaming giant Atari. 
Impressive I hear you say, yes and there's more. Baudet moved to Canada where he enjoyed working with movie studios and this is where he decided to specialize in mobile video games. Reflecting on the success of French companies in the gaming industry Baudet pinpoints the two pioneering gaming companies that emerged in France, Infogames which later became Atari and Ubisoft. 
"I think because of those two large companies, the whole sector became important because as just like myself I was working in programs at the time, and then I had the opportunity to set up my own studio, and then my studio Eden games created like multiple studios around as well. So I think it's all related to those very early companies, very pioneering companies," recalls Baudet. 
Baudet and his team stumbled on the world of blockchain as they were building a Formula One racing game. As the rights to the blockchain-based version of the game called Delta Time had been bought by Animoca, they approached them to work on the project. Although unsure about how blockchain could benefit games, the team was intrigued and became a partner game developer for the project. 
Blending Free-to-Play Gaming with Blockchain Benefits
The new project, Infinite Drive, is a blend of free-to-play games, with the benefit of blockchain, the earning aspect, ownership and enhanced decentralization. Infinite Drive's aim is to build a community of 5000 players initially who get early access to the game to the alpha version of the game. 
Baudet comes to blockchain gaming with a wealth of experience in the traditional world of gaming. It is a key differentiator with his team and the way in which they develop games. When he first started to work with Web3 brands they would have a lot of knowledge about Web3 but were lacking the game experience. He could see how mobile gamers and blockchain game developers could come together and bring great gains. 
While staying focused on the creation of quality mobile games is a priority, he also likes the idea that in blockchain gamers could become investors. 
"As a mobile developer, we had to connect with the community, we had to listen to the community, we had to update the game and to work on the game as a service."
"Our duty as a creator is not to cash out on the token and to use the money we get from the token to actually deliver a good game for people to stay. I really liked that aspect, the business triangle between gamers, creators and investors, I think could be well balanced compared to other business models."
Blockchain gaming in its current form is unsustainable. Baudet and the team have experience working on numerous blockchain games and believe that the current system of constantly adding more and more players to get the momentum going for the games is unsustainable. 
Showcasing your car NFTs in your metaverse garage is a unique feature of Infinite drive. Baudet explains that the idea is to provide a location to exhibit your car collections. Each garage holds six cars and you can also order your cars in the garage through a garage management tool that allows for garage customization where you can have different garage skins. 
"We can have a full 3d representation of the cars we can turn around we can look at the car specs, we can drive the cars. We really believe in the garage for showing off the collection. You can share screenshots you can post on social networks you can tap on any of the cars then you have a detailed view of the car you can turn around etc and then, of course, you can visit friends' garages as well so when you have a friend list and you can access to the garage and then it loads the cars from the server and then you can visit the friend's garages."
Organising races and events with your clubAnother notable feature of Infinite Drive is the whole idea of a club. Unlike other games, the club means that players can hang out without having to participate in races so it becomes more of a reason to gather in the metaverse. 
"Within a club, you will be also able to organize races, events, or any sorts of events. We want the club and the owners to also participate into the community"."We believe that the club will be the space where people are going to show off their cars and share their passion for cars".
As a player, I can collect cars but also drive them adding interactive utility to my experience in Infinite Drive. Baudet mentions listening to the engine, showing off to friends, and racing in teams…it is an endless digital world of fun for car enthusiasts who spend time online. 
Car Aficionado moving from physical to digital 
The shift to digital representation of car preference is now more valued than using physical cars as a way to showcase a favourite car brand. 
Car manufacturers are interested in the shift from physical to digital representations of their cars. Baudet believes that consumers will move from miniature collections to digital collections. 
"Up until recently, they were licensing car models, small toy cars or collectible cars. And that was a marketing license for them. The reason why they were doing this is that it's aspirational, and the kids will receive a small car, then when they grow up, they become a fan of the brand and eventually purchase one of the car. We believe that this market is disappearing because the new generation doesn't value it as much as physical objects. So for instance, I have two sons, who are, you know, 1820. And for them owning a digital asset and owning a physical asset is almost like, well, if I can put the car in my phone and show off to my friends, you know what I appreciate the digital one." 
Most car manufacturers that Infinite Drive has spoken with are very excited about NFTs. 
"We've been already working with car manufacturers on the previous game, in the free-to-play world. We already have 20 car manufacturers working with us and we are converting them to NFTs. Some of them are very well educated, but most of them not so much. Some of them are a little bit scared about what can the player do with that NFT if it goes outside of the game. A big part of our job is to educate car manufacturers about the potential. Most manufacturers come into the picture and are very excited about the idea".
Integration and Interoperability are key for the future
Integration as part of the user experience is important for Baudet. Infinite Drive will have a fully integrated marketplace. This embedded marketplace also allows the team to offer more security of the NFTs. 
"I believe that generic marketplace as we know them today will become more specialized into types of NFTs. And for me, the experience of spending time in the marketplace, you know, browsing for interesting cars is also part of the experience."
"You can still purchase a car outside of selling the car outside of the game, but we believe that the experience we're going to provide within the game will be much better."
Baudet wants to keep the Infinite Drive metaverse friendly for new players. 
"Once the game goes live, it's going to be seen just as a regular free-to-play game. Basically, the blockchain mechanic is hidden in the background. So you're going to start with a free car, that car will be like a more mainstream car more regular car. The second step is how can users get their hands on fancy cars. As owners will have the ability to rent a car." 
There are also plans to make the game interoperable with other platforms. Baudet wants to offer users the ability to use their NFTs in different metaverses and games. Although a large number of projects want to offer this interoperability, not many will have the experience of the Infinite Drive and have developed several complementary games that they have direct access to.