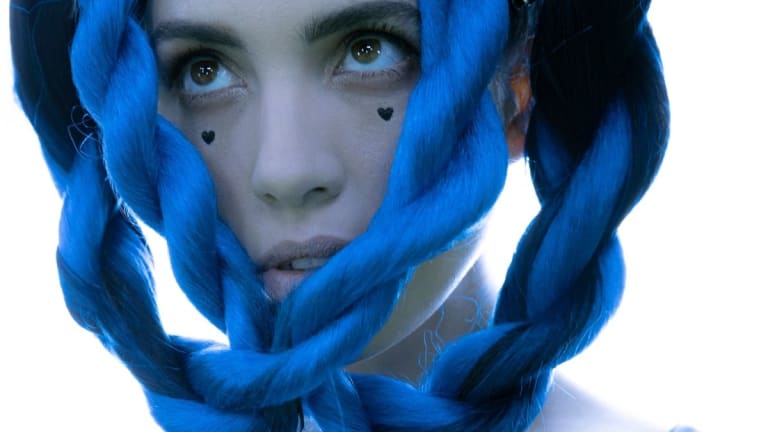 Pussy Riot Auctions Drink My Blood as NFT on Friends With Benefits
Russia's political protest art collective Pussy Riot announces Drink My Blood, a new artwork to be auctioned on December 2. Pussy Riot's Nadya Tolokonnikova's very personal artwork is dropping with Friends With Benefits (FWB) at Miami Art Basel, crafted using the freedom papers she received upon her release from prison in 2013. Pussy Riot is the first female artist to mint on the new FWB Gallery platform.
Conceptual artist and activist Nadya Tolokonnika, founding member of Pussy Riot, a global feminist protest art movement. She was sentenced in 2012 to 2 years' imprisonment following an anti-Putin performance. Went through a hunger strike protesting savage prison conditions and ended up being sent to a Siberian penal colony, where she managed to maintain her artistic activity and with her prison punk band she put together to tour around Siberian labor camps. Published a book "Read and riot: Pussy Riot's guide to activism".
Drink My Blood is based on real events: when Pussy Riot served their time, Nadya Tolokonnikova was forced to sew police uniforms and she'd frequently injure herself due to the prison not maintaining safe labor conditions.
Drink My Blood consists of 3 pieces: a freedom certificate issued to the artist after 2 years in prison, the blood of the artist (bottled) and a digitized freedom certificate stained with the blood of the artist.
Pieces #2 and #3 belong to the collector(s) who own the artwork. Blood of the artist, bottled, will be shipped to an address of the collector(s) choice. Additionally, a digital representation of the artist's blood vial will be issued as an NFT to every individual bidder on the auction. #3 will be transferred to the collector(s)' wallet. #1 will be kept by the artist due to the legal reasons: once convicted, according to the Russian law she needs to present her freedom certificate when traveling outside of Russia to confirm that the artist did properly serve her jail time.
​​Nadya Tolokonnikova states: "I spilled some blood on the freedom certificate I was given upon release on xmas eve of 2013, after spending 2 years behind bars. I was injured multiple times as the result of being conditioned to slave labor while serving my time in a camp - I was forced to sew police uniforms. I wanted to make this freedom certificate to reflect the pain every prisoner goes through. The collector quite literally will be sent a physical bottle of my blood, and an NFT.
3D & digitalization is performed by the Berlin-based female artist Ksti Hu.
Pussy Riot stands for gender fluidity, inclusivity, matriarchy, love, laughter, decentralization, anarchy, and anti-authoritarianism. The artwork in available on the Friends With Benefits platform