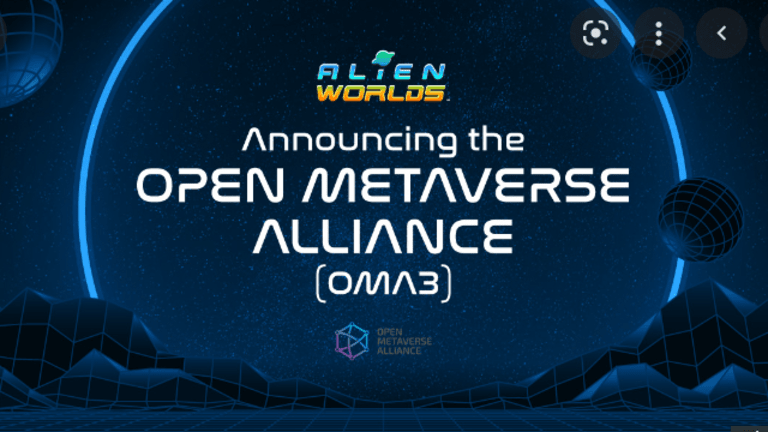 Open Metaverse Alliance for Web3 "OMA3™" to jointly address interoperability challenges of the industry
https://www.oma3.org/
The leading blockchain-based platforms for the metaverse and Web3 Alien Worlds, Animoca Brands, Dapper Labs, Decentraland, Decentral Games, SPACE, Superworld, The Sandbox, Upland, Voxels, and Wivity have formed the Open Metaverse Alliance for Web3 (short: "OMA3") to address interoperability challenges by proposing standards and by facilitating collaboration between various stakeholders of Web3 and other industries.
OMA3's mission is to empower a metaverse without restraining walls, where individual platforms are interconnected and interoperable. Its core principles are based on transparency, inclusiveness, decentralization, and democratization. OMA3 will be established as a Decentralized Autonomous Organization (DAO) to ensure a governance system that is transparent and user-centric.
OMA3 will focus its efforts on opportunities and challenges that arise specifically from metaverse blockchain-related topics such as standards for Non-Fungible-Tokens (NFTs), protocols, transferable identity, portals between virtual worlds, mapping, and indexing. OMA3 intends to join the recently announced Metaverse Standards Forum to participate and contribute to the general standardization work of this broader group as well as other standards groups that are working on relevant topics for the metaverse.
OMA3 invites all blockchain-based metaverse platform creators to join. More information and registration page can be found at https://www.oma3.org/ . General information will be shared at the Global NFT Summit in London on July 22nd, 2022, where some of the initiative's founders will be present and speak on the panel "Building the Open NFT Metaverse".
Batis Samadian, Founder & CEO of SPACE:
"It is imperative that a responsible group of leaders create an Open 3D Internet that is community run and developed. It calls for the responsible and noble to step up to define a future that is in the hands of the user."
Dirk Lueth, Co-founder & Co-CEO of Upland
"It is very encouraging to see that the current builders of the blockchain-based Metaverse share the common vision that they need to work together so users can control and enjoy their digital assets across different platforms."
Joel Dietz, CEO of Metametaverse
"We applaud this initiative and will do our best to support it however possible. We are strong believers in interoperability and cross-platform integration."
Hrish Lotlikar, Co-founder and CEO of SuperWorld
"We are excited to work together as part of OMA3 to create the standards that will help us build the future of the open metaverse to provide inclusiveness and decentralization for all of our stakeholders."
Saro McKenna, Co-founder of Alien Worlds
"As we enter the era of web 3 -- the peer-to-peer internet -- the builders of decentralized metaverse platforms have an important role in championing users and their ownership and participation rights in the metaverse. OMA3 represents this vision."
Robby Yung, CEO of Animoca Brands
"At Animoca Brands, our mission is to deliver digital property rights to the world's gamers and Internet users and a more equitable digital framework contributing to the building of the open metaverse. Creating interoperability standards is a necessary step in the evolution of this industry, and we're very pleased to support grass roots efforts from the Web3 community like OMA3."
Sebastian Borget, Co-founder & COO of The Sandbox: "We're glad to be a founding member of the OMA3, working with both Web3 and Web2.0 companies to establish the solid framework & guidelines for a truly open Metaverse, going beyond assets files formats and exploring on deeper topics such as digital identity or further use-case for true interoperability. For example, we want your Avatar to be more than just a virtual representation and also carries your reputation as anyone can see on-chain which NFTs you hold, earned, created or bought, the full history of transactions, and as well hopefully, the progression / actions you have contributed to throughout time.
Benjamin Larcher, product owner and Lead developer at Voxels (formerly Cryptovoxels):
"This is exciting! At Voxels we firmly believe in a Metaverse where people can freely move across multiple worlds and platforms, bringing their friends and NFTs with them!
The birth of OMA3 is the first step toward such an ambitious goal. We're looking forward to working together with our peers!"
Miles Anthony, Founder of Decentral Games:
"OMA3 aligns around the ethos that the Metaverse should be open and interoperable to deliver maximum value to users. DG is thrilled to be a part of this initiative."