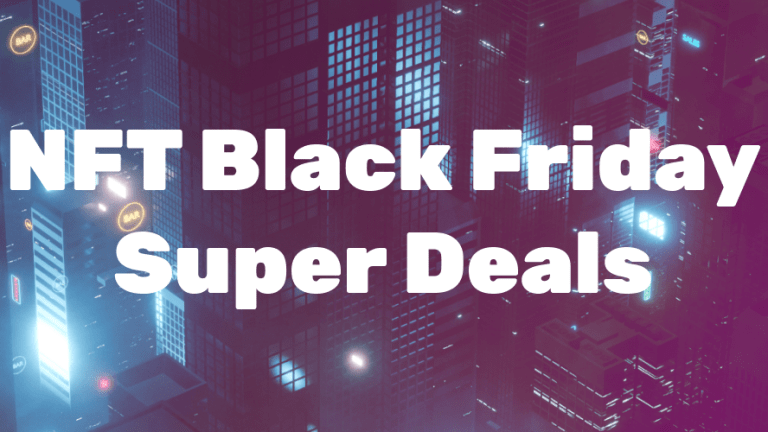 NFT Black Friday Super Deals
It's that time of year — Black Friday 2021 is finally here!
I've done some research and uncovered the top NFT deals in the Metaverse market that you don't want to miss. However, that all important rule of DYOR still applies. 
Let's dive in! 
CryptoPunk — 50% discount

A select few CryptoPunks are currently trading near the floor price of 85.3 eth, while the average bid over the past 48 hours sits at 170 eth. So, if you can let go of 85.3 eth today, perhaps you should take the opportunity to grab one, as it's unlikely to present itself again any time soon! Let's not forget that the most expensive CryptoPunks, the legendary Alien Punk #3100, was bought for 4.2k eth (about $17M) only a few months ago.
If that's not a good deal, then I don't know what is.
Check https://www.larvalabs.com/cryptopunks/sales
Buy https://www.larvalabs.com/cryptopunks/forsale
World of Women, 20% discount

This is another NFT project that I love. The floor price of World of Women is now at a
7-day all time low, at -19.34%. Only 30ish NFTs are available at this price. The cool thing about WoW is that each token grants commercial rights to the artwork, meaning that you can do absolutely whatever you want with it. 
What about making a Christmas gift from your own WoW collection for one of the lovely NFT women in your life? Hey, this is a new world we live in, so why not! I'm sure she's going to love it. 
Check https://worldofwomen.art/
Buy https://opensea.io/collection/world-of-women-nft
CryptToadz, 22% discount

Inspired by Pepe the Frog, CryptToadz by Gremplin have made quite the entrance to the NFT scene since their arrival in September. Can't shake that lingering sense of FOMO that you couldn't catch one of the Genesis Toadz directly from the UniSwamp? Now is the perfect time to catch one right from the Opensea, with the floor price of the precious Toadz on the decline. The floor of Toadz is usually bouncing between 4.5 - 15eth. 
Check https://cryptoadz.io/
Buy https://opensea.io/collection/cryptoadz-by-gremplin
CryptoManga - at least 50% discount, with gamefi yet to be launched
To all the Manga fans in the metaverse – if you haven't heard of CryptoManga then you are seriously missing out. The project features high-quality artwork and a great team that just released a litepaper for their upcoming gamefi development, DarkBattle. While some items are traded at 1eth, some are priced as low as 0.1eth today. And one thing's for sure — these will be in high demand after their one of a kind game launches next week.
Check https://cryptomanga.club/
Buy https://opensea.io/collection/cryptomanga-genesis
BrainDrops, at least 50% discount, undervalued generative arts

BrainDrops is a unique platform for generative arts. Projects such as podGANs and BrainLoops are sold out in a heartbeat, and as each collection is 500-1,000 pieces, you can grab one at a price of 0.1eth. For the love of generative arts, we think this project is still pretty undervalued. As the rules of NFT go, better to get one than be sorry!
Buy https://opensea.io/collection/braindrops-1
Check https://braindrops.cloud/
Meetbits, 10% discount
A 20k series of collectible 3D voxels designed and crafted by the same creator of CryptoPunk, Larva Labs is an apparent rocket ship waiting to launch (to the moon). In the last 7 days, Meebits' share price has fallen -10%, or about -55% from its all-time high at 7.98eth in September. This may be your last chance to hold one of Larva Labs' plants. Who knows?
Check https://meebits.larvalabs.com/