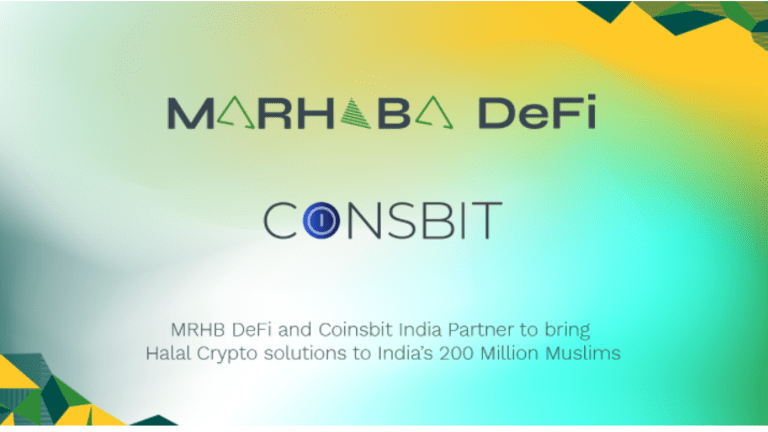 MRHB DeFi and Coinsbit India Partner to Bring Halal Crypto to India's 200 Million Muslims
The world's first halal DeFi ecosystem MRHB DeFi is collaborating with leading Indian cryptocurrency trading platform Coinsbit to bring crypto-asset opportunities to India's huge population of 200 million Muslims, driving further participation in the blockchain economy.
MRHB DeFi's vision of an inclusive crypto-verse, follows Islamic ethical finance principles but is suitable for those looking for a socially conscious blockchain that avoids interest, usury, exploitation and other business practices deemed unethical.
Being Halal means that MRHB DeFi operates within the highly ethical constraints of Shariah law which broadly implies that all business decisions are conducted in conjunction with Islamic teachings which promote inclusion, access, and faith, and function simply and transparently for the benefit of its users.
A Visionary Partnership to Serve 200 Million Muslims

India is home to 200 million Muslims constituting 10% of the global population and is the world's third-largest Muslim community. This group is often excluded from the cryptoverse due to their faith-driven principles regarding financial and business conduct.
What this partnership means:
Coinsbit would be the first Indian exchange to introduce a certified Shariah-compliant project to the Muslim Community. MRHB will conduct an initial exchange offering (IEO) on the Coinsbit Exchange during launch and introduce the blockchain's native token, $MHB (Marhaba Token), to the global community
Coinsbit is headquartered in Hyderabad which is geographically close to the large metropolitan community of Hyderabad & Bangalore that has a sizable of Muslim population
MRHB DeFi will integrate Coinsbit's portal with its app (Sahal Wallet), enabling users to directly use Coinsbit for trading crypto-assets.
Coinsbit will give the users a trading platform, where $MHB (Marhaba Token) would be available to the Indian Community
MRHB DeFi would also lead marketing activities for the exchange in the fast-growing Australian market
Both the partners will gain substantially from each other's marketing and community growth activities
A Shared Mission for an Inclusive Cryptoverse
"Blockchain and DeFi have exploded in popularity in 2021, and we forecast this stratospheric growth to continue. That's why we're excited to be teaming up with one of India's premier cryptocurrency exchanges to offer MRHB DeFi products and services to everyone across the Indian subcontinent who are looking for a true, ethical alternative to the existing platforms in the cryptoverse," says Naquib Mohammed, MRHB DeFi Founder & CEO.