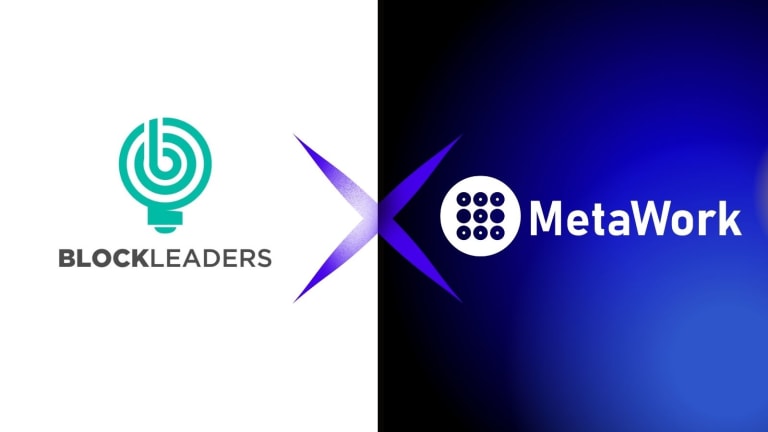 Metawork DAO partners with Blockleaders to drive awareness of Web3 Careers
This partnership is designed to inform, educate and showcase career opportunities in Web3
Blockleaders is excited to announce a partnership with MetaWork DAO, the first DAO focused on working in Web3, to launch an educational campaign around career opportunities and career development in the world of Web3.
Demand for blockchain jobs has been steadily rising with LinkedIn reporting a 395% increase for job postings with terms like Bitcoin, Blockchain and digital assets in 2021. Softer skills are also in demand within many projects. Product managers, Marketers, Community managers and communications professionals are being listed across numerous job platforms.
As part of the partnership, Metawork and Blockleaders will provide thought leadership on looking for roles, securing roles, and succeeding in Web3 careers. Metawork will offer access to new roles, and career guidance and list opportunities via the careers section of the Blockleaders magazine. Readers of Blockleaders will have the opportunity to join the Metawork DAO and contribute to the future of work.
Blockleaders will work with Metawork on a range of articles that will cover topics of interest to anyone hoping to secure a new role or transition into a role in any Web3 project. Articles will include career tips, job opportunities, company profiles, and skillsets required.
What is MetaWork DAO?
"MetaWork DAO is a value-driven community. We connect web3 people and projects over common grounds. These are the most important parts of MetaWork and represent the way forward for you to get involved in the community. Whether you are hiring in Web3, building in Web3 or working in Web3. We are a talent protocol that makes web3 Projects/DAOs tap into a talent network with bounties, grants, and jobs through proof-of-membership and proof-of-work," says Saksham Jain, Founder of MetaWork DAO
Increasing access to the right resources
With this partnership, Blockleaders and MetaWork DAO want to encourage anyone interested in learning more about Web3 to get involved. Learn Web3 program where people interested in learning about five pillars of blockchain projects (technology, design, community, marketing and compliance) can ask questions, exchange views and work on project pain points together.
"Education is key at this junction. The demand for the right candidates to get involved in Web3 is there. Now we need to bring a range of talent to every ecosystem. There are many transferable skills from Web2 communities. Providing support, mentorship and guidance will encourage more people to get involved," says Lisa Gibbons, Blockleaders.