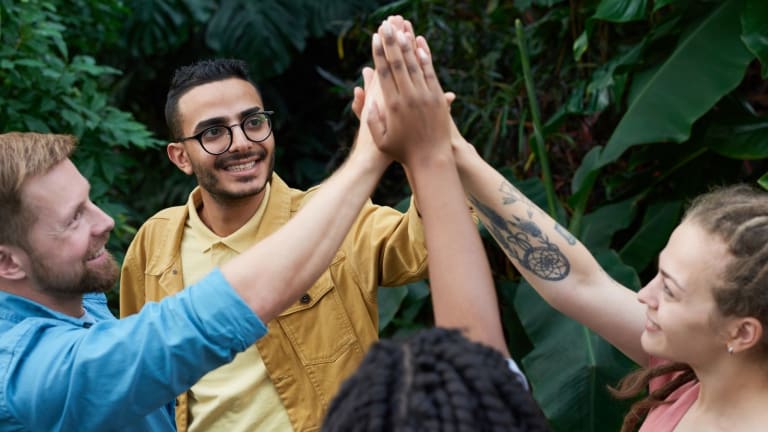 Marketing in Web3 – It's a foreign country where they do things differently
We spoke to real people navigating the world of marketing in web 3
Web 3 is a very different place to Web 2. In fact, let's refresh our definitions before we continue. Web 1 is read only (think static websites and the beginning of ecommerce.) Web 2 is read and write (think social media and the gathering of all that lovely, expensive data by the tech giants.) And Web 3 is read, write and own or control (think by the people, for the people.)
Therefore, it's not surprising that marketing in Web 3 is very different and so we spoke with real people tackling these issues and coming up with interesting insights and innovative practices.
Local stablecoins backed by assets
Sherry Jiang is co-founder and CEO of BlueJay Finance, a capital-efficient protocol for multi-currency stablecoins as the base layer for the monetary architecture of the future. Prior to joining the fast-moving world of Web 3, Jiang worked as a product manager with Google and so is very aware of the differences between the two worlds.
"Web 3 is much more about grass roots and community. Web 2 may have brought in social media which progressed on from the one-way traffic of Web 1, but Web 3 puts the company right in the public's eye," says Jiang.
"As the CEO, I interact and know people from Discord and Twitter. This would not happen in any other sector."
Jiang is also aware that educational marketing is much more important here too. She compares going from ordering a taxi on the phone to using an Uber to book the same service.
"It's not that much of jump. But start talking about stablecoins and DeFi and complex risk assessments and it's a totally different space."
While Jiang recognises many of the people in her community, conversely as there is little KYC in the community and with the fact of many people using nicknames, she has no idea of her funnel.
"I don't know the lifecycle, how long people are here, where they come from and what transactions they do. I just can't track the data and so it requires lot of guessing which is challenging."
At the same time, the lack of data means it's very difficult to measure success.
"We just don't know our customer acquisition costs or if these costs represent value for money," says Jiang.
Needing the community to move ahead
Charu Sethi is CMO for Unique Network, a Polkadot project. Unique has managed to win two parachain auctions within the Polkadot and Kusama ecosystems. These auctions, which allow projects to migrate onto the testnet and mainnet, are only possible through the support of the community. Unique managed to beat off competitors with the support of more than 30,000 community members in less than one year.
Sethi says: "I have learnt that accountability and stake - are the two elements that are very different about web 3.0 marketing compared to web 2.0 marketing we have experienced and delivered so far as professionals."
Sethi feels that marketing leaders are accountable not to the brand but to the community who is their biggest marketing engine.
"We need to ensure that the supporters and early community members feel confident and are well equipped with our strategy, content and updates. We rely on them to drive the network effects that are critical to success in web 3.0.
"The reason they are so critical to the marketing metrics is because the community members are either token holders or they aim to be one in the future. They are stakeholders by design and therefore you can assume that they want you to be successful as much as you want to realise your vision. Their investment in you in the form of time and money needs to be constantly validated by you in the form of token price, project announcements and progress on the vision.
"The most successful marketing campaigns will be those that keep these two elements at the front and centre of planning and execution," says Sethi.
Laura Tuppurainen, Head of Marketing, Silta Finance also confirms that community is at the core of Web 3.
"Web 3 marketing is all about how we can create an authentic, engaged, safe community around our project and speak about our project in a way that the community can relate to. As the project and community around it grows, those same people will become the voice of your brand. As a marketing leader you're there to set the foundations for that brand to fly."
Tuppurainen sees the Web 3 space as a truly exciting space to work, with distributed teams and decentralisation bringing a wide range of perspectives and skills that can be leveraged.
"It's fast-paced - when you have people in every time zone there's always someone awake. I'm excited to see how the tech marketing space will continue to evolve with communities running projects through decentralized autonomous organisations (DAOs)," she says.
Ipshita Kumar is Hype Partners' Head of NFTs and a leader within the industry, helping bring brands to market successfully in the metaverse. Kumar prides herself in possessing the perfect balance of EQ and IQ required to help brands triumph in Web3 and is passionate about making it accessible for everyone.
"As a part of my day-to-day function at Hype, I help brands and web3 companies kickstart their NFT projects in the market. Meanwhile with Lemonade we build products for creators who are looking to launch their Web 3 community through collaboration with other creators. With both sides of the coins being brands and creators - the key thing is to advise them on how they can effectively communicate their vision and goals of the project to their community.
Go to Community
Last year a16z published an interesting take on a popular marketing tactic - Go To Market which is now slowly evolving as Go To Community.
"With community being the new moat, the question revolves around how you effectively communicate (not market) to your community every day?" she says.
Jake Stott, founder of Hype tweeted that 90% of community building is communication and to add to that if you are communicating well, your community markets your product for you. It's that simple. You don't need to ingest ad dollars, hire a top influencer. So how does that translate into action?
"By being present everyday across the different channels you're building community on and making them feel a part of your growth. There are success stories in the Web 3 space where founders have uploaded their whitepaper in google docs and given their entire Discord community commenting access to get their input. While most founders would shy away from something like this, it's usually small initiatives like this that make the community feel special & engaged enough to go out there and market for you. And remember, building a solid community requires time," says Kumar.
POAPs are popular
However, it's not all hard work and challenges. New products include NFTs for attendance to BueJay Finance's AMAs are proving a great success. Jiang uses POAPs or proof of attendance protocol to mint the unique badges.
"Our community goes wild for them, even if they have no actual value – but it's a fun thing to do," Jiang says.
Another way to engage with community is through innovative marketing. William DeAth, chief commercial officer for Guardians of the Blockchain, reflects on how explaining highly technical issues requires a … comic.
"With GBC.AI we can create forks, create test nets and basically stress test these blockchains. We use our AI and neural processing to look at millions of ways to attack the blockchain and from there we build products and solutions that can pre-empt any potential issues.
"We can then deliver for our customers a blockchain that has AI baked into it from the start."
And that is the simple version of what GBC.AI does but it still lacks impact and so DeAth decided to look at alternative ways of getting his message across simply and powerfully.
As result, DeAth decided to go to the visual communication and indeed straight into comics. He hired Corporate Comics and told them his vision and asked if they could convert it into a comic.
"We had a number of meetings where I explained our vision – and included the quirky bits including the goldfish – and like Generative Art we produced our first comic strip – see below."
DeAth had been used to sharing a deck to explain GBC.AI to potential investors. However, once the first strip was signed off, he shared it with a friend to get his reaction. It was better than expected. The friend went: 'wow – I'd invest in that company!'
DeAth is very happy with the comic strip, and he now has three of them – building towards a full comic. He feels as though communication has come full circle.
"Cavemen etched on cave walls, and over time we discovered language and words. But sometimes a picture can paint a thousand words. In addition, comics are a very fast way to communicate potentially complex ideas and nuances in simple outlines and a few words.
"It's very web3," he says. "It's my visual elevator pitch."
But while the comic speaks volumes it doesn't explain the goldfish joke – for this we need words.
When talking about blockchains people often see them as very rigid structures, but that's not quite accurate. One of DeAth's colleagues began to compare a blockchain to a goldfish bowl.
"A goldfish bowl looks set; there are glass walls, water, fish. But things might change such as the temperature of the water, or you might need more water. Or what if the fish died and had to be changed. Or is there a crack in the glass that might give way if the temperature outside changed," explained the GBC.AI developer.
For GBC.AI this is where AI and machine learning comes in – which can be proactive as well as reactive. Hence the goldfish idea.
Nothing will ever be the same in marketing again, unless you have the memory of a goldfish and you'll never notice.