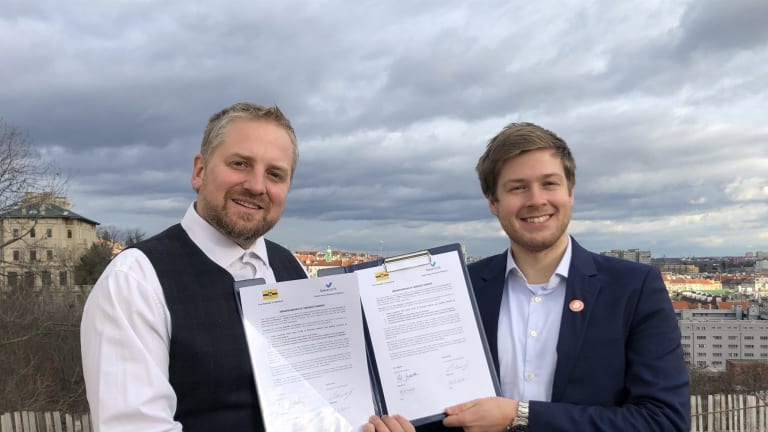 Liberland Partnership Announcement
The Free Republic of Liberland signed a Memorandum of Understanding with Crypto Asset Research Platform Baserank for evaluating companies issuing crypto assets in Liberland.
Baserank, the crypto asset research platform, has started work with the Free Republic of Liberland on independent crypto asset rating and research. Crypto asset ratings will be provided to all companies, projects, and DAOs issuing crypto assets in the jurisdiction of Liberland.

The president of Liberland Vít Jedlička has recognized Baserank's decentralized methodology to assigning independent ratings to crypto assets. As a newly created jurisdiction, Liberland will be able to meet high standards for issuing crypto assets with the assistance of Baserank. "We hope that with their help, Liberland will become a home to many new exciting startups that will revolutionize the financial industry in the coming decade," he said.

The co-founder and CEO of Baserank Ondřej Pilný has expressed his gratitude on forming the partnership with Liberland:

"I believe that Liberland is the key to the future of freedom. Today, many countries don't have enough liberty. Liberland is showing the world that it is possible to have a real functioning country with a minimum amount of regulation. 

"The partnership between Liberland and Baserank showcases that there is a better way to fight financial and investment fraud. The system that Baserank introduces does exactly that.

"Liberland is foremost an international community of like-minded people spreading liberty around the world. We are glad to be part of this community. Liberland is truly about Love and Freedom."

Baserank officially becomes the first nationally recognized crypto asset rating organization

Baserank and the Free Republic of Liberland have both expressed their interests to cooperate on grounds that will be beneficial for both parties. This includes but is not limited to:
Listing the Liberland Merit token (LLM) on the Baserank platform and getting reviewed by independent analysts
Consultancy for the upcoming token sale of LLM
Advise on Liberland company registration and oversee creation of new companies
Independent research and rating for crypto asset issuers registered in Liberland
The Memorandum of Understanding was signed on January 31, 2020 at Liberland headquarters in Prague, Czech Republic.

Liberland is an independent country founded on the principles of individual liberty and was proclaimed on 13 April 2015 on a parcel of land on the Danube River between Croatia and Serbia. The land claim was made in accordance with international law regarding terra nullius, as it had remained unclaimed by either Serbia or Croatia and no longer had any state affiliation with either neighboring country. As of today, Liberland has more than half a million applicants for its citizenship. More info at https://liberland.org/.

Baserank is a crypto asset research platform. The platform utilizes curated wisdom of the crowd to evaluate the quality of crypto assets. Analysts, experienced investors, and industry experts can express their opinions and get rewarded. Companies issuing stocks, bonds or tokens can have their issued assets continuously evaluated by independent analysts and attract potential investors. This creates an ecosystem where all three sides have aligned interests and we create a win-win-win situation. Investors, asset issuers and analysts all gain what they need. More info at https://baserank.io/.