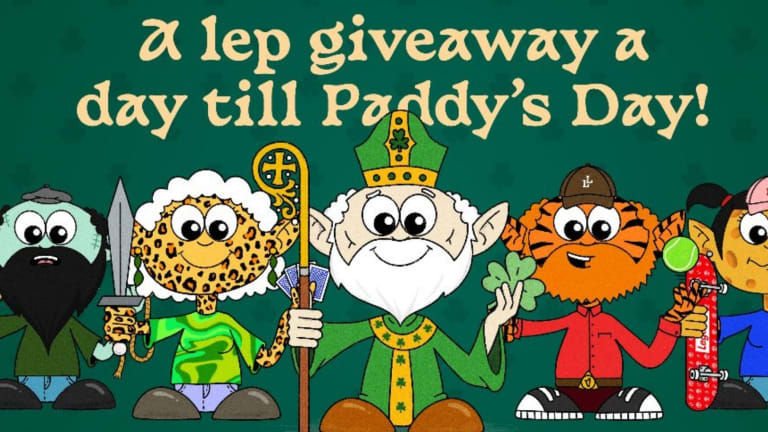 Leprechaun Legends is a collection 555 NFTs based on Irish myth and folklore
555 Leprechaun Legends minted on Opensea NFT Marketplace
What is the Leprechaun Legends NFT collection?
Leprechaun Legends is a collection of 555 unique NFTs that once reinstated in the world, will be living on the Ethereum blockchain. They are hand-drawn and then programmatically generated NFTs.
Why did the team focus on Leprechauns?
Not many people know this, but Leprechauns are based on a mythological race called the Tuatha Dé Dannan. The story goes that the Tuatha Dé lost a great battle and were banished underground for millennia. They became known as the little people and the characters were eventually adopted in popular culture as the story of the Leprechaun. Viewed by most with affection but with the Irish, they are mostly viewed with disdain. With Ireland's history of oppression, the Leprechaun people have essentially become a rejected people of a rejected people. This was one of the main inspirations as to why the team chose to create a collection based on Leprechauns. To rightfully reinstate them back into their place in society and to teach the world some ancient Irish wisdom, or Silver Branch Perception, as it was once known.
Can you provide more insights into the story?
The Leprechaun Legends are a goddess culture, led by the mythical Queen Dani. Being in The Underground for millennia has allowed the Leprechauns to spend their time honing their skills, their insight and unique worldview. They are now ready for their return to the world to teach their ways and to use their learnings to compete in The Wayfinder Games.
There are 12 main heroes, including the more widely known Cú Cullain, Meave, Fionn and Brigid. Each of the 12 (plus Dani), has its own unique 1 of 1 NFT and accompanying Medium article.
Who is the Core team behind the collection?
Dave - Co-Founder: Business owner and entrepreneur with 15 years of experience in helping technology companies scale their teams & products. He enjoys gaming, being a dad and dabbling in NFTs.
Stuart - Co-founder and Operations: Stuart has 10+ years in CX, Design Thinking and Marketing. He is also a passionate music man.
Sandy - World Maker - 25 years helping global brands find their Archetypal roots and meaning systems. A published author and an expert in making networks connect through culture and iconic communications. Studied a PhD in Irish mythology and mythic roots in modernity.
Johnny - Illustrator - Responsible for bringing the legends to life. He has a background in working for one of the top design studios in the UK and has a deep love for music.
Ciaran - Marketer - A commercially minded marketer who's helped launch multiple startup ventures. Main strengths include marketing strategy and brand awareness. He's also fond of a few pints of Guinness.
Jordan - Designer - Our digital designer with a background in building brands for a range of clients and organisations. Responsible for helping to bring the Leprechauns and their world to life.
Vinne - Developer - A seasoned software engineer who has helped develop greenfield applications for many organizations across a range of different industries. He has been involved in cryptocurrencies and blockchain since 2016.
Are you planning future utility for the collection?
Leprechaun Legends have big plans to bring additional utility to their holders, including:
The Wayfinder Games: A series of mini-games where holders get to compete for monthly prizes and the accolade of becoming the Champion of the Leprechauns.
Free drops: Holders will have exclusive rights to a free unique 3D NFT which will be rigged and ready for the meta-verse.
Merch store: Once our unique merch store is launched, only holders will have access (coming in cycle 2).
Partnerships: Access to any future partnership incentives and whitelists.