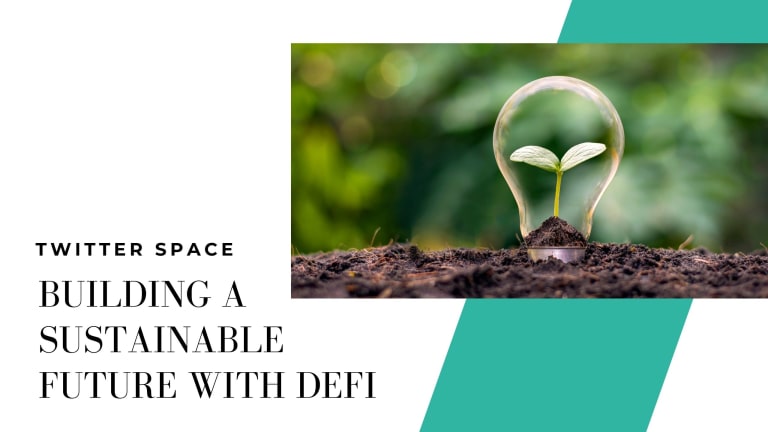 Leaders of the Sustainable Future Series
Blockleaders journalists Jillian Godsil and Lisa Gibbons will host a series centred on the Leaders in Sustainability and how they are using blockchain technology to have a real world impact and drive a sustainable revolution. 
Being sustainable is both an opportunity and vitally important for the future of supply chains. The world's top climate scientists believe that we are at a tipping point in the fight to keep global warming from increasing above 1.5 degrees Celcius, the agreed cap set out in the 2015 Paris Climate Accords to cut carbon emissions. It's vital that crypto and blockchain take the greenest path forward for the longevity of the planet, the industry and the lives touched by this technology.
It has never been more important to discuss how to shape a sustainable future and what resources are available to help us to reach our sustainable development goals. Impact investing allows all of us to contribute positively to the environment. DeFi has lowered barriers to financial inclusion, is making financial transactions more transparent and allowing us a way of tracking our supply chains.
Moving on from highly energy-intensive blockchains to proof of stake consensus and efficiently managing transaction history has enabled projects to focus on driving real impact and helping towards wider climate goals for a greener future.  
To showcase the leading projects that are addressing sustainability, developing blockchain solutions and leading in climate change awareness Blockleaders is delighted to host a series of discussions to build on the conversation of how we can create a more sustainable future. 
Set a reminder for the first Leaders in Sustainability discussion here:
https://twitter.com/i/spaces/1ZkJzbVNedNJv 
Leaders of the Sustainable Future Series with Blockleaders.io
Hosted by Jillian Godsil and Lisa Gibbons on Blockleaders.io
MAY 9th at 3pm GMT+1
Building a sustainable future with DeFi and Impact Investing - Join here 
We are delighted to be joined by Silta Finance, Cleanest Charge and other special guests to discuss how blockchain can help to build a sustainable future using decentralized finance and impact investing. Save the date
JUNE 7th at 3pm GMT +1
Understanding nature from Natures perspective
We are excited to be joined by the team and Germinators from Sovereign Nature Initiative for our next discussion around the decentralized future of sustainability. Save the Space
JULY 7th at 3pm GMT +1
Tackling Climate Change with Technology - IOTA Foundation
We are delighted to be joined by Mariana de la Roche Wills Lead project manager at IOTA Foundation and Co-Chair of the Social Impact and Sustainability Working Group at INATBA.