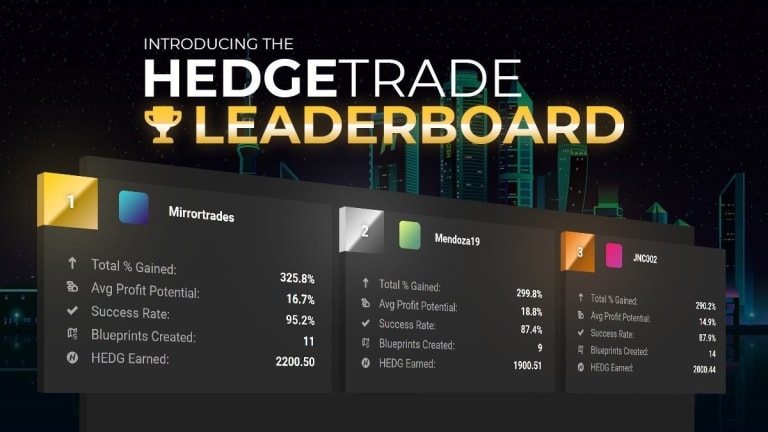 HedgeTrade Adds Leaderboard to Help Find the Best Investors
Crypto Social Trading site, HedgeTrade, has launched a Leaderboard to make it easier for users to find the best traders on the site for guidance -- and to give the experts making forecasts on the site some added recognition.

HedgeTrade works by allowing users who are "in the know" in crypto investing to make predictions, or "blueprints", which they stake with HEDG tokens (currently ranked #23 on CoinMarketCap). Other users can purchase the Blueprint and follow the crypto prediction if they choose. If the Blueprint is correct, everyone benefits from the shared information and the Blueprint maker earns on those who purchased the Blueprint. If it is incorrect, everyone who bought into the Blueprint gets their money back (and maybe a little more taken from the tokens the Blueprint maker staked). Blueprints are driven by smart contracts that keep the transactions seamless.

Now the HedgeTrade leaderboard makes it easy to find the best Blueprints (though some users may look for the payout from Blueprints that fail, of course.) The leaderboard can be sorted a number of ways and Gold, Silver, and Bronze traders are shown at the top.

So far, it's been a successful closed Beta, requiring an invite code that you have to request through Twitter. Over 800 users are on the platform now, but the invite code restriction is likely to be removed within a month.

HEDG tokens have recently been listed on Changelly, which gives users the ability to purchase HEDG tokens on the platform.

With HedgeTrade expanding through partnerships, the Beta platform picking up new users and adding features, and a promising year for crypto trading in 2020, HedgeTrade is worth a look for the crypto curious and those looking to jump into a little bit of crypto investing (without all the risk.)

To get a HedgeTrade Beta invite, follow @HedgeTradeHQ on Twitter and send them a direct message requesting an Invite Code. Then go to https://app.hedgetrade.com/signup and complete the short set up process.