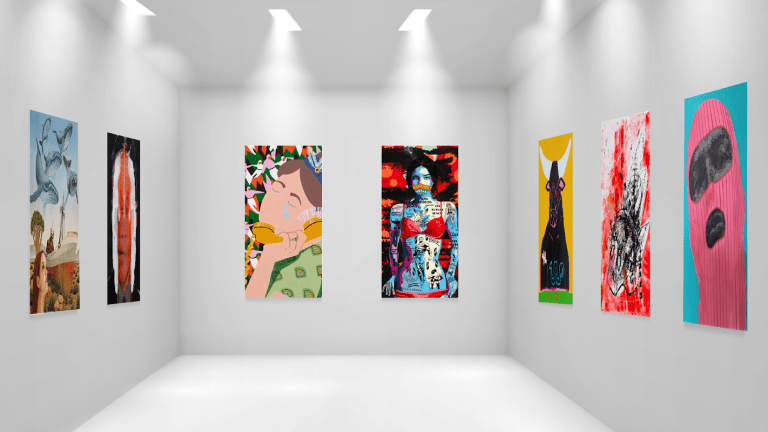 Fine Art and NFTs set to Collide with the Out of Africa Collection
The art world has been truly re-awakened with the influx of creative NFT artists and collections available today. Although the global pandemic has presented a challenging period for creatives across a wide spectrum, the world of digital art has thrived and given artists a new opportunity to engage with a brand new audience. With gallery closes, exhibitions limited and museums in lockdown, it is up to the creatives to get creative when it comes to showcasing their work. However, many fine artists who enjoy creating art in the physical world have been unable to tap into the world of NFTs, creating a clear divide between traditional or physical artists and creatives who consider themselves NFT artists.
Contemporary Artists Accessing a Global Audience
Invictus NFT lab, backed by Invictus Capital, aims to tackle this issue head on by connecting renowned physical artists with NFT technology. The inaugural Out of Africa collection of 100 physical artworks from 50 of the most prominent fine artists in Southern Africa uses blockchain technology to bring traditional fine art to the NFT ecosystem. With this merging of mediums, all collectors from all walks of life can obtain the most beautiful works of physical and digital art.
NFTs are finding their way into mainstream art circles with digital art making its debut at renowned Art Basel exhibition and more recently taking over the stages at Miami Art Basel where everything from minting your own NFTs to interactive 3D exhibitions exploded onto the scene. In addition to events, world famous auction houses like Sotheby's and Christie's are getting involved and partnering with digital artists. Many traditional artists may feel overwhelmed with the idea of embracing technology as a means of art distribution. 
With the Invictus NFT lab, high-profile contemporary artists are participating in the Out of Africa Collection. Artists include renowned Matthew Hindley with his poetic brushstroke, the sculpture work of Janko de Beer, Robert Slingsby's celebration of African heritage through geometry and Blessing Ngobeni's sotry of redemption through his artistic creations. 
Embracing blockchain technology
The project will involve the auction of NFT representations of 100 physical artworks that act as a certificate of ownership of the original artwork. These NFT representations will incorporate animation, or other augmented reality features made possible by digitization. The auctions will be facilitated by the OpenSea NFT market, the world's largest and most trusted NFT resale platform.
Participation in the auction will be contingent on holding one of 2,500 NFT tickets, or posters, that can be purchased in the lead-up to the auctions or won via giveaways. These NFT tickets will also be digital representations of the physical artworks that form the collection, however, they will grant no right to take delivery and represent a more accessible entry point into the collection for those only wanting to dip their toes into the NFT world. These Posters will have fundamental value through an interesting experiment: 10% of all revenue generated by the project, including ongoing royalty revenues on resales
The project is expected to kick off in earnest in January, starting with the distribution of the Poster NFTs aka PNFTs that double as auction tickets.