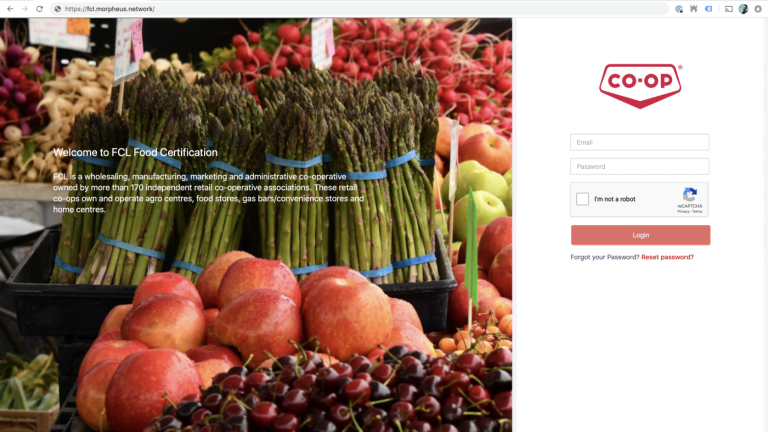 Federated Co-operatives Limited Adopts the Morpheus.Network Platform
Federated Co-operatives Limited (FCL), founded in 1944, is a Canada-based wholesaling, manufacturing, marketing and administrative co-operative owned by more than 170 independent retail co-operative associations with a revenue of $9.2 billion USD (2019).
FCL is largely a business-to-business (B2B) operation linking hundreds of suppliers through FCL warehouses. Its core business includes wholesaling, manufacturing, marketing and administration in four areas; agriculture, energy, food and home and building solutions. It also has over 1,400 retail food stores, home centres, gas bars/convenience stores, agro centres, propane plants and feed plants across Western Canada.
FCL is named as one of the top 50 largest companies in Canada with over 23,000 employees.
Morpheus.Network is a supply chain SaaS middleware platform seamlessly integrating legacy and emerging technologies such as blockchain, OCR and ML. We provide supply chain managers with shipment and item visibility for optimizing and automating safe and secure end-to-end supply chains from origin, tracking and tracing, custody and compliance.
https://morpheus.network
Working with Federated Co-operatives Limited (FCL), Morpheus.Network has entered into a three-year deal to manage its complex supplier document management system across Canada.
This replaces a largely manual process where thousands of regulatory certifications and documents from more than 150 suppliers are collected and managed by FCL which all need to be scanned, validated, processed and tracked. Every year, documents expire and new documents must be collected from every supplier making for a very time-consuming, burdensome process.
The new solution automates the collection and management of documents from each supplier and also provides a self-serve supplier portal where they can securely upload and manage their documents.
The Morpheus.Network Platform uses its advanced OCR capabilities along with API-integration with third-party compliance organizations to validate each document.
Automated and proactive notifications are sent to alert relevant parties before documents expire.
On January 15, 2019, the Safe Food for Canadians Act (SFCA) began requiring that most food companies in Canada comply with the Safe Food for Canadians Regulations (SFCR). The SFCA and SFCR regulate food products imported into or exported from Canada or traded between provinces. These regulations add new licensing, preventive controls, and traceability requirements to help ensure food safety and consumer protection.
Morpheus.Network is intensely focused on helping companies and Government organizations remove barriers and optimize and automate their global supply chain operations. And helping companies with food and safety regulatory compliance helps in building robust supply chains which helps to ensure our food is as safe as possible. We're very proud that our platform is being utilized by Federated Co-operatives Limited.
It is recognized that blockchain and other technologies such as OCR as technologies to be leveraged across supply chains to see breakthroughs in automation, optimization, security, visibility and forecasting. Our platform creates a unique Digital Footprint showing current and historical compliance status, backed by blockchain technology as an immutable record.
Morpheus.Network put in place a dedicated team under Co-founder and COO Noam Eppel who spearheaded the work with FCL.
"This is another exemplary example of the power and flexibility of the Morpheus.Network Platform in being able to adopt to different use cases and provide our customers with exceptional business value. We are excited to continue our close relationship with FCL and move forward with the next phase of further integration and optimization. — Noam Eppel, Co-Founder and COO, Morpheus.Network Inc.
"We are very pleased with the results of our work with the Morpheus.Network team. Working with Morpheus.Network has resulted in an efficient throughput of our supplier document management and validation processes. Next up we are looking at the overall visibility of our supply chain from suppliers to FCL warehouses. The transparency provided by Morpheus.Network's technical solutions fits well with our own co-operative ethos of driving integrity from start to finish." — Raymond Gareau Supply Chain Manager, Federated Co-operatives Limited