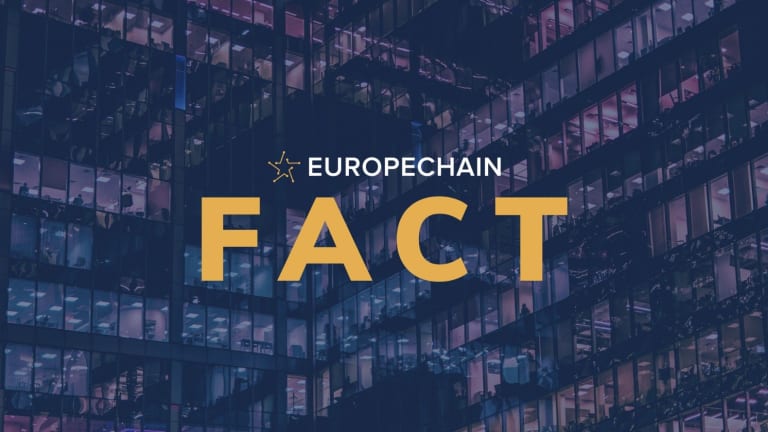 Europechain FACT for COVID-19
GDPR compliant monitoring solution for any remote workforce
Europechain FACT offers a COVID-19 monitoring and management tool for enterprises, Governments, and healthcare agencies amidst the worldwide COVID-19 pandemic. FACT offers remote solutions such as contact tracing, symptom tracking, customizable templates and workflows which can be distributed among employees and at-risk communities to provide data-backed insights that prompt effective decision making during critical times. 
The compliance and business process management app, Europechain FACT, has been showcasing how the blockchain-based system can be used to help monitor, and potentially slow the spread of Novel Coronavirus or COVID-19. The real-time symptom reporting template contains weighted questions to allow reports to generate escalations and notifications to healthcare professionals in the event of an emergency. If the person is in a high-risk category, FACT can trigger an alert to the local doctor's medical center or hospital.
The benefits to enterprises and health care include: 
• Effective contact tracing and monitoring tool 
• Real-time analytics dashboard 
• Pretesting and screening prior to doctor/hospital visit
The Europechain team, in partnership with Capptions, launched the FACT App in 2019, which offers fully customizable checklists and templates that are hashed and stored on the Europechain Blockchain. During the COVID-19 Pandemic, organizations can use FACT to monitor the potential organizational risk and occupational health of the workforce.
 "Our solutions will be offered to enterprises, communities, and governments to assess the possible spread and may reduce the strain on healthcare professionals and allow for more effective resource allocation." - Rhett Oudkerk Pool, CEO Europechain
COVID-19 monitoring features of FACT Include: 
• Symptom reporting 
• Daily symptom logging 
• Push notifications
• GPS heat map of potentially infected areas 
• Remove strain on emergency phone lines 
• Risk profiling and auto-generated notifications and escalations
In addition, the FACT App, with its custom templates, may be used by enterprises looking to monitor general workforce wellbeing and issue reporting. These custom and user-friendly templates can be distributed among employees to track potential outbreaks, conduct risk assessments and distribute tasks and actions to employees. 
Work from home issues, employee wellness or any other internal content can be templated and rolled out to all WFH (work from home) employees.

For more information or to request access go here: https://europechain.io/products/fact/covid19/


Europechain is a GDPR compliant blockchain platform. Powered by the EOSIO protocol, it is managed and governed by experienced block producers registered in the European Union. Europechain brings together an ecosystem of technology providers, system integrators and commercial partners enabling global enterprises to deploy scalable, resilient and EU compliant applications. Learn more at https://europechain.io/