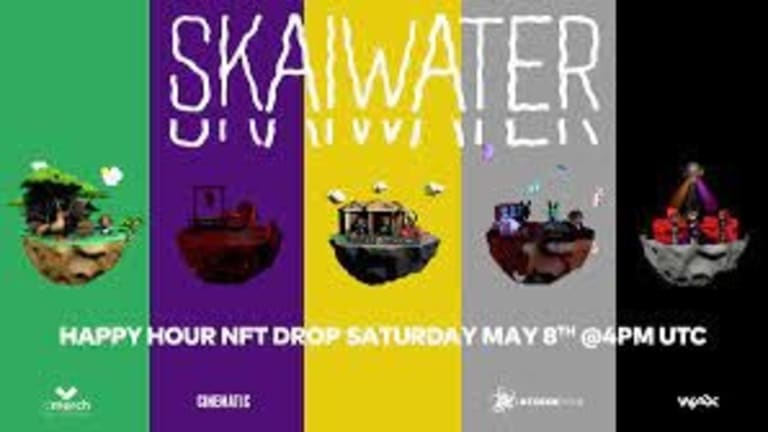 dMerch and Up and Coming Rap Star Skaiwater Launch Interactive NFT Collection
Irish Blockchain Company dMerch in breakthrough Technology and Music Mashup with leading US Rap and Hip Hop Label Cinematic Music Group
Dublin Based Blockchain Developer dMerch in association and cooperation with New York Based Record Label Cinematic Music Group have today launched a set of Non Fungible Tokens (NFTs) that may well be the future of major revenue sources for Record Companies and Music Publishers alike.
To support his latest album "Happy Hour" UK Based Rapper "Skaiwater" has released a series of interactive promotions containing a Game and a range of NFT's.
In a development being closely monitored by Music Industry insiders on both sides of the Atlantic, the Nottingham based Rapper has truly broken new ground.
When asked as to the technical aspects of the promotion, Adam Bouktila of Dublin based dMerch said:
"Skaiwater is one of the first of a new range of developing artists to put their albums into the Blockchain using WAX arguably the most active of all blockchains. WAX has over 3 million accounts making products released on this platform some of the biggest selling in Blockchain history.
"The NFT Market has grown significantly over the past six months, artists are now starting to see the opportunities and think outside the box," said Adam Bouktila. "What we have done is package songs into random bundles of NFTs designed by the very talented bedeign. Holders of these NFTs will be eligible for further items of "merch" such as T-Shirts and even a copy of the Skaiwater game.
"In initial tests we have shown quite clearly how effective this can be as a future source of revenue for artists of all sizes, especially those musicians whereby their options for making a large income from streaming may well be limited."
Cinematic Music Group is an American record label, management, publishing & touring company distributed by Ingrooves founded in 2007 by Jonny Shipes. Their roster as of 2020 consists of Joey Bada$$, Pro Era, T-Pain, Smoke DZA, Va$htie, Mick Jenkins, G Herbo, Caveman, Public Access TV, Flipp Dinero, and others. More information can be found here: https://cinematicworldwide.com/