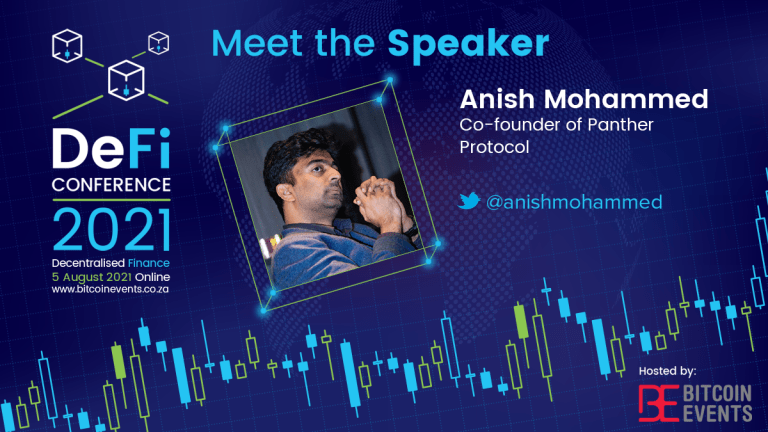 DeFi Conference 2021: The Rise of Decentralised Finance
Panther Protocol to speak at event
The 2nd annual DeFi Conference on 5 August 2021 organized by BitcoinEvents will be joined by Panther Protocol. Co founder and CTO Anish Mohammed will join the panel on Maximising Crypto Earnings with Decentralised Finance, at 13:45pm-14:15pm while Jillian Godsil, strategic communications, will talk on Art, Collectibles and the Future of NFTs: 16:15pm-17:00pm GMT+2.
The DeFi Conference 2021, The Rise of Decentralised Finance, will explore two of the hottest trends to emerge in the industry over the last few years: DeFi and Non-Fungible Tokens (NFTs).
Cryptocurrencies and blockchain technology offer many advantages over conventional assets – particularly in times of crisis – the most important of which is their decentralised nature. The DeFi ecosystem is flourishing and unlocking a parallel financial system that is setting new standards for access, resilience and transparency. 
NFTs have exploded in popularity in recent months as they are upending the rules of digital ownership. They have become so popular because digital collectibles can come in almost any form, providing artists and content creators a unique opportunity to monetise their work.
On the DeFi track, speakers will explore the factors contributing to the rise of decentralised finance, its impact on the current financial system, and the players in markets such as in international remittance, lending and borrowing, derivatives, trading, payments and asset transfer.
On the NFT track, speakers will discuss the current state of NFTs, their environmental impact, copyright issues, the leading NFT marketplaces and creation platforms, legal implications of NFTs, and the future of NFTs.
The future is certainly exciting for both DeFi and NFTs, and the decentralisation movement will have a significant impact going forward. 
The event will bring forth an unparalleled team of DeFi and NFT industry leaders and change-makers to share their experiences about how they are shaping the next era of global finance and digital ownership.
For further information and to register for a free online ticket, visit Bitcoin Events.