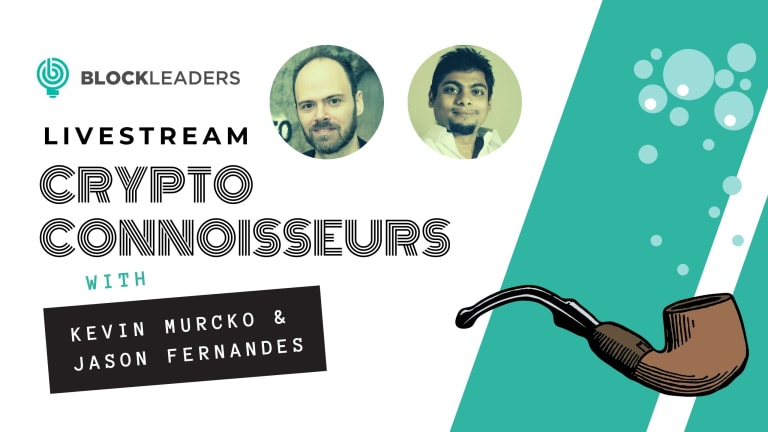 Blockleaders launches Crypto Connoisseurs with thought leaders Kevin Murcko and Jason Fernandes
What - Live Streamed update about the latest news in the cryptocurrency markets from Kevin Murcko of CoinMetro and Jason Fernandes of AdLunam.
When - Every Saturday 8.30 AM GMT
London - Two highly regarded leaders in the Crypto space are coming together in a series titled Crypto Connoisseurs in partnership with Blockleaders.io to bring you the latest and greatest from the world of cryptocurrencies. Each episode will be streamed live across the Blockleaders youtube channel.
"We are looking forward to our weekly discussions. Jason and I go back a long way in crypto terms. Having been around the block we have experienced the highs, lows and more coins than you could imagine. As well as the latest insights on the best performing coins we will take viewers by the hand into the land of Altcoins. This is an exciting time to be part of the Web3 community, " says Kevin Murcko.
Jason Fernandes agrees, "The whole crypto landscape is changing rapidly but it helps to understand the history of the past decade to make sense of what happens now. Being OGs in this space means we can bring meaningful vantage to the current coin movements."
The new series of discussions will be streamed live on Blockleaders as it positions itself as a leading educational platform for crypto enthusiasts. Jillian Godsil, Founder of Blockleaders.io has a vision for the content that the platform will offer.
"Blockleaders has always been focused on people first. I enjoy nothing more than learning about what makes somebody tick or why innovators are so attracted to the blockchain industry. This is a fascinating place to be and we are delighted to team up with such a dynamic duo to launch Crypto Connoisseurs."
About CoinMetro
An EU-licensed exchange, CoinMetro is owned and operated by CoinMetro Group OÜ, a company incorporated in Estonia. The CoinMetro Platform is an exchange-based order book for various pairings of cryptocurrencies and fiat currencies and is now a primary and secondary market for digital securities. Digital Fiat OÜ is an agent to an authorized electronic money institution Payrnet UAB and part of companies in the CoinMetro Group.
About AdLunam
AdLunam is the industry's first NFT-Integrated Engage to Earn seed crowdfunding and IDO launchpad with a Proof of Attention allocation model. The company's unique ecosystem rewards community engagement with badges, points, and allocations in projects. AdLunam successfully concluded their community pre-sale this week, almost 1000% oversubscribed from 600 investors located in over 54 countries.
About Blockleaders.io
Blockleaders is a dedicated publisher that shares stories, anecdotes and news from leaders in the technology sector. Blockleaders is a publication and creative network that provides a platform for innovators and leaders in technology. It shares the deeply human stories of the accomplished men and women who are risking their reputation, professions and even relationships to inspire, challenge and build the future.