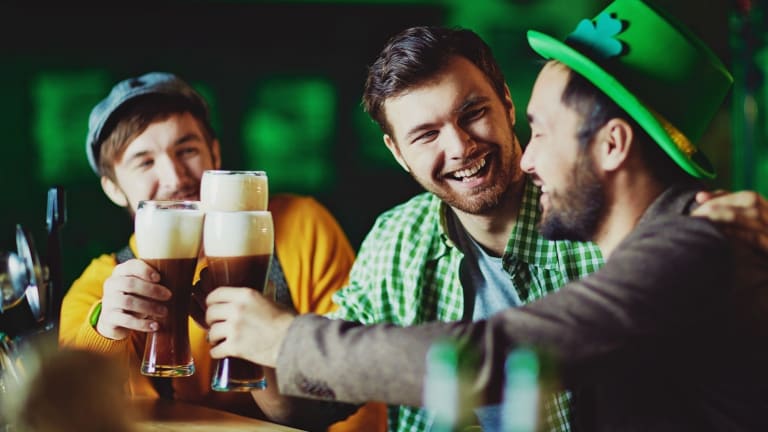 Celebrating Irish Projects in the World of Web3 for St.Patrick's Day
To celebrate all things Irish for St.Patricks let's take a closer look at some of the exciting, creative Irish led projects in the world of Web3. For the next four days leading up to St.Patrick's Day get an inside view from the innovators who have taken the leap to experiment in the blockchain space.
Every year, the world unites in a sea of green on March 17 to celebrate St.Patrick, a patron saint of Ireland. It is a global celebration of Irish culture, including parades, Irish dancing, history, storytelling and of course the 'craic agus cheoil'. People of all backgrounds are invited to experience the warm Irish welcome and participate in the fun filled day. This year, however, the Irish government and tourism board have called for all those 'green' buildings (and even part of Niagara Falls) across the world to turn Blue and Yellow instead in support of Ukraine. So we are going to turn our articles into that color too - celebrating Ukraine as well as Ireland
One icon of St. Patrick's Day is the Leprechaun and there is an NFT collection just released that gives a nod to the lobaircin, aka small-bodied fellow.
From decentralized data science teams to uniquely Irish NFT collections, Irish entrepreneurs, creators and innovators are making their mark in the decentralized future.
Leprechaun Legends NFT collection
Leprechaun Legends is a collection of 555 unique NFTs that, once reinstated in the world, will be living on the Ethereum blockchain. They are hand-drawn and then programmatically generated NFTs.
Not many people know this, but Leprechauns are based on a mythological race called the Tuatha Dé Dannan. The story goes that the Tuatha Dé lost a great battle and were banished underground for millennia. They became known as the little people and the characters were eventually adopted in popular culture as the story of the Leprechaun.
Algovera
Algovera is a cooperative of people working to develop useful AI apps. Founder Richard Blythman is on a mission to decentralize the power of AI from Big Tech.
Algovera helps facilitate and accelerate the development of decentralized AI products. Working with teams distributed across the world requires new tools for coordination, governance and financing. To achieve this, Algovera combines existing technologies and creates new technologies where necessary.
By connecting AI specialists with data providers, software developers, business developers and investors Algovera makes it easier for AI teams to build useful apps. Algovera also provides training in blockchain data sets, grants for decentralized teams and connections with partners in the field of data science.
Mick Flannery - Night at the Opera
Irish Singer/Songwriter Mick Flannery is surprising in many ways. The expression Still waters run deep springs to mind when in conversation with him. He speaks in a slow, low, almost monotone, something akin to the way he sings, and it is mesmeric.
In recent times, for that read Covid, he has morphed into new directions and has used his lockdown time to produce a newborn and a new album at the same time. The former may be expected, the production of the latter is more surprising seeing as it hinges on dramatic chess matches in history.
And then there is the crypto, or rather NFTs, which was totally unexpected but not for the adoption, more for the inherent understanding of what it offers.
Check out his special new album and NFTs in our article later this week (and we have an exclusive sneak preview of one of his songs)
Unbanx
Using DeFi protocols, Unbanx allows individuals to monetize their banking data. Decentralized finance, or DeFi, is one of the most important topics in cryptocurrency. Unbanks is a platform that allows users to link their bank accounts and start to earn passive income from their data. With this new vision for passive income a user will link their bank account and use their banking data including transactional history from their bank account. Using anonymized data sets, Unbanx can monetize transactional history to ensure that revenue generated from a user's data flows back to that user.
Becoming Jill - by Jill
Have you ever wanted to be an artist? Have you ever thought - I could do that when faced with an abstract painting or an installation? And for installation - do you remember Tracey Emin's Tent - or Everyone I have ever slept with from 1995? (link https://en.wikipedia.org/wiki/Everyone_I_Have_Ever_Slept_With_1963%E2%80%931995)
I do. And it was less the execution of the idea than the idea itself. It stayed with me and when I saw an opportunity to do an NFT installation of my recent past - my decade horribilis - I took it with both hands. Becoming Jill is the result and if you have Matic then all I ask is that you spend, spend, spend (it's only pence)
https://artmine.playform.io/projects/15
Josh Loveridge
Jillian is in conversation with Josh Loveridge, a super star GenZ Irish Gaming entrepreneur
He is managing director of Loveridge Digital LTD & Stratton Studios and has been working in the game development, marketing, animation & video industry for over 7+ years. During this time building up a wealth of creative production skills and knowledge working on 1000's of projects for top brands around the globe. Loveridge Digital produces high-quality bespoke campaigns for businesses around the globe. Stratton has been creating high-quality narrative-driven experiences for Playstation, Xbox & Nintendo for the last 7 years also.
Having made the jump from the traditional game development space in late 2020 to NFTs & the WAX blockchain after being an avid enthusiast for many years, Josh & his team now have their eyes set on transforming the space for the better through the creation of engaging P2E gaming experiences & trailblazing middleware empowering other developers to make the jump to NFTs in a frictionless way. This ethos along with his well reasoned creative ideas backed by the experience and knowledge of the business world make him an all-round Managing Director that empowers change in the industries he works in.
Limerick Ladies
The Limerick ladies is a new collection of 30 hand illustrated NFTs with their own unique limericks. Lisa is Director of the Bring your limericks to Limerick festival. She has supported Dominic Taylor in his mission to showcase Limerick as home of the limerick for several years. The simplicity of the limerick verse, as a funny five lined poem and easy aabba rhyme scheme has given it the name of 'the People's Poetry'.
At its core lies humor and a sense of the absurd, this is its defining feature and through which it has maintained its popularity. This playful subversiveness of the limerick makes it an ideal vehicle for parody and mockery of modern society which fits in nicely with the world of NFTs. In the future the collection will also act as the ticket to the Bring your limericks to Limerick poetry festival.