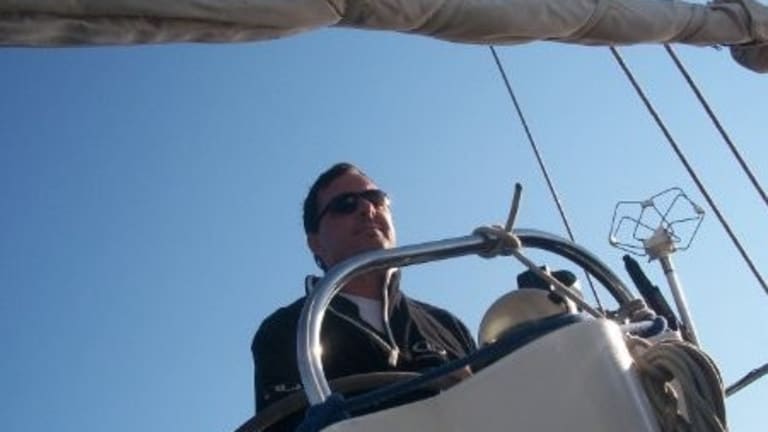 Bringing the old and new worlds together with Pete Burgess
For Crypto Gibraltar Festival organiser Pete Burgess, bringing worlds and people together is what he does.
This year's festival will take place from September 22 - 24 and Burgess is planning a takeover of Ocean Village in Gibraltar to turn it into its very own Crypto Village. The conference will facilitate panel discussions, keynote speakers and lots of pre-planned entertainment. Bridging the old world with the new world has become a hot topic and Burgess believes Gibraltar is the perfect place to address these bridges.
"There is this massive debate between the traditional financial world and the new financial world, it manifests itself in the debate between Defi and Cefi, which goes around and around. Gibraltar sits right on that junction. When we're designing the event we try to make sure that we cross both sides of that junction. But also, we've always been very conscious that the main reason people want to come to events is networking. It's building relationships, reinforcing existing relationships and building new ones. It's like the conference gives you the kind of business rationale to come and do some proper networking and have some fun for two and a half days."
Pete Burgess is the Founder of the Crypto Gibraltar festival. He ran his own marketing agency for 20 years and moved to Spain from the UK to try out a different lifestyle. When he arrived he saw the potential of Gibraltar as an exclusive events venue.
"I was looking at events and I felt that Gibraltar had a huge amount to offer as a potential event venue. Due to its proximity; it's only a two hour flight away from the UK and it's got some great facilities. And I looked around and it was just at the time that Gibraltar was introducing its DLT regulatory framework. It just struck me that there was a great opportunity to produce an event around that. And so we launched. We did the first event at the end of 2017."
Following two successful years of conferences COVID struck and killed the momentum overnight. It was an extremely difficult period but Burgess has brought Crypto Gibraltar back to life and the feedback from 2020 has been so positive he is massively scaling up the conference this year.
"The main thing from our perspective is that we wanted to do something that was on a bigger scale than we've done before. So we're planning the biggest trade event that Gibraltar has ever seen."
Looking back on the first crypto conferences Burgess demonstrates his OG status in the world of crypto.
"In those days, it was great because it was full of crypto evangelists. This was about a social movement, rather than any kind of economic forum. These were guys that just wanted to remove governments and country borders. It was very interesting."
Pushing the boundaries of reality for the Conference
At this year's gathering in Gibraltar he is partnering up with key projects in the Web3 ecosystem to push the boundaries of virtual and reality, creating a unique immersive experience for all participants to relish.
There is a special VIP dinner on Friday evening and a new immersive Metaverse experience that will give all attendees a taste of the future.
"We're going to create this immersive Metaverse experience where we're working in partnership with a company which runs a nightclub in the metaverse. We're going to stream DJs through the online club, but into the real world. And then we're also going to have the founder of this business, who incidentally is also an NFT. Artist, and represents about 250 Different DJs. He's going to play live."
The experience will allow attendees to experience both worlds at the same time, with musicians on the screen and access to the metaverse via mobile. Those who are there on the night can interact with people in the metaverse but also see them in the real world and connect with them. It is what Burgess says, making the most of both the metaverse and the universe.
The amalgamation of in real life events and virtual events will play a role in the future of the events industry. Burgess is pioneering this approach to interactive entertainment as he was quick to realise the potential of the massive changes in society and the opportunities new technology is bringing.
"I just like this whole idea of just bringing different worlds together. And in this particular instance, we're talking about the metaverse and reality, but I feel the same way about the traditional financial world and the new financial world. Young people don't understand the enormity of the change that we're living through. They just don't get how much the world has changed in the short time they've been around. I see this, just the enormity of the change that goes on. And I think we're extremely fortunate to be in a position where we can reflect some of that, and we can use it in a kind of educational sense."
Finding the right point of entry into this new world of Web3
Burgess has experience working on other events around crypto funds that help to educate people in traditional finance about these new opportunities. He rightly points out that the entry point to this new world is often hard to find.
"And so looking forward to think about this new world, which can seem an almost impenetrable wall of 18,000 different coins that have been created."
For Burgess it is important that Crypto Gibraltar has an educational focus.
I asked Burgess what he hoped delegates would take away from the conference? Fun is a high priority.
"The three things I would really like for people to go away would be to think that was really good fun, that was really productive and I'm definitely coming back next year. Actually, I'd be quite happy with the last of those, because then the two are kind of implicit."
When I asked Burgess if there are many people from 2017 still attending the conferences he mentioned that they may be enjoying the yacht lifestyle having invested in crypto very early.. He explains how the Crypto Gibraltar has two different elements to it.
"Firstly, we run quarterly meetups for the DLT ecosystem in Gibraltar and then the event happening in September is the main conference."
He has made a lot of connections since the very first conference and his media partners are all attending. He tells one story that came up in a recent conversation where an attendee at a previous gaming focused conference in Gibraltar was giving away fourteen Bitcoin. It turns out the same person was one of the founders of the Bitcoin Foundation and now runs his own consultancy.
When I asked Burgess who his ideal speaker would be for the conference he veered away from the usual suspects in the world of crypto and rightly pointed out that Billy Connolly is funny and would put things in perspective. "I think that's something all of us could do with a little bit more of sometimes".
I am sure that CZ and Elon Musk would love to see Billy Connolly live on stage too so if you are out there Billy there is a new gig opportunity on the table.