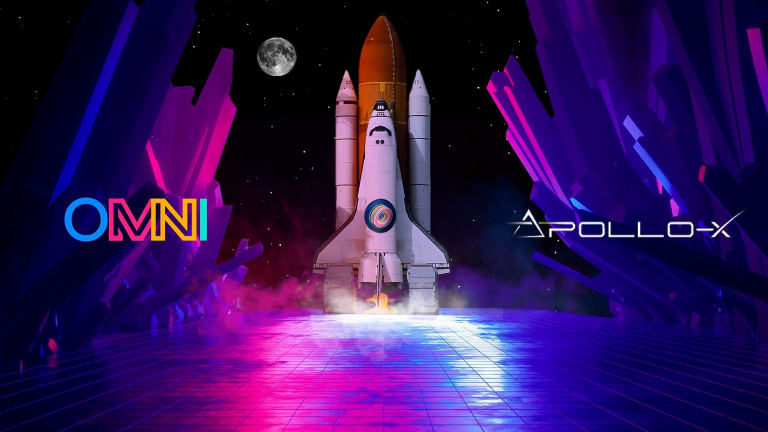 Apollo-Xclusive Initial DEX Offering (IDO) for Omni.ai
The OMNI team has announced it will use newly established Apollo-X Launchpad as its confirmed Initial Dex Offering (IDO) launch partner.
OMNI is a mega social media "App of all apps" with world-class features and tools to provide a unique experience to its users. The users can go live within the app, share stories, create channels, chat with other users via video or audio, sell or buy products in stores, create videos and photos with special effects, and much more.
Manny Hernandez, CEO, and founder of Omni.ai made the announcement:
"As we develop our amazing app, we needed strategic partners to ensure our success. Choosing Apollo-X and Grow Crypto Studio will elevate our work to the highest levels. Partnering with the best in class will allow us to concentrate on what we do best — build and grow Omni.ai.

We are proud to be creators of an app that turns the tables on social media economics. Ultimately it does not matter if you're producing the content or consuming it; every OMNI user gets rewarded."

Manny Hernandez -CEO OMNI, Inc
Peter Carroll, Co-Founder of Apollo-X and CEO of Grow Crypto Studio, had this to say;
"Manny Hernandez and his team of experts have something quite incredible in their hands. For the first time in blockchain, I see a true challenger to the giants of big tech and social media.

I have been lucky in my position to have a window into the current progress of the teams' development, and I am blown away. They are combining the best social features into one app which simultaneously financially rewards active users.

Omni will leapfrog the many unsuccessful blockchain-based pretenders to social media of the past.

Functionality and incentives, every key USP for each kind of social media app, are baked into this technology. However, it isn't crowded; it is cleaner and more intuitive. In addition, it brings incredible financial opportunities for all who participate in its social ecosystem.

Creators, consumers, and brands will all benefit in ways that have not been possible before. Beautiful UX/UI, coupled with economic incentives, will drive user engagement, and ensure that all stakeholders are winners. We are confident these qualities will propel this incredible decentralized application to user acquisitions not yet achieved by anyone in the space."

Peter Carroll- Apollo-X
Apollo-X creates inclusivity, diversity, and provides growth opportunities to PAID Network token holders.
In partnership with Grow Crypto, the innovative crypto creative think tank and media studio, Apollo-X will seek to challenge industry norms and offer launch partners a full suite of creative services that aim to engage the market in blockchain education.
Omni, the mega app, offers powerful features to its community:
● Feeds: Explore multiple feeds to keep up with your favorite news, friends, and influencers. Discover new content and communities, all on the same app.
● Stores: Businesses can create stores and provide a full shopping experience without leaving the app, from browsing products to checkout.
● Channels: Create or follow channels to post or watch your favorite video content. Channels can be public or private.
● Live Stream: Enjoy live streams while chatting with broadcasters in real-time and reward your favorite streamers with gifts or go live for your followers.
● Stream Music: Listen to music from all your favorite artists. Create playlists that you can share with friends and make your sounds go viral in the feed.
Besides being a fully self-contained social media ecosystem, OMNI will also reward its users for their in-app actions with OMNI coins — tokens that can be used within the app or added to a decentralized exchange for token swaps.
OMNI users perform in-app actions every day and can get rewards for them, e.g., following a content creator, sharing a story, going live, or creating content to share with other users. Ultimately it does not matter if you're producing the content or consuming it; every OMNI user gets rewarded.
For more information, please visit the following sites:
● Twitter: @Apollo_X
● Medium: @Apollo_X
● Telegram: @Apollo_xofficial
● Website: https://omni.ai/
● Telegram: @Omni_App
● Twitter: @Omni_ai