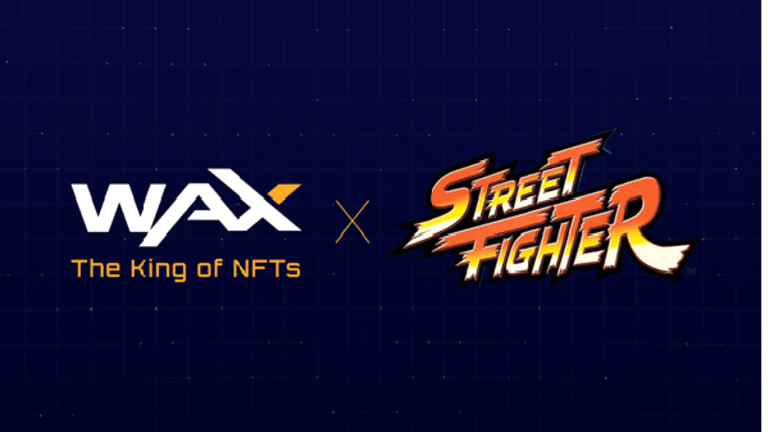 Street Fighter Digitizes Collectible Trading Cards
For 34 years, Street Fighter has brought joy and competition to fans around the world. Since the first Street Fighter game debuted in arcades in 1987, Capcom has revolutionized how we interact with the Street Fighter characters by increasing their reach across many platforms, including various consoles and the big screen. Now in 2021, WAX brings you Street Fighter on the blockchain.
As big fans of the characters and the classic Street Fighter game, WAX headquarters has its very own Street Fighter arcade, where William Quigley himself has been seen competing. 
Capcom and WAX have partnered to deliver the legendary fighting franchise on the blockchain. Collectors can buy, sell and trade digital Street Fighter trading cards, called NFTs. Each NFT is tradable on the WAX Blockchain, which ensures that they are certified, authentic, unique and can never be altered or duplicated. Check out the brand-new collection on streetfighter.cards.
This is only the beginning, up and coming artist and active community member The Cheesman says. "Blockchain technology enables true ownership for digital collectibles for the first time in history and makes them 100% secure from counterfeiting. This is a gamechanger for the space and will lead collectibles into the digital age. This brings new, untouched and probably incredibly high liquidity for these assets. NFTs are huge, and we are in the stone age of possibilities that come with them."
Introducing: An Exciting New Crafting System! Here's how it works:
Start by opening packs of Build Cards, then combine two matching Build Cards to unlock a new card in one of six rarities. Continue upgrading that card's power score by adding additional Build Cards. Once you reach a power score of five, you unlock a special Class Card in one of 6 rarities. Build cards are burned when used, which increases card scarcity and value.
Because Street Fighter NFTs are powered by WAX Blockchain technology, not only can you buy and sell digital Street Fighter trading cards on several marketplaces - you can also instantly trade cards from your collection with anyone, anywhere who owns a WAX Blockchain account. 
All you need is a WAX Cloud Wallet account to get started.
About the Collection
Digital Street Fighter trading cards come in 8 stunning rarities, starting with standard "Build Cards," which can be unboxed from Street Fighter WAXPacks. 
Important to know, packs only contain Build Cards. Once opened and combined, one of six rarity cards will emerge. Check out the different rarities below and let us know which one you prefer the most on Twitter:
Build Base Foil Battle
Weld Action Collector's Edition
Class (Ultra-Rare)
After combining matching build cards and creating a final card, adding power score points becomes available. To increase the power score of final cards, add additional matching build cards. Once you have reached a power score of 5, a special class card unlocks. Class cards also come in one of six rarities. Collect them all on streetfighter.cards.
There are two types of packs in this collection:
· Standard Pack contains 10 Build Cards for $9.99.
· Ultimate Pack contains 60 Build Cards for $49.99.
The sale goes live on February 18, 2021, at 12:00 PM EST for 24 hours. The sale closes at 12:00 PM EST on February 19, 2021, when pack opening will commence. Series 1 Packs will never be minted again once the primary sale window closes.
Remember, 6 Build Cards are burned when creating and upgrading a final card to level 5, and no more Series 1 packs will be minted after the 24-hour sale period expires. Be sure to plan your collecting accordingly.
ARE YOU AS EXCITED AS THEY ARE? Get yourself 1 of 10 exclusive Street Fighter NFT Stickers for free!
To celebrate the launch of Street Fighter collectibles on WAX, we're dropping a new & exclusive sticker every 24 hours on AtomicHub. These will never be minted again.
Check out the drop-list and claim your first sticker at http://go.wax.io/Street-Fighter-Drops.
Want more exclusive NFTs? Get 1 of 15 Street Fighter Logo NFTs, complete a few social steps, and you're in! What are you waiting for? Join here: http://go.wax.io/Street-Fighter-Giveaway
Let us know what you think and join WAX Community channels to discuss the launch of Street Fighter NFTs:
Twitter: twitter.com/WAX_io
WAX Official Telegram: t.me/wax_io
Street Fighter NFT Official Telegram: https://t.me/sfnft