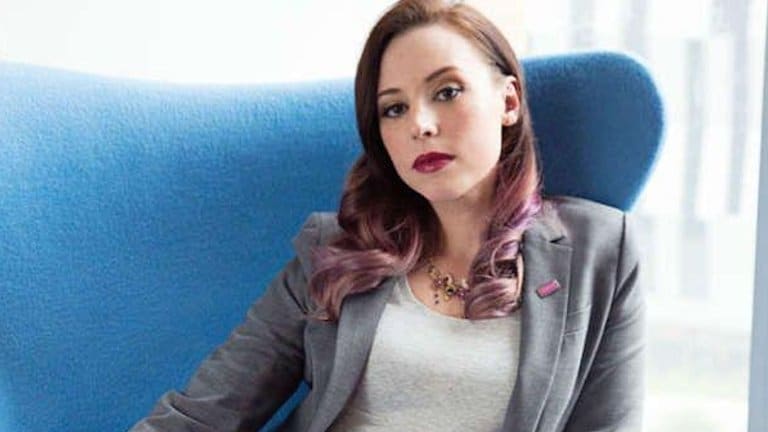 Women in Blockchain – Uptrennd.com's Elena Demou continues her series #3
#3 INFLUENTIAL WOMAN IN CRYPTO – AMBER BALDET
#3 INFLUENTIAL WOMAN IN CRYPTO – AMBER BALDET
BY ELENA DEMOU
Tattoo clad Amber Baldet grew up in South Florida and can remember learning to use a computer at the age of 5 before most households even had one. A fan of movies like "Hackers" and "War Games" in the 90's, she pursued her interests mostly on her own time by playing around with fiber optics and building early web applications. Back in the day, she would have been known as having hacking abilities, but it wasn't until she moved to New York City that she found a bigger group of like-minded people and broadened her skill set.
She started her career helping the trading desk at a hedge fund but found herself frustrated at having to do the same tasks over and over again. She took it upon herself to build backend applications to improve the processes and this got her noticed enough to become an application developer. She moved around careers for a bit, she was a Business Analyst at Old Lane Management, a financial planning firm. Then she became a Managing Partner at Blackwire, an Information Technology Consulting company. Later, she moved on to the Senior Consultant position at Capco, a business management Consultancy firm that helps financial services embrace change.
It wasn't until 2012 when Amber got her big break and joined JP Morgan Bank, leading the Blockchain Center of Excellence (BCOE). BCOE explores "blockchain use cases and piloting solutions across business lines" bringing JP Morgan into the blockchain fold in a big way. While there, she helped with the development of Quorum, which is an open source Ethereum based platform that helps companies move their business towards blockchain technology and helps companies start blockchain projects.
Her tenure at JP Morgan lasted until 2018 when she was finally ready to create something of her own. She partnered with ex-Quorum engineer Patrick Nielsen and together they co-Founded Clovyr, somewhat of a decentralized app store, which brings the ease of use and simplicity to creating applications on the blockchain. As CEO, she aims to be the "leading voice on the practical application of blockchain technology within the financial industry and beyond."
Amber currently has many accolades under her belt. She has served on the chair of the Financial Industry Working Group within the Enterprise Ethereum Alliance, she sits on the board of the Zcash Foundation, and she can be seen giving speeches at DEVCON, SXSW, CryptoSprings, Money 20/20, Consensus, as well as many universities and a plethora of additional conferences, too many to mention. She has also been featured in Fortune's 40 under 40, New York Time's "People leading the Blockchain Revolution," CoinDesk's "Most Influential in Blockchain," and won the Corporate Innovation Award presented by Microsoft!
From hacker, to banker, to CEO… she has had quite a journey so far! Every once in awhile she writes a cool article too focusing on blockchain and you can tell she in an interesting person by reading in her own words. I think I will make it a personal goal to catch a speech of her's live one day. I know I would truly enjoy watching her brain in action!
This article was written by Elena Demou from Uptrennd.com