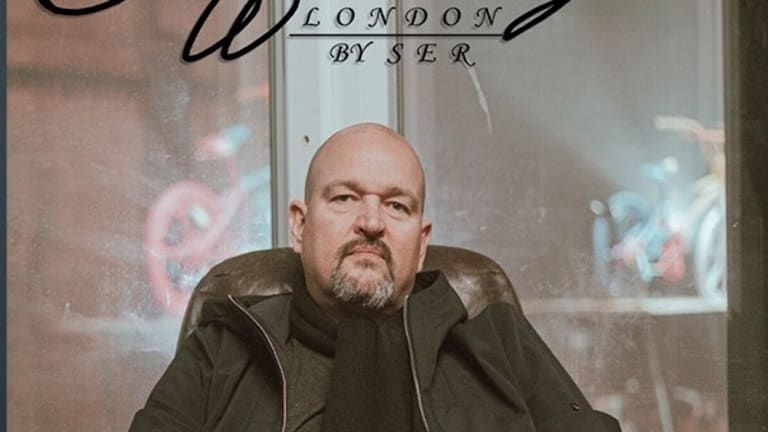 Vandalism saved Darren Cullen from a life of Crime
Darren straddles the divide between the underworld and the status quo, providing an essential bridge for digital tourists wishing to travel in either direction. He is contraction personified and has no issues walking either side of the street.
"I keep my feet in both camps, remaining true to my background, and that authenticity allows me to offer street art to the corporate or even the government world without losing my anarchistic soul."
Darren was still in primary school when he fell in love with street graffiti. It's hard to explain to GenZ that street graffiti only arrived in the 80s from the US, notably New York. Prior to that, street painting wasn't a thing or street murals that existed typically consisted of pastoral scenes with birds, trees and fluffy clouds.
The graffiti inspiration came when another family in his South London school enjoyed a holiday in America. Two brothers had witnessed graffiti on the underground trains, and they arrived back excited to share the transport of their joy.
From the moment the brothers returned, loose pens were a premium at the school with interested kids looking to create their own graffiti. Much of it was done on paper initially as the young artists honed their craft before taking it to the park and sketching on the ground in chalk next to the hopscotch marks, before moving to walls and permanent ink.
Not only was the garish, colourful stylistic writing adopted by their fellow London students, so too was the custom of taking a street nickname. Darren opted for Flash. Spray cans weren't even around, and the young street vandals had to be satisfied initially with regular markers and felt tip pens.
Transitioning to secondary school upped the ante for Darren. Graffiti was becoming a thing, a regular feature on toilet walls. MTV was on the box and the video for Malcolm McLaren's Buffalo Gals featured both scratching and spray can graffiti. Then the definitive graffiti book Subway Art, by Martha Cooper and Henry Chalfant, was published in 1984 and Darren was officially hooked. In this tale of art and defiance, more kids than ever before joined the public library to get their hands on the holy grail of graffiti and copy the images found on the pages – from there to create their own art on the public walls of their neighbourhood.
"This is the era of street vandalism."
What lifts Darren from the grimy pit of drearism affecting so many of his peers is hunger.
"Stealing, vandalism, protest – they are all part of the journey, but it is a journey. I don't need to stay down in the sewers to do my art. I don't need an un-permissioned wall to create my art, I can do it just as much where it is wanted as where it is banned."
Darren was plucked from obscurity and a possible life of petty criminality by the system. He was transitioning to ad hoc paid graffiti commissions for local business when he was recruited to run youth workshops for graffiti artists by the local council.
"The workshops were packed, people were out the door, the room was crammed and the craze spread to other councils. Soon I needed to hire other friends to help run these viral workshops."
Two things emerge. One that it is hard to find time to be a criminal vandal when there were so many workshops to run. The second is that Darren began a lifetime habit of hiring his graffiti chums; there is honour amongst street vandals. Actually three – the popularity and efficacy of these workshops even made it into a question-and-answer session in the UK Parliament, video recordings of which are still lurking online.
The local train stations didn't escape the attention either. Rather than allow for unmanaged graffiti, the idea of planned station art in underpasses grew in popularity. It killed two birds; featuring quality art appropriate to the public canvas and diminishing random eruptions. In fact, at this stage most of the city's graffiti artists were so busy in planned art projects that overall street vandalism dropped off sharply.
"My only concern was not to have rural images. I wanted authentic urban art, so I called up my painting friends and said come on down here – we've got permission, blessing, and all the paint we need."
Darren even had Banksy paint on one of these projects. I'll just let that sit there.
Actually, I should mention that the station managers were now getting letters of compliment from the general public – this had not happened before. The craze spread to most of the London train stations and the graffiti artists were given orange jackets to indicate they are part of the staff.
"At one point, I remember the staff switched off the electric railway lines and we all walked across the tracks to our next wall on the far side of the station. It was like a scene from an urban western and we were the spray can toting anti-heroes."
Street graffiti was changing too. From the stylised letters and words, images were now being created. The tools were also evolving with new spray paint made specially for graffiti.
"Original spray cans were forceful and one-dimensional. The paint was meant for cars or similar and it came out fast, necessitating large paintings; there was no room for finesse. The new cans allowed art where before it was paint covering the wall.
"Graffiti was going parabolic.'
Nowadays, back to lecturing GenZs, street art is an acceptable form of street covering. Most temporary hoardings are covered in it and many permanent wall canvases are also covered in art. Even the name Graffiti has become rehabilitated and acceptable. It's difficult now to conceptualise the core rebellion and protest encapsulated in its origins.
Darren converted his work into a brand – Graffiti Kings – and now accepts corporate commissions and pulls in his artist friends to deliver major art projects on a global basis. He even runs workshops to teach corporate executives on how to make graffiti.
Then 2012 was the year that Graffiti Kings became mainstream, but 2021 is when they are going viral.
2012 was the year of the London Olympics. Funnily enough it was a touch and go experience for Darren. Four months before the start of the Games, police raided first his mother's house and then his own house before carting him off to the local police station where he was quizzed for hours on a website his company had built for a client. The offending website documented graffiti and was seen a blueprint of how to become a graffiti artist – in this case the old fashioned vandal variety.
"I was released but I got conditions – not to carry spray paint, not to travel on trains, and not to go near the London Olympic Stadium."
Darren shakes his head at the memory. Then and now, he was exasperated and posted his frustration on Facebook to his 1.5 million followers. It blew up a media storm and even resulted in the law firm representing English actress and legend Joanne Lumley in her legal campaign for Gurkhas' rights to contact Darren.
"They offered me free legal aid to fight my case."
At the same time, and in a totally unrelated move, the official Olympic organisers sent Darren an email asking him to become the official street artist for the 2012 Games.
He said yes.
"That's my creed, say yes first and then deal with the consequences."
If this was part of a film, you might call the plot somewhat incredulous. The police dropped charges and conditions and Darren became the official street artist for the event and painted the opening scenes for Paralympics afterwards too.
2021 is still in the process of being written. Back in March, Darren is in lockdown. He has been watching conspiracy videos for the last decade and reckons there is some truth in the lies they tell. Once the pandemic kicks off, he is galvanised into action, he puts 20% of his savings into gold, silver and Bitcoin as a backup.
"Then I come across NFTs."
He switches from conspiracy videos to blockchain, cryptocurrency and digital art research. Darren knows his parabolics better than most. He also does bridges better than most; this time from art to NFTs.
NFTs are non fungible tokens which use blockchain technology to create unique digital assets. A first for artists looking to sell online without fraud or counterfeiting. It's a lot more technical than that of course, but for NFT newbies stay with the programme. It won't be explained here but the thrust is evidential.
The rabbit hole is there. Now he moves all his investments from golds into crypto and chucks in his house and car for good measure.
He lines up other new NFT artists from Anytask.com, a freelance platform run on cryptocurrency but accessed by fiat. He engages with other digital artists, NFT platforms, crypto communities. Everywhere he is welcomed.
"I came for the ethos but I stayed for the energy."
This is just the same as his path into Graffiti where passion drew him in and community fuelled his career.
"I'm having the most amazing conversations. The projects are just spilling out of the ether."
Darren is designing crypto toys. He is already a toy creator and collector. Now he is bringing out Bitcoin kid and other models. His new toys are all hand painted and will be sold by their digital NFTs. He is playing with different blockchain platforms, WAX currently being his favourite where he has joined with a Dutch collectables company to create collectable Graffiti King NFT packs. He is working with crypto metaverses such as Decentraland where he intends setting up his own public gallery and will host monthly art shows. He is working with the Bad Crypto Podcast team on a number of as-yet-to-be-released projects.
Darren asks if I am familiar with Twerky Pepe. "Mweh," I say, "ish." Turns out, Darren met the creator recently and he is the smiliest NFT creator of all time. His images are all twerking creations with prominent bums (see here https://twitter.com/TwerkyPepe/status/1362081545067069441) and his NFT memes are selling for thousands of dollars. Even Darren was amazed at the speed of update.
He has moved all his assets from gold into crypto. He's all in.
"This space is chaotic with people collaborating on many different projects. There are egos but it's not destructive like other art scenes. People are just people here. Before when I painted walls, it was very chill. Now, it's non-stop, full on, chaotic craziness.
"It's beautiful."