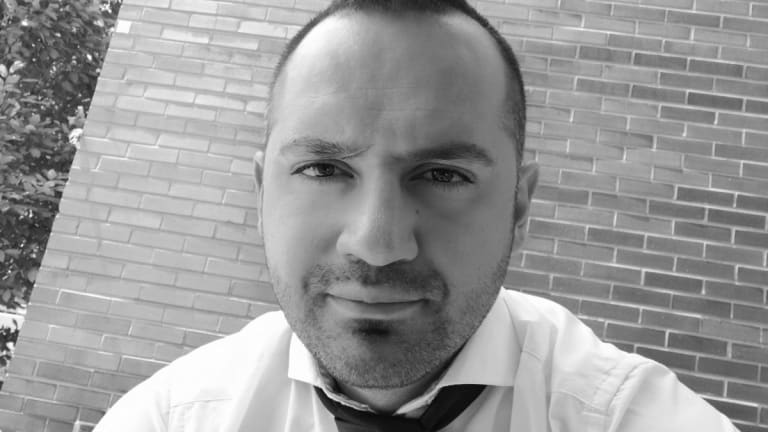 Throw back Monday - Emal Safi: The Diamond Heist
Emal Safi has perhaps been a treasure hunter all his life. From diamonds to hunting for crypto through gaming, he talks to Jillian from Blockleaders about why blockchain and why now.
We have profiled some of the most amazing and interesting people in this space. So we thought we'd like to show case them again - just in case you missed them the first time around... Today it is the turn of Emal Safi and aircoins - on steroids!
Emal Safi has perhaps been a treasure hunter all his life. From diamonds to hunting for crypto through gaming, he talks to Jillian from Blockleaders about why blockchain and why now.
Emal Safi has been a fan of technology from a very early age. "My whole life," he says. As a young kid, he got a computer complete with 5 ½ floppies (for those young readers, think memory stick but a disc) although he is actually not that old, at all.
He loved gaming and at 15 years of age had written his first video game using 3D modelling and AutoCad. He was lucky enough to attend a Canadian high school with excellent IT and, at 16, had access to an expensive $50,000 3D printer. At 17 he completed a Cisco networking course and received his cert.
Off to University next where he spent four years studying Computer Science and emerged with his degree. His next step was unusual: he joined De Beers as their network administrator in Canada. De Beers, of course, are famous for their expensive diamonds and, fortunately, they had a generous IT budget to go with.
"I was very lucky as I was able to examine, investigate and play with the latest technology and gadgets," he says. "I stayed with De Beers for ten years and during that time I enjoyed evaluating tablets, smartphones, iPhones, Androids – basically the mobile revolution.
"It also gave me an opportunity to look at the human interaction with technology – never before did people get as close to the tech. Think of our smartphones and how our lives have changed so much. No one leaves home without their phone, not on purpose."
After ten years with De Beers, the company relocated offices to another province and Safi decided to call it time.
"I wanted to go out on my own, to be an entrepreneur," he says.
For the next three years, he returned to gaming and built a game which he sold in the App Store. He was still learning and working with the latest tech. He provided consultancy services, worked with Google Maps, and provided live streaming solutions.
Blockchain also appeared on his radar even while with De Beers. "I knew blockchain was going to be huge from the very beginning."
Last year, with the rise of interest in blockchain and Bitcoin, he saw an opportunity. He approached FX houses and asked if they wanted cryptocurrency wallet services. He offered tokenisation services and general cryptocurrency consultancy.
At the same time, Safi was watching other emerging technologies such as Artificial Intelligence (AI), Augmented Reality (AR), and gaming. Two years ago he watched with great interest the phenomenal success of Pokemon Go. "That was a game-changer for me," he recalls.
Enter the cryptocurrency. "It all fell into place for me," says Safi. "While it might have been fun trying to find Pokemon, what if the players could actually search and find crypto coins? Wouldn't that be amazing?"
Aircoins was born and have since launched the first Android version that has garnered 3000 users in a short time. The IOS version is due in the next few weeks. Its tagline is: Crypto Treasure Hunt in Augmented Reality.
"Basically we combine cryptocurrency, AR, geo-positioning, and coins dropped in specific locations – globally. AR is not new. In fact, people using Snapchat see it all the time with the filters in the app.
"The camera is the most-used feature on smartphones today. The quality is better, more powerful and the ability to recognise elements on the modern camera is amazing.
"We are looking for mass adoption and a quick jumpstart for our app – and we can scale very fast."
The app is built on Ethererum but Safi doesn't care about that and neither should the players. "That is background stuff."
So far they have dropped 12 billion coins worldwide with 40,000 being picked up already. (Bet the IOS readers here are chomping at the bit right now).
However, all is not lost as Safi and his team intend dropping more Aircoins on a regular basis.
'"But it gets better," he says. "We have also partnered with 12 other altcoins. These coins are all on exchanges and are fully tradable. They are not just gaming coins but include lots of different industries. One is called Diamond coin which was minted seven years ago. Players will be able to find other coins too. This is very exciting."
Aircoins are not listed on exchanges but act as the core trading pair for the altcoins that have partnered with Safi and his team. "There was a lot of rigorous due diligence on both sides."
The value of the Aircoins will be based on the combined value of the coins available on the site plus the number of users and, indeed, investment.
"We are talking with some big players and we hope to announce that soon too."
Aircoins is a fun project but Safi is a serious operator. "We have an app, it has excellent takeup, we work in an open environment and we look after our employees."
As it happens, quite a few of Aircoins' team moved over from De Beers, proving that diamonds may not always be a boy's best friend.
"We have big plans going forward," he says. "Right now, it is Aircoins and our 12 partners but in time this will grow. We are looking to drop popular coins, rare coins, and even rare collectibles. We are also looking at generating revenue from advertising on the coins themselves.
"This project has been two years in the making but we are only getting going now. Imagine being an advertiser or coin developer and wanting people to search for them in the real world. Move over Pokeman now."
It seems the diamond heist is upon us.
About the coins
Coins currently listed on the app include: Original Crypto Coin, Diamond, Electra, Action Coin, Ditch-It, LightYears, Reddcoin, HTML coin, Linda Project, Apollo currency, PACcoin, Phomeum, Skeincoin.
Upcoming Tokens include: FanFare, SocialSend, Bitcoin One, BWS token, Presearch, Photon, LaMoneda, Makeafolio, Netkoin, Bitcoin, and
Ethereum.
Coins are selected based on technology, team, performance, community, innovation and market cap.
To find out more about Emal Safi you can connect with him on LinkedIn here.