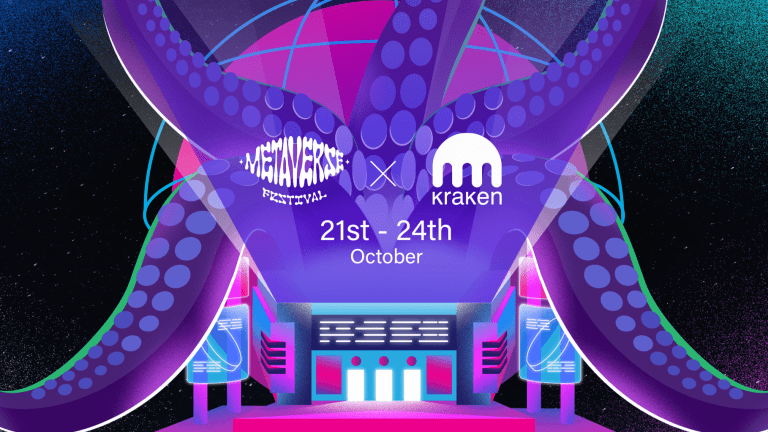 The Metaverse Festival, Oct 21 - 24
The Metaverse Festival is a four-day celebration of music, arts, gaming, culture, and creativity in the virtual social world of Decentraland. It runs from October 21-24.
The four days will bring together over 80 artists across five stages in Decentraland's all-new Festival Land venue.
Acclaimed DJ 3LAU will perform a set on the first day on the Evolution Stage. Joining him are renowned artists Deadmau5, celebrity Paris Hilton, Nina Nesbitt, RAC, The Wombats, and many more.
Kraken is sponsoring the Evolution stage at this special festival, bringing together some of the biggest acts and offering exclusive wearable NFT drops for your Decentraland avatar.
The festival is based on the theme of Evolution and over the course of the four days Festival Land, where the event takes place, will transform from Water to Earth to Space and finally to the Metaverse for the final day. 
Enjoy a fully decentralized celebration of music that offers a weird and wonderful collection of the headline acts, celebrities, world-class DJs, mind-blowing stages, games, exclusive artist merch, collectibles, and more.
Whether you want to relax in the chill-out zones, take a walk through the psychedelic sculpture garden or hang out at the Acoustic Stage, there is something for every avatar that enters Festival Land.
Other stages where we will be hanging out include the Acoustic stage and the Techno stage. Grab your latest wearables and join us for to celebrate the crypto community.