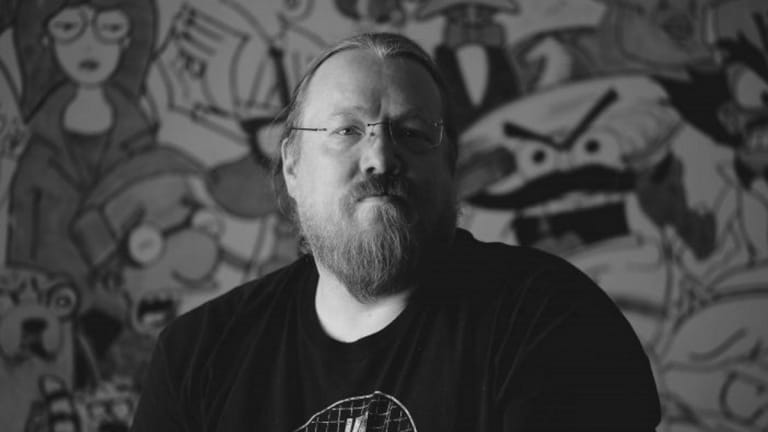 The Emperor's New Clothes: Jonathan Nelson on How to Start a Fund
Jonathan Nelson talks to Blockleaders about how he thinks like a nurse. How would a nurse approach funding, investment, and pension returns? Simply, without expensive fees, and with good returns. So why not apply that common sense to tech startups? That is exactly the question he is posing and answering with his Hack Fund.
"It's like
Linux," says Jonathan. "People are passionate about Linux – there is no
corporation behind it and the nerds involved are as committed as if it were is
a religion. Heck, it is a religion."
Jonathan is, of course, comparing early zealotry surrounding open source like Linux with blockchain. He firmly believes the huge and enthusiastic following for blockchain will be the reason it survives.
"The passion convinces me it is the future. There are all sorts of brilliant, nerdy, misfitty and cool people in this space. I mean, how often in the traditional world do you bump into people who say they want to start a bank? Or say they want to start a bank that is not a bank? And they want to collaborate with others to achieve their goals?"
It is a fine
opening to our conversation.
Jonathan, as I discover, has an interesting way of posing questions. Questions which seem on the surface to be quite mundane until you examine them closely and find them to be utterly radical and yet often overlooked. A bit like the child who questioned the Emperor's new clothes.
He is American but spent his early childhood in Honduras and Costa Rica. His father was a preacher and his mother a missionary and nurse. It was an idyllic childhood, riding sea turtles and living like kings. His father's salary would not have been large in the US – and later proved not to be at all – but while he was paid in dollars their standard of living was more than gracious in Latin America.
While living in Costa Rica, Jonathan witnessed the steep decline of the local currency from 8 Colones up to 160 Colones to 1 dollar. "That type of thing sticks with you, even as a young child. It makes you question money as a thing."
They moved to the States when Jonathan was 14 and he keenly felt the difference. From being privileged he went to buying clothes in thrift shops or garage sales. He felt the cold.
While Jonathan had leanings towards computers and thought about studying computer science, his father disapproved, feeling that computers were all about gaming. Instead, he persuaded Jonathan to train as a nurse so he could be more useful if he followed in his parents' footsteps. After qualifying as a nurse he went on to study at a seminarian but dropped out.
"I had this big ah-ha moment. What on earth was I thinking? Look at me, how did I become a nurse?"
Despite this ah-ha moment, Jonathan continued nursing for 20 years. He met his wife but was increasingly dissatisfied with his life and hated that he had to sell precious hours of his time for a job he disliked in order to live. His ever-patient wife just nodded and assured him that was what everyone did.
"But this did not feel right. This was not the life I was meant to live. I began to crunch the numbers to see what I needed to retire. The figure was something like $4million dollars but where was I going to that kind of money nursing?"
So Jonathan began looking at other ways of earning money, more enjoyable ways. He turned to journalism but that didn't pay (Ed – you don't say!). He moved to a non-profit organisation helping male prostitutes in Chicago but again that didn't pay the bills. Next, he pursued art, in particular sculpting and found he had a talent for it but unless he wanted to earn posthumously, this was not going to work.
"I looked at my talents and wondered how I could commercialise them. So from art I went to design and then animation. At the same time, my wife had left her IT role and moved into film school. So we both moved to LA to pursue our new careers."
Here Jonathan and his wife Laura discovered that, while LA might be the heart of the film industry, it was a very dog-eat-dog industry. He changed career again and this time started programming. He was self-taught from a young age (despite his father's opposition) and found it came easy to him.
Jonathan now
turned his curiosity to tech companies. The mecca for startups was Silicon
Valley and he began to research how they grew. And he questioned a lot of people.
"It was then I discovered the odds of success for startups. For every one that was successful, the other nine were failures. That seemed very high. After all, if VCs were prepared to put funding in place, how could they get it wrong so often?"
He questioned his VC friends and was informed that a successful startup needed to return 20x to 50x. "I baulked a little this I have to say. What if VCs were doctors: would they be allowed to lose nine out of ten patients? Why was this happening?"
Of course, in his delving, Jonathan uncovered the confusing background to VC funding. For starters, the money didn't belong to the VC but was sourced from other people such as high net worth individuals, family offices and pension funds.
"When I heard 'pension funds', I took notice," says Jonathan. "I was still working as a nurse to sponsor my other projects and I paid into a pension but it wasn't returning anything like 20%. If I got 4% I would consider myself lucky."
The commissions paid were also a source of some surprise to Jonathan. "The VC might only charge 2% to manage the asset, but that is every year. By the time all the fees are creamed off the returns to the pension fund are much diluted. So I started to ask: why can't nurses pay, say, $20 a month directly into a fund and get a good return?
"I was told I
couldn't do this as I was talking of a mutual fund. Why not? I asked."
A lot of these conversations were now taking part during a meetup devised by Jonathan for nerds in startups. Called Hackers and Founders it began just as a casual drink in a bar with friends once a month to a popular movement reaching down to South America. Jonathan often begins his sentences with 'I'm just a nurse, what would I know about that?' but, again, his framing of questions with the blunt logic of a young child was starting to bear fruit.
As his meetup spread, he started to speak with developers and entrepreneurs up and down the continent. "I'd ask these guys where they studied computer science and they'd tell me they learnt using YouTube. If someone has a laptop and access to the internet they could build a tech company.
"The enormity
of some of the challenges facing these groups hit me every time. One group in
Venezuela told me they were not hosting events for a bit. When I questioned why
they said they were waiting for the riots to stop. Riots?"
At this stage, Jonathan knew there was something up with the Emperor's clothes. Why, he reasoned, did you have to be in Silicon Valley to raise money? Why did nine out of ten startups fail? Why were the fees so high? Why couldn't ordinary nurses contribute small funds and get proper returns?
"In addition, I looked at the exit methods for VCs. The only two measurements used were acquisition by a tech giant or an IPO. That was not going to work for startups in Venezuela or Nigeria."
Jonathan began working with the startups in his network. He knew that the definition of a successful company was not one that paid 20x or 50x in a number of years but rather was a company that had a product that people wanted to buy and that, furthermore, increased turnover year on year.
He worked with
US Hastings Law School in San Francisco to look at crowdfunding and caught the
attention of the SEC who invited him to join an advisory committee.
"You can't
wear shorts at the SEC – who knew?"
Jonathan's next step was to look seriously at how to raise money without the complexity or fees offered by traditional funds. Each time, he was told he was trying to create a mutual fund but to set up a mutual fund in the States cost a minimum of $3 to $5 million and then a further $3 million to run annually.
"That was
crazy money and made no sense. I kept on going back to the nurses who wanted to
contribute to a pool and earn a fair return. Why wasn't this possible?"
At this stage, enter the blockchain. "Everything just made sense. Of course, startups were issuing securities not utility tokens as everyone wanted the value of the coin to rise. So, it just meant not selling any to uncredited Americans.
"Then I found that the Caymans offered mutual funds with much less cost attached to them – or regulation too. Basically, the islands offered a closed-end publically-traded fund and it cost 5% of regular US-based mutual funds. Now I began to see a way forward.
"I also
wanted to build in transparency so I integrated regulation. I like to have a
foot in both camps so I am in talks with the London Stock Exchange (LSE) to
list part of the fund there as well as crypto exchanges."
Jonathan sees it as not only democratising access to capital for startups around the globe, especially in South America, but also offering ordinary people, the nurses, an opportunity to invest in something that should produce a proper return.
There are now 55 companies under the Hackers and Founders umbrella, two-thirds of which are from South America but a number of which now have offices in Silicon Valley.
"The Netflix
show Narcos has not helped – something that generated a huge audience and is
great watching – but now VCs don't want to invest south of the border. It
sounds funny but last year only $250m was invested by Angel Investors and VCs
south of the border – that's half of Uber's last investment from Toyota.
"Traditionally there has not been enough money and liquidity for startups. By setting up this mutual fund on blockchain we are digitising assets that are tradeable; investors don't have to wait if they wish to sell their tokens. So not only can startups access funds, ordinary people can contribute.
"I'm not looking for major trust firms to get involved; ideally I want 10,000 small investors. I'm building a community fund. I may need an anchor investor but, after that, I want a community of nurses, engineers, ordinary people."
Right now Jonathan is on an expansion trial and his wife has joined him in the business where she looks after the startups. There are 55 projects in the group and, between them, they have raised $100million. There have been four funds and companies are averaging a return of 30%. Now Jonathan is looking to raise his own, fifth fund and is aiming for $100million.
He calls it the Hack Fund, named after the meetups of which there are now some 50 each month around the globe. There is a largely automated process by which startups enter the group, headed up by his wife. "I find it too easy to fall in love with startups and so prefer peer review."
Startups apply online and are initially reviewed by peers. They are allocated a score and, if that is high enough, it goes into a second round where the startups are reviewed by investors.
"If they
score highly enough on that round, then we set up a meeting and see how we can
help them on their journey.
"Overall our
ethos with the Hack Fund is to invest in companies that will grow in value.
It's that simple."
In terms of survival rates, Jonathan is happy. Ten out of ten will grow in value. Over time, some may fail but the success rates are overall high. In the first two years, some 85% of the startups succeed. This drops down to 60% in three years and 50% in four, but most of those entrepreneurs either rework their project or start new ones. The kill zone is not a thing.
"There is a commonality between the startups in the Hack Fund: they are dealing with issues in the developing world which might not be useful in Silicon Valley, however, problems solved by tech hubs in Brazil will probably be useful in the Philippines."
It looks as though the nurses and entrepreneurs deserve a drink!
For more
information, please visit these sites