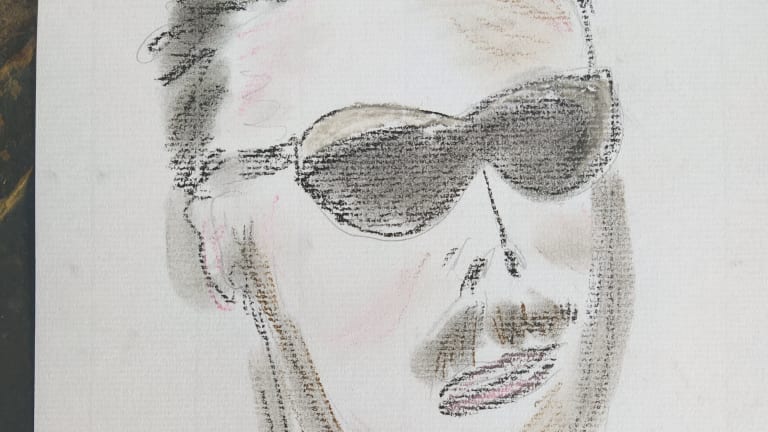 The Defiant with Robin Schmidt
Persons of Interest, Volume 1 by Jillian Godsil. This interview with Robin Schmidt was first published in the 2020 critically acclaimed book of Web3 Founders.
Robin is a filmmaker and broadcaster and a very fine one too. He has twenty plus years of making films, real films, but he also has around the same amount of experience filming coffee makers. He has nothing per see against coffee makers, indeed some of his best coffee has come from the coffee makers he has filmed, but there is only so much creativity that one can unleash in a corporate video.
Enter the Defiant, a video series of seismic proportions and epic reach; and that is not hyperbole. As he seeks to explain DeFi in all its glory he pushes the boundaries of entertainment to the very edge. There are film parodies, talking fruit, dark characters, blow up toys, rap music, lego, classical music, food – actually lots of real food and some of it even being eaten – flying bananas, and things being thrown, flung, crashed, knocked over and sometimes stamped upon. I predict these videos will be on the official schools' curriculum in the future, but I can't decide for which subject: film making, history, business, finance or comedy…
I interviewed Robin in a very traditional manner- two talking heads – and all the while I was thinking; why don't I have flying bananas in my films? Everyone should have flying bananas in their videos.
Robin explained first up being a filmmaker is a very financially precarious profession. "It is hard to be creative and earn money at the same time – and I have a family to support. So, after many years working in the corporate sector, I came to a realisation that if I wanted to work creatively, I would have to solve the money issue. And that's when I discovered blockchain and went down the rabbit hole."
Robin pitched his creativity to the Harmony.One, he wanted to make a long form documentary that would tell their story. "It doesn't matter what industry you are – even household appliances – you have to tell a story.
"We spoke about Harmony communicating what they do in the real sphere, making it relevant to people in a much broader context. A lot of blockchain projects struggle to tell their story, getting stuck on finding other words for coins and tokens for example – both words being really loaded outside the industry. I suggested video might be a better solution.
"Growing an audience organically on the second largest search engine is a challenge. We had to do more than say 'we're great' and we also had to be aware that we are creating a footprint of materials that points people back to us. It has to stand the test of time."
While the external world views cryptocurrencies as a single audience, in fact it can be very tribal with huge inter-protocol and even community rivalry. Robin was looking for a way to transcend those barriers. Along with others in the industry, he views DeFi as a huge growth sector with a lot of excitement and action – but very little quality communication and explanations surrounding it. He was very impressed with crypto financial journalist Camila Rosso and suggested a partnership – his filmmaking and her crypto credibility.
Making these videos Robin deliberately does not mention his employer Harmony. He is making branded videos where the benefit comes from the entertainment value and quality content produced, not by name checking or sales pitches. And by doing so, he totally cedes full content control to his imagination, which is very vivid. In doing so, he created his dream job, his passion, which is another reason why these videos are so good.
Many of his videos are based on films, and he also draws on his experience of making music videos. The pace is fast and at times frenetic, much like the DeFi industry itself.
"Behind the entertainment we have to tell a story. These concepts are complex, obtuse, novel and changing. Delivering the facts is not enough, you have to make them captivating and interesting. You need the visuals."
If Robin has created his dream job, then he had just been handed the golden ticket in DeFi. If ever there was potentially image rich visuals embedded in these complex and potentially boring economic projects, then DeFi has it.
Original DeFi projects have cool names, think UniSwap, and even cooler logos, unicorns. Then DeFi 2.0 or DeFi on Steroids emerged and the names were as crazy as the logos; Yam, Sushi, Cream, Jelly Swap, Pineapple, Bamboo, Melon etc (and yes I googled them on https://defipulse.com/defi-list/) and the terms moved into the realms of agriculture; so much rich visionary imaging for a filmmaker.
Robin mixes up his fun story telling with real life commentary, sometimes from financial expert Camila, sometimes from other real word commentators including economist and lecturer Nouriel Roubini.
"I didn't actually interview him for my $MEME video but I know if he has heard of the project, he would rubbish it out of hand."
This would not surprise me. Last year at the CC Forum in the QE2 London, I co-chaired the two day conference with Eric Van Der Klein. Nouriel was a guest speaker as was Roger Ver. A Talk Off was set up between the two of them live on stage which very quickly degenerated into a Shout Off. Nouriel repeated extensively (and loudly) that Bitcoin Cash was a sheet coin as if that were an argument rather than a mere name calling. His intolerance of any alt coins, indeed of Bitcoin, is legendary. And so in the $MEME video, the very short clip of Nouriel was enough to tell a story, be a meme actually.
Robin argues that while traditional economists like Nouriel savage this space, people who come to crypto have often been failed by traditional finance.
"Most people are just trying to survive and get by whatever way they can. Memes can play a huge part in explaining what is happening and if it can be done in a pithy, short, even self-deprecating way, even better."
Robin argues that memes are shorthand and very efficient at delivering a story.
"Memes can help people explain but also deflect anger. People can get into terrible fights on social media, using words, lots of them. But a meme can dispel a thousand arguments. Making these videos I feel like an arms dealer and I am giving the community their ammunition.
"But with humour."
While Robin is having fun exploring the crazy world of DeFi in video, he also recognises that there are many terms that people use but do not really understand. Right now, he is making a DeFi 101 series of videos, 31 of them in total, each lasting approximately 2 minutes.
If the ICO period is bookmarked by the ICO Advisor or Influencer, then the DeFi period will be bookended by video.
Shooting began last week, and they will all pop up on the Defiant YouTube channel in good time.
Click here for NFTs from Persons of Interest
For more information on this Collection of Stories click HERE