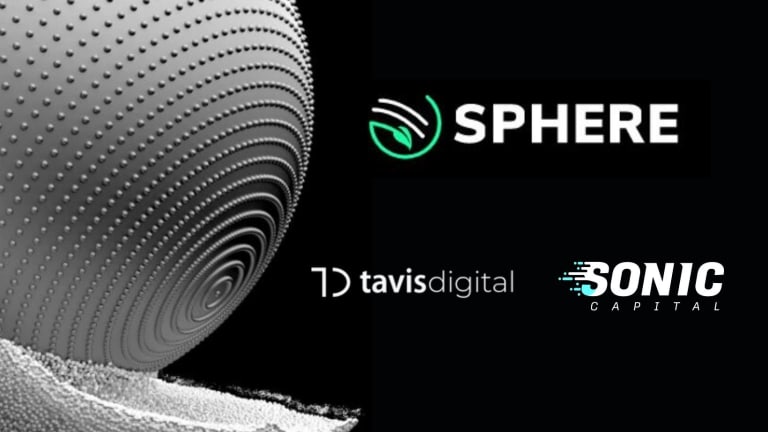 Tavis Digital and Sonic Capital partner to launch Sphere to invest in Impact relevant Blockchain Ecosystems
Zurich based Tavis Digital and Hong Kong's Sonic Capital today announce their joint venture Sphere, bringing to light a new era of impact investing in the blockchain space through the unification of expertise between the two companies. 
The strategic partnership enables access to an innovative, financially attractive, and bankable investment product using the UN Sustainable Development Goals (SDGs) as a guiding framework, while applying environmental social and governance (ESG) investment criteria. Investors will capitalize on both the maturation of the sustainable economy and digital transformation.
An ecological blockchain industry is evolving. While the market is still nascent, Sphere sees endless capacity for growth. Its potential becomes increasingly more evident with the uptick of blue-chip corporates entering the space and their desire for a more fluid, efficient and transparent marketplace. 
The Sphere portfolio will be diversified across carbon markets, renewable energy, and other impact solutions. Those other solutions include blockchain-driven innovations in supply chain, traceability, impact MRV, connectivity, and insure-tech.
Sphere (online at www.cryptosphe.re) provides investors with more than just access to blockchain-powered impact investments. The financial incentive is maximized through selective participation in proof-of-stake blockchain validation. Proof-of-stake is estimated to use 99.9% less energy than existing proof-of-work systems. This allows investors to profit while leading the industry towards cleaner solutions.
Sphere provides investors with the ability to:
Participate in impact-related blockchain technologies via their respective crypto assets. This offers the potential for price appreciation in addition to staking rewards.
Contribute to new impact-relevant blockchain ecosystems to accelerate and scale a more sustainable and transparent future for all.
Sphere is structured as an Actively Managed Certificate (AMC), which is a bankable security. By simply providing the bank with Sphere's International Securities Identification Number (ISIN), investors can now subscribe directly via an existing bank account—comparable to purchasing traditional equities.
Christian Speckhardt, Partner at Tavis Digital and impact investment veteran, "We truly believe in the potential and the future of impact-relevant blockchain technology applications and their ability to generate positive impact on society and the environment." 
Stefan Rust, CEO and co-founder at Sonic Capital "Sphere's value proposition is to minimize complexities for investors engaging in the revolution of the sustainability markets, while keeping a yield-focused mindset when it comes to obtaining exposure to the underlying token assets. Individuals are now able to seamlessly invest in crypto assets with traditional fiat currencies, from Hong Kong Dollars to Indian Rupees or European Euros. Let Sphere do the rest."
************************************
About Blockchain for Impact Investments 
The 17 UN Sustainable Development Goals (SDGs) address the world's most pressing challenges. Climate Action is one of them and requires strict reduction in greenhouse gas emissions as well as climate adaptation action. Blockchain-based technology and business solutions show significant potential to deliver positive impact on society and the environment. Here the UN SDG framework can be used for the identification of impact-relevant protocols, for guidance on investment eligibility, and as a basis for impact measurement and reporting. 
About Sonic Capital
Sonic Capital backs bold entrepreneurs that are using technology to drive profitable impact. Through a suite of products, Sonic's mission is to drive momentum across three areas: regeneration, open finance and decentralization.
About Tavis Digital 
Tavis Digital is a leading Swiss asset management company that focuses entirely on the portfolio management of digital assets. As a spin-off of Tavis Capital AG - a FINMA-regulated asset manager with over CHF 1 billion AuM from institutional investors, Tavis Digital positions itself as a pioneer in the asset management industry.
Tavis Digital 
Genferstrasse 23
8002 Zürich
Switzerland
www.tavis-digital.com
Corporate Contact: 
Christian Speckhardt
T: +41 78 751 69 05
E: christian.speckhardt@tavis-digital.com
Alexandra Wang
T: +44 74 1051 3361
E: alexandra.wang@tavis-digital.com
Sonic Capital
3101, Gateway Tower 6
Tsim Sha Tsui, Hong Kong
Corporate Contact:
Stefan Rust
T: +852 9196 6691
E: stefan@sonic.capital
Alyssa Aaron
T: +852 5160 1283
E: alyssa@sonic.capital