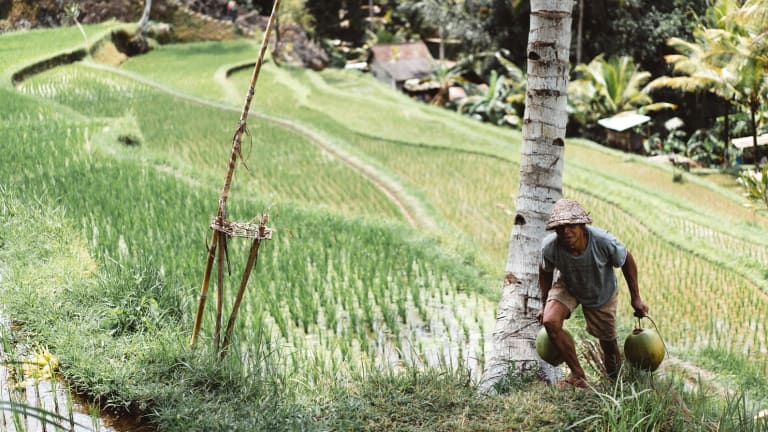 Suku - supply chains to increase revenue
Interview with Yonathan Lapchik SUKU, first published in December 2020
On August 4, 2020, Yonathan was cooking Uruguayan steaks at a BBQ for friends in Miami. All was quiet; work was good. He was working on a project, SUKU, three years in the making when he got a message saying the Kucoin exchange had been hacked. He checked the hacker's wallet and to his horror saw that 7.6 million SUKU tokens, worth the equivalent of $1.6 million were missing.
These were coins belonging to the project's users. Thinking fast on his feet, and leaving the steaks to burn, Yonathan gathered the SUKU team together on calls. They messaged the community asking them to remove their liquidity. Then they had to wait. There was no point being a decentralised blockchain if they could operate centrally.
"Hacks are common on exchanges and we knew this but when we structured the token that had to be part of the equation. We didn't want to have permission or power to impact the token. We believed in decentralisation and this was going to be one of our most testing trials."
They had to sit it out and let Kucoin access the situation. At the time of the interview it hadn't been resolved but some three weeks later, their position proved them right. They hadn't done any swaps, upgrades, restarts; temping as these options might have been, but all 7.6million SUKU tokens have been recovered and all users refunded. A happy ending. Not so much for the steaks but turns out Yonathan is also from Uruguay and could have more sent over.
Another job jobbed.
From the get-go Yonathan has been passionate about entrepreneurship. He was studying his MBA at Duke University in 2012 when a friend invited him to come and hear a lecture on Bitcoin. He had already bought some bitcoin but he just saw it as a technological development, but during the class he had his aha moment.
"I doorstepped the professor after the lecture. I just wanted to find out everything about Bitcoin and blockchain. I was obsessed."
Professor Campbell Harvey was later to become an advisor to the SUKU project. The name was created as the founders wanted to bring Suppliers (SU) closer to Customers (KU) and be the A-Z od everything on the supply chain.
After graduating in 2014 Yonathan joined Deloitte Blockchain lab in New York as a blockchain lead. Deloitte had gone all in on blockchain and Yonathan was at the epicentre as fortune 500 companies queued up to get a taste of this hyped technology.
"First we educated them on the technology, then we prototyped ideas and then we started building solutions."
By 2017, just as everything was going crazy in the ICO world, Yonathan decided to leave Deloitte and set up with a trader open a fund. He obtained capital commitment from the wealthiest people in Uruguay and was poised to launch the new business. This was in January 2018 and he had one more client to meet before he left Deloitte. The name of the client was SUKU and they were going to design a supply chain solution on blockchain.
Instead of quitting his Deloitte job to form a crypto fund. Yonathan fell in love with the SUKU team and joined them instead. This impulsive move has not been regretted three years later.
In fact, not only Yonathan joined the startup but six other colleagues from the Deloitte Lab also came along with him. He doesn't see that departure as a bad thing.
"Deloitte is a wonderful company and a fantastic training ground. As a result, we all feel like alumni and we will in time bring back business to the mothership."
This happened in February 2018. SUKU did not go the ICO route but instead raised circa $13 million in private sales. There are now offices in Los Gatos, in Silicon Valley, Miami, Atlanta, and Uruguay with between 20 and 25 employees in total.
SUKU is established with two key objectives. The first is to use traceability as a way to help retailers and brands develop trust with their conscious customers which in turn will lead to greater sales. The second is to help networks of farmers and small suppliers without access to financial tools using DeFi either to save, borrow or earn interest.
SUKU launched in November 2019 with the third largest retailer in Latin America. Called Cencosud it is a $14 billion revenue company with more than 130,000 employees. It began with a POC to track meat and now the goal is to expand it to more categories until it covers the entire supermarket range and then expand across Colombia, Chile, Argentina and Brazil.
Yonathan is keen to point out SUKU is not focusing on cost reduction but on revenue increase while providing microloans for the unbanked farmers.
"Another key component is story. People want to connect with a community. They want to be part of the story and give back to the community. And that in turn should better connect brands with these new consumers."
The retailers request the farmers logon to the platform and become an active part of the supply chain.
"We start with the retailers because it is easier to onboard them. In turn it is easier for retailers to turn to suppliers to create more transparent information."
Yonathan did some field research to backup the experience. He spoke with farmers involved on the platform, checking that the additional interaction wasn't too much for them.
"One person I spoke with said she would run around her field 100 times if it improved her sales. There is an appetite on both sides and that will ensure it works."
SUKU is also looking at the fashion industry using the same philosophy; creating a story with which conscious consumers can identify. It is not enough to use recycled products, it has to be proved, which in turn makes the finished product more valuable. This value moves down the value chain unlike traditional supply chains where value is squeezed from the bottom.
However, it doesn't stop there. The narrative is not just about a fair price or increasing sales, emphasis is also given to corporate culture, how employees are treated and if they are paid a fair price. In the fashion industry, especially fast fashion, the answers are often disappointing and a lot of abusive welfare issues are present.
SUKU is working with a sustainability company from the US that can help address some of these issues, especially around sustainability, where it can calculate carbon footprint using the traceability inputs from the products. For the first time, consumers can see in real time the carbon footprint of each product.
"We are looking to extend those static numbers and match the carbon footprint for a single piece of clothing. So, it's not a generic static number on a website but a real living figure attached to an individual piece of clothing such as a pair of shorts.
"We can measure the original materials, the production and even the transport down to individual trucks of vans and routes taken on a given day. The brand can decide to buy carbon credits to offset that one piece of clothing and so the consumer can buy the shorts knowing they are a verifiably green product."
Building the first MVP cost money but now the process is replicable and relatively inexpensive. This process is not just intended for luxury goods.
Next up we come to the DeFi element of the project.
"Putting assets into protocols is not a sustainable strategy in our opinion. It's a vicious circle where the late comers are eaten up and the only winners are the early adopters. However, DeFi is great at innovation and great for long term goals – forget the get quick schemes that are being sold today."
As Yonathan sees it, Bitcoin gave everyone the chance to be their own bank, but the addition of DeFi allows people access the services normally offered by traditional banking such as credit, loans and interest.
Bridging the gap is data. Yonathan argues that in the supply chain for food it is important to have granular data and to reward the providers of that data. With regard to small farmers in South America producing the equivalent of two bags of coffee per month their data is important. So important that SUKU rewards them with SUKU tokens.
"Say by the end of a month they have earned the equivalent of $20. They can then use these tokens to borrow (by using their tokens as collateral). With one text they can access a micro loan which might be vital to them, to buy seed, fertilizer, repair a vehicle, using their earned tokens. There is no bank and limited KYC but no need to go through the hoops.
"In just one text we are giving them access to a microloan using the decentralized world of DeFi. Now that makes sense."
SUKU is in talks with local card providers and issuers to convert the microloan in form of stablecoin into local currency. So a farmer can earn $10 and spend it there and then if he wishes, or save it up to buy a larger item. The risk is minimized as the tokens are held as collateral; if for some reason the farmer does not repay the microloan his tokens are liquidated to repay the lender.
An extra bonus is that every time SUKU onboards a brand onto its platform they can access a network of people, many of them unbanked, that need access to credit and can pay with data.
Another feature of SUKU is the Infinite solution aimed at brands to consistently prove provenance and authenticity even in secondary marketplaces, using NFC tags and blockchain. To deliver this programme, SUKU partnered with Avery Dennisonto provide a proprietary solution to track authenticity and ownership of unique assets which could be a handbag, high-end sneakers, or even vaccines.
The Infinite marketplace matches unique assets with would-be purchasers. Someone might purchase a pair of sneakers and then trade them with a neighbour. Each time there is a change in ownership this is recorded on the marketplace. If the NFC tag is removed then the chain of ownership is deleted and so too the value of the item would fall. However, as each owner is recorded, they don't even have to look to sell the item, someone might come on the platform, identify something they want and reach out to them.
While SUKU is driven by pushing value down to the smaller players and the unbanked, the overall value of the market is vast, worth approximately $1 trillion as more and more conscious consumers want to play fair.
True Tribe is one company that understands the fundamental paradigm shift in purchasing patterns. It offers its customers an ability to understand from where each constituent element of their shorts is sourced, designed, manufactured and finally sold. They are not alone. SUKU currently has a pipeline of some 55 brands wanting to incorporate their ability to provide provenance and authenticity for their products.
Other contenders in this space have focused on traceability and cost which totally ignores the ability to increase tenfold the revenues of the small farmers according to Yonathan.
"We want to be able to speak the same language as these conscious consumers which is why story is so important, and the support to the smaller players is crucial. They not only want to know where the product is sourced and made, but that the original farmer is being paid a fair price.
"That's our unique approach and it's working."