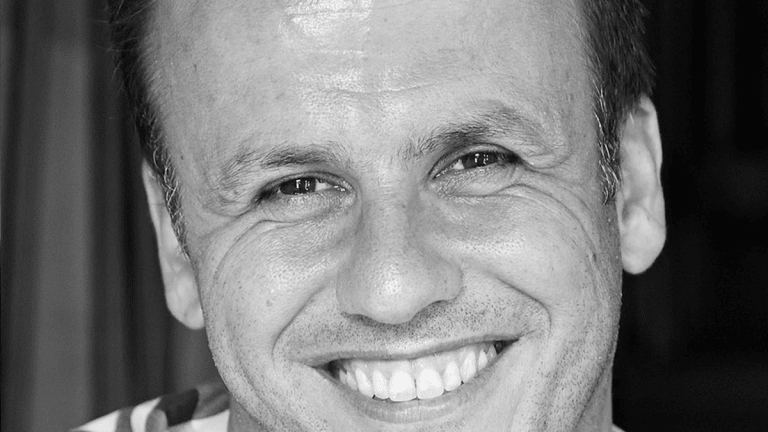 Steve Vallas - Raising The Bar Down Under
The leading Australian digital consultant tells Blockleaders how running a bar helped him find his true calling, why he turned his back on a legal career, and how to harness the power of networks.
The leading Australian digital consultant tells Blockleaders how running a bar helped him find his true calling, why he turned his back on a legal career, and how to harness the power of networks.
When one bar door closes another one opens. For Steve Vallas, the struggle to entice thirsty Melbourners through the doors of the Honey Bar and Restaurant - the establishment he chose over a promising legal career to build and run - unlocked an exceptional talent for social media marketing, with Steve's early hour tweets and Facebook posts keeping the bar lights on while many local drinking holes bit the dust at the height of the global financial crisis.
He knew he was onto something when staff from Facebook highlighted the digital skills of the Melbourne bartender and held up the Honey Bar's social media knowledge as an example for others to follow. Steve's can-do attitude and infectious enthusiasm are now assisting other businesses to use blockchain to expand their horizons. He is the founder of Australia's biggest enterprise blockchain event, Blockchain APAC, and he now has his own recently-established Honey digital strategy and marketing consultancy to add to his business hive.
But life hasn't always been so sweet for Steve. The child of hardworking Greek immigrants, Steve's natural academic flare saw him become only one of two high school graduates in his year to be accepted at Monash University. He maintained himself at university by driving a cab, crisscrossing the city streets while learning a valuable early lesson in the power of networks. "In the last year of my degree I found myself in a different network. I had transferred into Law, which I hadn't started off studying. Suddenly, I was involved with study groups, which I never knew existed. People had notes from previous years. I thought I had to show up to class to get notes! I can see now how this was good prep for the decentralized world of blockchain. I found myself getting notes from kids and turning these good notes into great notes and distributing them back through the network. The value of taking something and making it better for the broader network stayed with me. In my valediction remarks, I was referred to by one student as the 'Wall Street Of Notes Exchange'."
Steve was aware that his background was different to his classmates' but his natural groundedness prevented him from affecting any airs or graces to fit in. "On my first day of university, I couldn't understand how all the students already knew each other. I saw all these clusters. Of course, they had all gone to private schools together. I didn't know there was such a thing as a private school. Only one other person from my school had made it to the university I went to."
Listening to people, networking and improving the work of others are key elements of how Steve operates his consultancy career. And an optimistic approach based on the resources in hand - honed as a hospitality manager in tough times - helps him negotiate trade fairs, expos and conferences, as well as instilling self-belief in his clients. He has had to learn and adapt to find success. His bar and restaurant had the odds stacked against it from the beginning. The economy went into meltdown just as he got the keys and, if that wasn't enough, he had to fight through the courts land disputes pertaining to the real estate he had purchased in good faith.
"I'm a big believer in finding solutions. The business was impaired when we started it because of the legal problems we had. It meant that I had to teach myself digital strategy tools to make it work. Because I had mirrored what people were doing well in that medium, people assumed that there was an agency running the PR for the business and I started attracting people who were in the PR space. It was a shock to the system to them that it was just the fella who used to do something else, and then did something else, who was behind it all. I had developed these skills, so I thought I might as well use them. I take a lot of what I learned in my own business experience when I work with other companies now. Whether they are well resourced or not, I can work with them. I can say to them, 'you don't have enough time, you don't have enough people, and you don't have enough resources, but this is what we can do' because I know what it's like to have to work effectively with what you have."
One of the 'other things' that Steve did before going into business for himself was to practice law. But the rigidity of the profession wasn't for him, although his legal training did teach him to think in a certain way. "Taking a legal background into digital strategy has worked well for me. Rather than saying to my clients, 'here's the process that will work', I found myself saying 'this is a process that will work on the basis that we have resources in place, the appropriate time' and so on. I started creating bespoke solutions that had to counter the fact that we didn't have perfect circumstances. So the legal world has the law, but the real world has circumstances that don't necessarily fit into those laws. I describe it as 360-degree surround sound. If you look at digital strategy in isolation, it can be a relatively straight line but regulations differ from country to country so the strategic part of me has to keep this in mind. It seems like a very natural evolution to go from law to digital strategy, and I enjoy the complexity of working this way.
"Also it means I can tailor the conversation depending on who is in the room. When I talk to the regulators, I understand what the challenges are. When I'm talking to the startup CEO, I can understand what he or she needs, but also that having an idea that will change the world isn't necessarily what the regulator wants to hear. I can connect these two conversations."
Of course, state regulation is one of the missing ingredients preventing the blockchain cake from rising, despite the best efforts of all concerned. Australia, like many other countries, is adopting a wait-and-see approach. But standing aside while other cooks put their spoons in the mix, then grumbling when the oven explodes is possibly not the best approach to potentially transformative technology.
"In some ways it's a clever approach. Regulation has never been more important. Borders matter, but this tech means that many of these borders will be circumvented and will no longer matter. There is a recognition that if you move too quickly to regulate, you could stamp out the benefits that might eventually come to pass. So everyone has stood back and waited. From a regulatory perspective generally, Australia is seen as a safe jurisdiction. We have a reputation for doing things well and reliably, and that is almost the exportable value of Australia in the blockchain space. There's a real risk that we are falling behind now. Asian countries are looking to us to see what a framework might look like, but they are not setting up here because they are staying with jurisdictions that have taken a more favourable and proactive approach to the technology."
But is it all it's cracked up to be? Blockchain proponents want us to believe that a new decentralised world will emerge, where the little people will take power back from The Man, while its naysayers struggle to see beyond the Bitcoin Bubble and ICO scams. "I'm at the end that says it will impact on everything. I don't know if it will revolutionise the world exactly. Where will it impact the most? Well, if you think about identity, that affects everything. When it comes to financial services, I think that things will become a little bit better, a little bit faster, a little bit cheaper. When you talk about how revolutionary blockchain will be, you tend to lose people. You lose people who have an incumbent position, you lose people who are tied to legacy networks. I think most of the conversations that will gain traction in the coming years, particularly in rooms with established companies, will be around 'what you're doing now, we can make it faster and cheaper'."
Sometimes, those with the most enthusiasm have little say over how those established companies are run. "I find myself starting conversations with people who are interested, but when they go back to their companies, they are met with questions about how to justify it financially at this moment. There aren't enough advocates in established businesses at the present time. It's a bridge too far for most businesses right now. Bad press around ICOs hasn't helped, but most ICOs aren't scams, but there have been a lot of bad ideas, just like in all business areas. Now that we have ridden the wave of the crypto-mania of last year, when conferences were like crypto-Woodstocks, it's harder for these bad ideas to get funding and the emphasis has shifted back to the core technology itself. Ultimately this is a good thing I believe."
Being in these rooms talking to struggling startups, regulators and established companies, Steve keeps his arsenal of cab-driver charm fully loaded, but it takes more than breezy chat to get deals done. So what else does Steve bring to the table? "I understand context. I know who is in the room, I know who they need to speak to, and I know why it's important for that conversation to happen. When I was driving a taxi, I grew used to seeing the difference in how people interacted with me as a taxi driver, to how the interaction went when I introduced myself as a law student driving a taxi. When people are very enthusiastic, they often tell the same story to explain their product, regardless of who they are talking to. I spoke with a tech startup recently who explained to me how great it was that their product would allow the regulator to access all this new data. But I told him that the people working in regulation might just see that as a load of new work for them to do. You have to frame it correctly. People are well-intentioned but things scare them.
"I learned a valuable lesson when I was a law graduate working in my first post. I had a conversation with what appeared to be the nicest lawyer in the business. He told me that I shouldn't talk to the support staff because I was different from them. I should just spend time with the other lawyers. I was naive, and it struck me like a slap in the face. I thought this is the friendliest lawyer in the place, all the support staff loved him, and there he was telling me not to speak to them because I have a university degree. People take you as they find you, and it's hard to change that perception. If someone has met you in a lower socio-economic position, when they meet you again later on when you have improved your situation, it's often very hard for them to give you credit for the hard work you have put in. I encourage people I work with to be confident in who they are."
Steve's self-assurance and determined nature has brought him success. When he takes stock of his life to date, he is philosophical about what it all really means. "I've known lots of people who become financially successful, gather lots of money in the belief that it will make them happy, only to find that they are no happier than they were before. Often it takes a dislocating event - a health scare, a relationship breakdown - for them to take stock of their lives. It's very hard for them to have that moment without something going wrong. When I had just finished university, my sister was diagnosed at a very young age with cancer. She was the happiest person I knew. That was jarring for me, and made me reassess my own life. It didn't stop me complicating my financial life, but it did make me question my decision-making.
"I really do hope that this is a twelve chapter book and we are only on chapter seven, because if we are on chapter eleven or twelve, I'm going to be annoyed because it hasn't gone to plan yet. But I figure if I've got a few chapters left to work with I'll be okay."
You can connect with Steve on LinkedIn, or follow him on Twitter.
Read more about Honey Digital, APAC Blockchain and drop into the Honey Bar and Restaurant if you are in Melbourne.